As the holiday season approaches, PHR will look at what teams are thankful for as the season nears the quarter point of completion. There also might be a few things your team would like down the road. We take a look at what's gone well in the first month and what could improve as the season rolls on. So far we've covered ANA, ARZ, BUF, CGY, CAR, CBJ, COL, DET, LAK, NYI, STL, WSH, and VGK.
What are the Toronto Maple Leafs most thankful for?
A diverse front office.
When Brendan Shanahan took over as President of the Maple Leafs in 2014, the team was reeling from a late-season collapse that took them out of the playoffs and showed what the club was really made of. Shanahan was a new voice, running a team for the first time since his Hall of Fame playing career ended and within the next few years he would surround himself with a diverse group.
Lou Lamoriello, a legendary GM who had been with the New Jersey Devils for nearly 30 years was brought in to orchestrate the team's tear down and subsequent rebuild, scouting guru Mark Hunter and whiz-kid Kyle Dubas were added to give the group a few different voices, and Mike Babcock was brought in as coach. Though his role is technically not in the front office, Babcock has a big impact on personnel, including recruiting trips to Russia to bring in extra talent.
The Maple Leafs blew up the team, trading away key players like Phil Kessel and Dion Phaneuf for underwhelming returns and added several top prospects over the last few seasons. Now everything is coming together for Shanahan and company, and some tough decisions will have to be made on how to navigate their upcoming salary obstacles. With the versatility that's been shown so far from this group, Maple Leafs fans should feel secure in their team's future.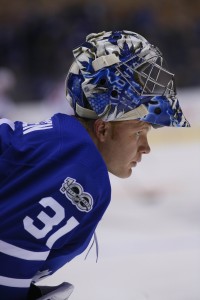 Who are the Maple Leafs most thankful for?
Yes, things changed in Toronto right around the time Auston Matthews got to town. Last season was built on nightly incredible performances by the rookie, helping the team jump from dead last in the league to a playoff spot overnight. But it was also the first season for Andersen, who immediately (or, at least after a shaky October) gave stability to the Maple Leafs' crease and helped the team become a contender.
This season after another inconsistent first month, Andersen has shown even more improvement and remains arguably the most important part of the Maple Leafs. Carrying a .958 save percentage over his last eight games, Andersen is looking the part of an All-Star level goaltender and one that could legitimately take the young Maple Leafs team deep into the playoffs. Leading the league in minutes, shots faced and saves, it's not clear where the team would be without their top netminder.
What would the Maple Leafs be even more thankful for?
Consistency from two of their "Big Three"
While Matthews has still led the team in points even as he works through a mysterious upper-body injury, both Mitch Marner and William Nylander have had their share of troubles. Both have been relegated to the fourth line at times, and though their point totals would be more than acceptable for any other sophomores these two have already shown higher highs.
Both scored 61 points last season and were expected to improve on those totals in their second full-seasons. They've combined for just four even-strength goals, but it's not all bad. Babcock told the media after last night's 4-1 win in Calgary that he though it was Marner's best of the season, and the pair is shooting a combined 5.6%. That number is sure to improve over the year, making the Maple Leafs even more dangerous down the stretch.
What should be on the Maple Leafs Holiday Wish List?
Another full-time defenseman.
Andreas Borgman has been a revelation for the Maple Leafs this season, coming over from the SHL to jump right onto their third pairing. The 21-year old Swede doesn't log a ton of ice time for the team, as he's not on either special teams group, but has still shown an ability to play on a nightly basis.
The other side of that third pairing though hasn't been as stable. Babcock has shuffled through Connor Carrick, Roman Polak and Calle Rosen at different points this year, and the team could benefit from that revolving door becoming a little more stationary in the second half. Pittsburgh's Ian Cole has been linked to them recently, though a right-handed option would likely be more beneficial.
Interestingly, the Maple Leafs do have quite a bit of trade capital as they head towards the deadline. James van Riemsdyk, Leo Komarov and Tyler Bozak are all pending unrestricted free agents, while the team carries an extra second-round pick from a previous trade with the San Jose Sharks. It seems unlikely that they'll try to make a huge splash on the defensive market, but an addition that could be trusted on the penalty kill and play a full-time role of 15-18 minutes a night would help take some pressure off the rest of the group.
Photo courtesy of USA Today Sports Images