As the holiday season approaches, PHR will look at what teams are thankful for this year. There also might be a few things your team would like down the road. We take a look at what's gone well in the first month and what could improve as the season rolls on. 
What are the Anaheim Ducks most thankful for? 
Still being in the hunt after so many injuries.
From the time the Ducks were knocked out of the 2017 playoffs, the injuries announcements have never ceased. First it was Hampus Lindholm and Sami Vatanen needing shoulder surgery. Then Ryan Kesler needed hip surgery. Just after the season started Patrick Eaves was diagnosed with Guillain-Barre Syndrome, and then Ryan Getzlaf took a puck to the face that required surgery. Add in more major injuries to Cam Fowler and Ondrej Kase and the team should be at the very bottom of the standings were it not for some incredible depth. 7-7-3 isn't where Randy Carlyle and the front office expected to be after 17 games, but they'll take it considering how the last few months have gone.
Who are the Ducks most thankful for? 
Rickard Rakell and Brandon Montour.
Everyone knew how talented Rakell and Montour were, but no one expected them to put the team on their back like they have. Rakell is playing more than 20 minutes a night and leads the team in scoring, while Montour showed off his top-pairing upside prior to Lindholm and Vatanen's return. While he's now settling into a more reasonable role, the future holds bright things for Montour. His five goals and nine points both lead the Ducks defense corps, including tallies in all situations (even strength, powerplay and short handed).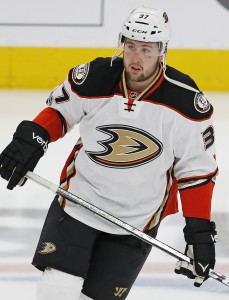 What would the Ducks be even more thankful for? 
A step forward by Nick Ritchie.
Even with the opportunity afforded him with injuries, Ritchie has been a disappointment this season for those who expected him to take a step forward. Selected 10th-overall in 2014, he has just four points this season and has been demoted to the fourth-line. His ice time was limited to fewer than ten minutes in each of the last two games, and he has just a single goal on the year.
Ritchie will turn 22 in a few weeks, and the Ducks will need more out of him as the season goes on. Right now even his 28 point mark from last season seems far-fetched unless he gets back to the attacking, power game he showed in spurts last season. He'll need to get back in Carlyle's good books to do so.
What should be on the Ducks' Holiday Wish List? 
Another reliable option at center.
The Ducks came into the year with questions at center behind Getzlaf and Kesler, and the injuries have only exacerbated those depth issues. They currently have the imposing quartet of Chris Wagner, Derek Grant, Antoine Vermette and Kalle Kossila down the middle, which just isn't going to cut it. Sure, Getzlaf and Kessler will be back at some point but if they truly want to compete in the playoffs this season they'll need to add at some point.
The question will be what the Ducks are willing to give up to acquire that center, as the 2018 draft is shaping up to be exceptional. First-round picks (even late ones) are worth a lot, and most of the options down the middle are on expiring contracts. They decided that Eaves was worth the loss last year, and even re-signed him this summer to a three-year deal. Is it worth it again to provide some backup for their top two pivots?
Remember that Anaheim already lost some of their defensive prospect capital when they moved Shea Theodore to the Vegas Golden Knights. While moving Vatanen at one point looked like a lock given what was coming up behind him, they don't look quite as deep at the position anymore. That said, the team has several tough financial decisions looming over the next couple of summers—Montour, Ritchie, Kase, John Gibson, Andrew Cogliano and Jakob Silfverberg all need new contracts before 2019-20—making the idea of shedding money from the back end a little more enticing.
Photo courtesy of USA Today Sports Images