2:20pm: Tkachuk has been suspended for one game according to John Shannon of Sportsnet. The Flames play tonight in Montreal. This is Tkachuk's third suspension of his young career. As the accompanying video explains:
While the spear itself is not forceful or malicious enough to merit supplemental discipline on its own, two factors caused this play to rise to the level of a suspension. First, Tkachuk is on the bench when he intentionally strikes a player on the playing surface…second, Tkachuk is a repeat offender, having been suspended for a similar incident just ten games ago.
8:16am: The Department of Player Safety must have Matthew Tkachuk on speed-dial by now. The Calgary Flames forward will receive another hearing with the disciplinary committee after spearing Toronto Maple Leafs forward Matt Martin from the bench in last night's game. Tkachuk, who wasn't involved in the scrum at all, stuck his stick into Martin's ribs without the officials noticing on the ice.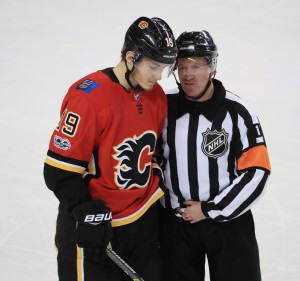 It's not the first time Tkachuk has been caught for a stick infraction like this. Just recently, he was suspended one game for his part in the Flames-Red Wings brawl, when he used his stick to goad Luke Witkowski back onto the ice. Witkowski was given an automatic 10-game ban for coming back after being ejected.
To be clear, the hearing isn't for the act of spearing itself. Tkachuk is instead receiving it for "unsportsmanlike conduct" which likely has more to do with his history with the league. The young forward also received a two-game ban for elbowing Drew Doughty last season, and has built quite the reputation for himself already. The league likely believes they can put a stop to this kind of behavior by handing out a suspension for a play that was relatively innocuous, letting Tkachuk know that he has a target on his back.
The pesky Calgary forward has become one of the best in the league at getting under opponents' skin, and did so last night against the Maple Leafs. He drew a cross-checking penalty on Jake Gardiner, when the Toronto defender got a little frustrated with his play, and was in Frederik Andersen's crease all night. Though Maple Leafs head coach Mike Babcock praised Tkachuk's overall game, he called the spear "junior hockey stuff" and said that he'd learn not to do it eventually.
Photo courtesy of USA Today Sports Images