As the holiday season approaches, PHR will look at what teams are thankful for as the season nears the quarter point of completion. There also might be a few things your team would like down the road. We take a look at what's gone well in the first month and what could improve as the season rolls on.
What are the Flames most thankful for?
Calgary finds themselves fortunate enough to boast one of the top and well-balanced defense corps in the NHL.  They have a strong mix of offensive upside, physicality, mobility, and pretty much everything in between while also being able to carry an established top-four blueliner on their third pairing in Michael Stone.  While there are plenty of teams looking for help on the back end, the Flames should be quite pleased with the group they have.  (And looking to the future, they're well-stocked at that position in terms of prospects as well.)
Who are the Flames most thankful for?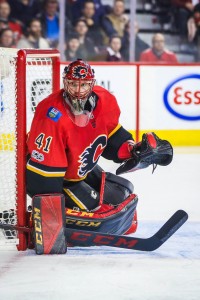 Beyond the blueline, they certainly have to be thankful for their new number one goaltender in Mike Smith.  One of the bigger challenges Calgary has had in recent years has been quality netminding from their starters.  Smith, at least so far, has changed that.  He boasts a .921 SV% through his first 16 starts in 2017-18.  To put that in some perspective, the last number one goalie in Calgary to finish with a save percentage that high was Miikka Kiprusoff back in 2011-12.  If Smith can maintain this level of play over the rest of the season, the Flames should find themselves nicely in the playoff picture.
Winger Johnny Gaudreau is someone that Calgary is certainly thankful for.  He has gone from a mid-round pick (fourth round, 104th overall in 2011) to a legitimate star pretty quickly and has taken his game to a whole new level so far this season.  Through 18 games, he has 26 points, good for sole possession of third overall in league scoring.
[Related: Flames Depth Chart from Roster Resource]
What would the Flames be even more thankful for?
Troy Brouwer living up to his contract.  Quite frankly, he hasn't come close yet.  He quickly signed in free agency back in 2016, inking a four-year, $18MM deal with a full no-trade clause in the first two seasons.  So far, he has rewarded that with just 28 points in 92 games, including no goals and three assists in 18 contests this season.  Brouwer has shown himself to be capable of being a capable secondary scorer and if he can get back to that form, Calgary's attack will be quite a bit deeper.
What should be on the Flames' Holiday Wish List?
While Gaudreau is off to a flying start to the season, there aren't many others aside from Sean Monahan who can say the same.  At the very least, finding a right winger to finalize that top trio would be very beneficial.  Brouwer isn't the solution, Micheal Ferland is a better fit in a bottom-six role, Michael Frolik doesn't have the offensive skill to thrive on that line, and Jaromir Jagr isn't quick enough to keep up on a full-time basis.  That has been a hole for a while and while GM Brad Treliving has tried to fill it, it hasn't worked yet.
It wouldn't be surprising to see another goaltender on their shopping list at some point.  Eddie Lack has not fared well in his first season with Calgary with a 5.29 GAA and a .813 SV% in his first four outings and those are the types of numbers that force coaches to lean on their starters too much during the regular season.  Securing a veteran that currently is in the minors would be a way to give themselves some security if Lack isn't able to turn it around as the season progresses.
Photo courtesy of USA Today Sports Images.