As the holiday season approaches, PHR will look at what teams are thankful for as the season nears the quarter point of completion. There also might be a few things your team would like down the road. We take a look at what's gone well in the first month and what could improve as the season rolls on. 
What are the Red Wings most thankful for? 
Recovering from an early six game slide. When the Red Wings started 4-1, early doom-and-gloom prognosticators wondered if Detroit would buck trends and surprise with a stronger 2017-18. Then came six straight losses, rumors of head coach Jeff Blashill's job security, and concerns that it would be a long and painful season. They righted the ship, stringing some wins together and now sit even at 8-8-2. Disaster was averted, but there are signs that significant struggles wait ahead.
Who are the Red Wings most thankful for? 
Dylan Larkin, and Anthony Mantha. Both young players are key to any type of rebuilding plan Detroit has. They haven't disappointed. Larkin has looked more comfortable centering a line, while Mantha has been every bit of the goal scoring presence Detroit envisioned when they drafted him. It cannot be understated how important it is that in order for the Red Wings to return to prominence, the younger players must deliver. Larkin and Mantha's strong play in the first month has been crucial to the present and future success of the team.
What would the Red Wings be even more thankful for? 
A young, top pairing defenseman. About 75% of the league wants one of these, too, but the Red Wings have been searching, unsuccessfully, for this since
Nicklas Lidstrom's retirement. Despite the strong play of their goaltenders and the younger players, the defense has been shaky. Niklas Kronwall has been better, Nick Jensen has been steady and Mike Green has been a boon offensively. But they can't rely on them for the long term when it comes to top pairing minutes. Green will most likely be shipped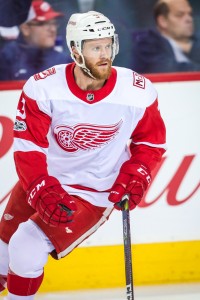 out to fetch draft picks or a younger impact player, and Kronwall's knee is a liability. Trevor Daley, brought in to help the offense, has been a strong skater but only has one point in 18 games. The Red Wings, simply put, need help on the blue line. At some point, the goaltending will come back to earth, putting more pressure on a defensive corps that is average.
What should be on the Red Wings' Holiday Wish List? 
Looking ahead, and though it's not what general manager Ken Holland wants, Detroit needs to have another high draft pick. Yes, it's a crapshoot with the lottery system, as last year's draft showed with Colorado winning under 30% of their games and getting a fourth overall pick for their performance. But the Red Wings need to get elite talent in order to be competitive again, and picking in the top five is one way to do so. Their wish list should also include some crafty trades to stockpile draft picks. The days of hoodwinking other teams and finding Henrik Zetterbergs and Pavel Datsyuks late in the draft are over. They need enough where they can package picks, trade up, and have a greater chance of grabbing talent in the first and second round.