As the holiday season approaches, PHR will look at what teams are thankful for as the season nears the quarter point of completion. There also might be a few things your team would like down the road. We take a look at what's gone well in the first month and what could improve as the season rolls on.
What are the Carolina Hurricanes most thankful for?
Chicago cap issues.
In 2016, the Hurricanes happily took Bryan Bickell's $4MM cap hit off the books of the Chicago Blackhawks after the latter were knocked out of the playoffs in the first round. Chicago had once again added at the deadline, but were unable to repeat as Stanley Cup Champions. Now, with Toews and Kane signed to identical eight-year, $84MM contracts the team had to shed money once again from somewhere on the roster.
Bickell was the easy target as the next cap victim, despite his playoff heroism a few years earlier. In order to get Carolina to bite though, the Blackhawks had to include Teuvo Teravainen in the deal. Teravainen, the 18th-overall pick in 2012 was coming off his first full season in the NHL and a solid-if-unspectacular 35 points. The young forward was heading into the last year of his entry-level deal and would eventually need a raise of his own.
After one season in Carolina, Teravainen has turned into a key member of their offense and a point-per-game player through the early going. With 19 points this season he leads a young and upward-trending hockey club, doing their best to compete in the Metropolitan. He looks certain to set career-highs in nearly every offensive category, and will be an important piece going forward for the Hurricanes.
Who are the Hurricanes most thankful for?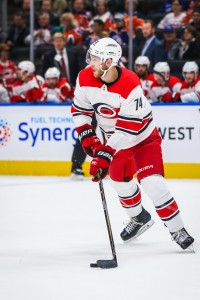 Jaccob Slavin and Brett Pesce.
The Hurricanes aren't Stanley Cup contenders just yet. There's no telling how soon it could happen, but it almost certainly will if their current trajectory continues. So much of that success will be based around their incredibly deep defense corps, and how well Slavin and Pesce have progressed.
Selected in the third and fourth rounds, the two young defenders have become legitimate top pairing options for the Hurricanes at the tender age of 23. The fact that Carolina can play them for more than a third of the game (23:53 and 21:38 respectively) could make them players at the deadline. With a pipeline of young defenders in Noah Hanifin, Haydn Fleury, Jake Bean, and Roland McKeown, and a pair of not-so-old veterans in Justin Faulk (25) and Trevor van Riemsdyk (26) the team could be the biggest supplier of defense at the trade deadline should they so choose.
That choice is made a lot easier when you have a pair of horses already on the roster at such a young age. Slavin and Pesce are anything but household names, but they darn well should be.
What would the Hurricanes be even more thankful for?
Above-average goaltending.
Scott Darling was brought in this summer to be the answer in net for the Hurricanes, and immediately given a four-year contract. He was coming off an incredible season as the backup to Corey Crawford, and carried a .923 save percentage in three years with Chicago. That number has dropped significantly this season, and Darling has struggled to provide Carolina with anything but the same uninspiring goaltending they've had the last several seasons.
It's not exactly that Darling has played badly, just that he hasn't been able to take the team to the next level. Cam Ward has played quite well in a backup role, but is well past his starting prime in the NHL. If Darling could get a bit closer to the level he showed in Chicago, the Hurricanes would be a dangerous playoff team. Otherwise, it'll be much of the same middle-ground for the club.
What should be on the Hurricanes' Holiday Wish List?
An offensive, powerplay-minded forward.
The Hurricanes have a glut of young talent, but lack some punch offensively and on the powerplay. Their man-advantage numbers rank 27th in the league, and a dynamic forward could do a lot to help that. While a center would likely fit better into their current roster they could also make room for a winger if that's all that was available.
Victor Rask has been a real disappointment this season offensively, and though he could obviously help by getting back to his former self the team could do well with a real star up front. Evander Kane, James van Riemsdyk and James Neal would all be interesting rentals for the Hurricanes, if they decide to sacrifice some future assets for a shot at the postseason this year. While they all seem like long-shots at this point, a few more months of hanging around in the Metro could inspire GM Ron Francis to do something splashy.
Photo courtesy of USA Today Sports Images