As the holiday season approaches, PHR will look at what teams are thankful for as the season nears the quarter point of completion. There also might be a few things your team would like down the road. We take a look at what's gone well in the first month and what could improve as the season rolls on.
What are the Capitals most thankful for?
Time.  While many expected that they would take a step back following several key departures over the offseason, not many believed that they would find themselves battling tooth and nail for the last Wild Card spot in the East through the first quarter of the season.  While they're not scoring like they once were, they're still in the upper half of the league but keeping pucks out of their net has been an issue.  Fortunately, with 60 games left in the season, there is plenty of time to turn things around.
Who are the Capitals most thankful for?
You can't go far in a discussion like this without mentioning Alex Ovechkin.  He's on pace to surpass 70 points once again and should find himself near the top of the goal scoring race league-wide once again as well.  Top goal getters typically are prone to be streaky but Ovechkin's ability to be among the best year in and year out is a rarity and is certainly something that every team around the league is envious of.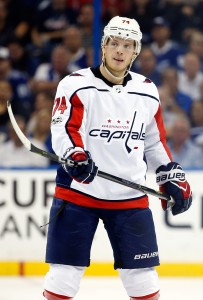 With some of their departures on the back end, Washington has asked John Carlson to take on even more of the workload.  Suffice it to say, he has delivered so far.  Not only does he lead all of their blueliners in scoring with 17 points (12 more than the next highest in Madison Bowey), he sits second in the league in average ice time at 27:01 per game.  For perspective, he has only averaged more than 24 minutes a night once in his career.  They can't ask for much more from him.  (Undoubtedly, he is certainly thankful about being in this situation with unrestricted free agency on the horizon in July as well.)
[Related: Capitals Depth Chart from Roster Resource]
What would the Capitals be even more thankful for?
Cap space.  Washington went into the season with very little wiggle room and have whittled that down to practically nothing.  As things currently stand, they're projected to have $7,514 in cap space at the trade deadline per CapFriendly.  That equates to enough room to call up a player making the league minimum salary for all of two days.  It's hard to fix any issues a team has when they simply don't have any money to do so.  GM Brian MacLellan is going to have to find a way to get creative here.
What should be on the Capitals' Holiday Wish List?
While Washington's attack isn't as threatening as it once was, it's still good enough to hold its own at the very least.  The defense, however, is another story.  They need someone that can safely log 20 minutes a night.  Unfortunately, those players are typically pretty tough to acquire before even getting into that cap situation.  It's going to take a team that's willing to trade one of those that is willing to retain considerable salary while taking on basically the same amount of money from whatever player(s) go the other way.  The Capitals can have that on their wish list right now but it's likely something they're going to have to wait for until closer to the trade deadline.
Photo courtesy of USA Today Sports Images.