As the holiday season approaches, PHR will look at what teams are thankful for this year. There also might be a few things your team would like down the road. We take a look at what's gone well in the first month and what could improve as the season rolls on. 
What are the Buffalo Sabres most thankful for? 
The chance at another high draft pick.
They're the worst team in the Eastern Conference and many aren't sure they've hit bottom yet. They finally notched a win after an 0-4-1 start, and had a nice 3-2 stretch before going 2-7, with another loss coming at the hands of the Red Wings on Friday. Sabres fans are hunkering down for another long season of losses, but if the younger players grow it at least helps stomach the losing a bit. But to what is one of the most loyal and hardcore fanbases in hockey, the Sabres seem stuck in a perpetual rebuild while the Maple Leafs, who went the same route, are enjoying far more success.
The right numerical combination in April could net the Sabres the first or second overall pick but as the Avalanche learned last Spring, nothing is guaranteed. If anything, it would at least cushion what is looking like another brutal season.
Who are the Sabres most thankful for? 
Evander Kane's stock continues to rise.
It's no secret that the phone has been ringing in Buffalo with trade offers for the winger. Kane has been strong this season, being a point-per-game player. The better Kane plays–the more value he has as the trade deadline nears. Teams will be hunting for a goal scorer that could tip the scales in their favor, and Kane, being added to a team with playoff talent, would fit that need perfectly. While he is a UFA at the end of the 2017-18 season, his scoring knack would be too much to pass on for a team desperate for scoring. Should the Sabres continue to struggle, Kane could net valuable picks, top prospect or maybe both.
What would the Sabres be more thankful for? 
Goalscoring. And lots more of it.
The slumping Sabres have been hurt by their players not putting the puck in the back of the net. Kyle Okposo was brought into score goals and he only has two (though he did rebound from a scary medical incident last season). Sam Reinhart hasn't scored as expected.   And that brings us to Jack Eichel.
Eichel is second on the team with points (5-11-16) but he is not finding the net, either. Worse, not one defenseman this season has scored a goal, through 19 games (through Friday).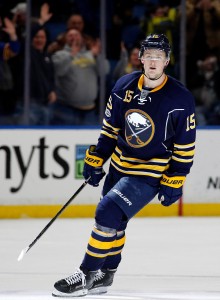 What should be on the Sabres' Holiday Wish List? 
If the season truly is doomed, fetching draft picks and prospects for impact players seems to be at the top of the list. New general manager Jason Botterill has hands full trying to navigate out of some bad contracts and a lack of depth that has handcuffed the Sabres chances of rebuilding successfully. At 5-10-4, hope of anything besides a last place finish seems far-fetched. Jason Pominville (6-7-13) has been a bright spot and could yield a higher pick, as well as cap relief, should his play continue to be strong. Like Kane, put in the right spot with a team seeking a long playoff run, he could be great depth scoring. At this point, anything on the wish list has an eye on the future.
Photo courtesy of USA Today Sports Images