Navigating the Salary Cap is probably one of the more important tasks for any general manager to have. Teams that can avert total cap chaos by walking the tightrope of inking players to deals that match their value (or compensate for future value without breaking the bank) remain successful. Those that don't see struggles and front office changes.
PHR will look at every NHL team and give a thorough look at their cap situation heading into the 2018-19 season. This will focus more on those players who are integral parts of the roster versus those who may find themselves shuttling between the AHL and NHL. All cap figures are courtesy of CapFriendly.
Current Cap Hit: $79,915,155 (under the $79.5MM Upper Limit)
Entry-Level Contracts
F Robert Thomas (three years, $894K)
F Zachary Sanford (one year, $875K)
G Ville Husso (one year, $848K)
F Jordan Kyrou (three years, $758K)
F Ivan Barbashev (one year, $742K)
D Vince Dunn (one year, $723K)
F Samuel Blais (one year, $673K)
Potential Bonuses:
Kyrou: $183K
Dunn: $183K
Sanford: $50K
Blais: $3K
Total: $419K
Considering the amount of veterans this team has, its surprising to see so many young players on the team as the Blues have done a nice job over the years of drafting quality players and developing them. Perhaps the most interesting of the lot will be Thomas, the team's first-round pick in the 2017 draft. The 19-year-old dominated his junior league last season and many people believe he has a great shot at winning a roster spot this season as the team feels that there is no reason to return him back to his junior team. The team also has Kyrou, another top-rated prospect, but the team is more likely to send him to their AHL affiliate as he no longer needs to be returned to juniors. Regardless, however, if he fares well, he could see time with the Blues throughout the season.
Dunn has been a major revelation after surprising a few when he made the Blues out of training camp last season. He had a remarkable season, playing solid defense, producing five goals and 21 points and eventually quarterbacked the team's top power play line. The team may also start seeing more of Husso, who is their goalie of the future, but needs more seasoning in the AHL. The 23-year-old had a .922 save percentage in 38 games in the AHL last year.
Other interesting prospects include Sanford, Barbashev and Blais who will have to fight for playing time, but all have the skill to work their way in at some point this season.
One Year Remaining, Non-Entry-Level
D Jay Bouwmeester ($5.4MM, UFA)
D Joel Edmundson ($3MM, RFA)
D Carl Gunnarsson ($2.9MM, UFA)
F Patrick Maroon ($1.75MM, UFA)
G Chad Johnson ($1.75MM, UFA)
D Robert Bortuzzo ($1.15MM, UFA)
F Dmitrij Jaskin ($1.1MM, RFA)
F Robby Fabbri ($925K, RFA)
F Chris Thorburn ($900K, UFA)
F Nikita Soshnikov ($800K, RFA)
F Oskar Sundqvist ($700K, RFA)
F Jordan Nolan ($650K, UFA)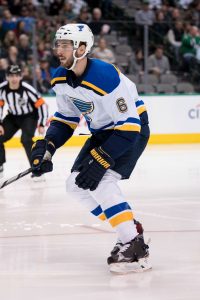 The team should find themselves with extra money next season as the contracts of several defenseman expire, including Bouwmeester's $5.4MM deal and Gunnarsson's $2.9MM. Both have been excellent players in the past, but the with emergence of younger defensemen, the team is likely to move on from them or look for them to return at a significantly reduced rate. Some of that available money could end up in the hands of Edmundson who has done an excellent job of replacing Bouwmeester on the top defensive line.
The team also will be keeping a close eye on Fabbri, who has spent much of last year training and conditioning his knee for the upcoming season after undergoing two procedures on his knee. If the scoring winger can stay healthy, he could provide the Blues with an extra dose of offense they weren't counting on. The team also has high hopes for Maroon, who opted to take less to return home to St. Louis this year. There are rumors that the team will reward him next season for being willing to accept much less than he was worth.
Johnson has been working on one-year deals for a little while, but the veteran backup could be needed if Allen falters in goal this year. While his numbers in Buffalo were horrible, many believe that he could easily bounce back considering the quality defense he'll have in front of him in St. Louis.
Two Years Remaining
D Alex Pietrangelo ($6.5MM, UFA)
F Brayden Schenn ($5.13MM, UFA)
D Jordan Schmaltz ($700K, RFA)
The team has been thrilled with the play of Pietrangelo, who continues to improve offensively as the team's No. 1 defender. He is used that way too as he averaged 25:44 of ice time last year, ranking him sixth in the NHL. The 28-year-old has now posted double-digit goals for the second straight years and posted a career-high 54 points this season. He's finally receiving that respect around the league as he was voted to the all-star game as well as got some consideration for the Norris Trophy this past season.
Schenn is another key player that the team got a tremendous amount of production from this year after acquiring him from Philadelphia in the offseason. Schenn, who likely will move to the second line this year, posted career-highs in goals (28) and points (70) and was a big hit in St. Louis. Read more