It's hard to believe it, but the NHL season starts in just over two months. For some NHLers they will soon be making plans to return to their respective cities to begin the upcoming season, for others like defenseman Caleb Jones, his plan is to try to find an NHL job in the next nine weeks.
It was surprising to see Jones go unqualified, as the Chicago Blackhawks elected to let him become a free agent rather than offer him a qualifying offer. Chicago needed to tender the 26-year-old at $1.35MM, but he was made a free agent when Chicago didn't make the offer. Now, almost a month into free agency Jones remains unsigned, a somewhat surprising development for a player who has shown promise in his young career.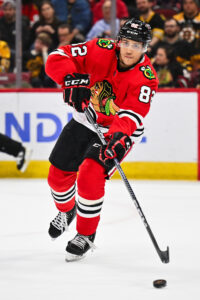 Jones, the younger brother of Blackhawks defenseman Seth Jones, was originally drafted by the Edmonton Oilers in the fourth round back in 2015 and played 93 games over parts of three seasons with the club before he was traded to Chicago in July 2021 as part of the Duncan Keith trade. Jones then dressed in 124 games over the past two years with the Blackhawks, putting up 9 goals and 22 assists.
Last year was a career year for Jones, as he had four goals and 12 assists in 73 games while playing over 19 minutes a night. Jones was tasked with playing second-pairing minutes on a very bad Chicago team and faired well despite not contributing much offensively. Jones led the defense core in many analytical categories and did a decent job controlling the play when he was on the ice.
Jones has typically demonstrated a good ability to move the puck well, utilizing his skating to push the puck up the ice and can keep himself mobile in the defensive zone to be a disruptive force on both the penalty kill and at even strength. However, he is not his older brother and doesn't possess nearly the offensive acumen that Seth has displayed throughout his career.
The issue that Jones may face when trying to lock down an NHL job is that there is a bit of a surplus of left-shot depth defensemen in the NHL. Pittsburgh has Ty Smith and Pierre-Olivier Joseph competing for one spot on their third pairing, as do the Calgary Flames, with Oliver Kylington now returning after a one-year absence. The Ottawa Senators have several solid left-shot options throughout their NHL lineup, as do many other teams. For Jones, he could offer a solid third-pairing option, but there are very few teams who need that right now.
Stats
2022-23: 73 GP, 4-14-16, -19 rating, 40 PIMS, 86 shots, 48.9% CF, 19:13 ATOI
Career: 217 GP, 14-36-50, -39 rating, 80 PIMS, 225 shots, 48.1% CF, 16:49 ATOI
Potential Suitors
Jones would have teams lining up for his services if he was a right-shot defenseman, but he shoots left and typically plays the left side. While his market will be small, there are sure to be teams that could find a role for the younger Jones brother.
In the East, the Buffalo Sabres have Ilya Lyubushkin slated to play as a third bottom-pair left-side defenseman, and while he offers a physical element and does a good job suppressing scoring chances, he is not a good puck mover and isn't particularly adept at much else. Jones could push Lyubushkin and create healthy competition for playing time in the Sabres defense core. The one barrier for Jones to Buffalo could be that the Sabres have already brought in Erik Johnson and Connor Clifton in free agency, and management may feel that they've already brought in enough competition on their back end.
In the West, The Anaheim Ducks have brought in a few NHL veterans to try and give guidance to their young stars. While Radko Gudas will bring some leadership and physicality on the back end, the Ducks could use a few more veterans who can teach their young players to become good pros. Jones could be a solid fit for the role as he has already played on a young, bad, rebuilding team and knows the challenges and tribulations that come with the growing pains of a rebuild.
Sticking with the West, another rebuilding club that could use some help on the backend is the San Jose Sharks. The Sharks aren't pushing to make the playoffs this year, but that doesn't mean they should stop looking for improvements. At the moment, the Sharks have 30-year-old journeyman Jacob MacDonald penciled in as their third pairing left side defenseman and Marc-Édouard Vlasic on their second pair. Vlasic was a terrific shutdown defender for a long time, but he has seen notable declines in his game for the past five years or so. Jones would likely offer an upgrade on both men while not costing San Jose much in the way of assets.
Projected Contract
Unfortunately for Jones, he is most likely going to be taking a pay cut from the $1.35MM he made last season. There should be a small market for his services as the season nears, but the native of Arlington, Texas, might have to sign a professional try-out to get teams interested in his services. Matt Dumba and Ethan Bear are both still unrestricted and might attract more interest as they are right-shot defensemen and have better track records. Jones should ultimately be able to find an NHL deal, but when he does, it will likely come in around the league minimum or a tick above it. There were many NHL defensemen who found deals late in the summer last year, and it seems that could happen again this summer with Jones.
Photo courtesy of USA Today Sports Images.