The Edmonton Oilers have cleared even more cap space. Duncan Keith has decided to retire, which will not only open cap space for the Oilers but also means a significant cap recapture penalty for the Chicago Blackhawks:
2022-23: $5.54MM
2023-24: $1.94MM
Cap recapture is a function of the CBA that penalizes teams for previously signing extremely front-loaded contracts. When Keith signed his 13-year, $72MM deal in 2009, the last few years included a very low salary in order to drop the overall average.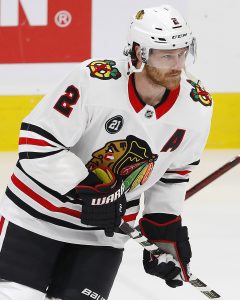 For instance, he would have only earned $1.5MM this season in actual salary. The Blackhawks then must repay the savings they received in the early part of the contract–Keith was earning $8MM per season at the start of the deal while carrying a cap hit of just $5.54MM.
On the other end of that coin, the Oilers should actually receive a cap credit, as they paid the elevated cap hit this season despite Keith only making $2.1MM. Unfortunately, that credit is apparently being removed by the NHL–though a grievance process is possible through the NHLPA. For now, they will only receive the benefit of clearing the $5.54MM cap hit off the books for 2022-23.
While the cap implications will cloud Keith's retirement, nothing should overshadow the fact that one of the best players of his generation is calling it quits.
The 38-year-old played 1,256 regular season games, 151 playoff contests, and won three Stanley Cups with the Chicago Blackhawks. An elite two-way player, Keith racked up offensive numbers while also playing a quiet, effective defensive game.
During his 16 years with Chicago, he averaged nearly 25 minutes a night, won the Norris Trophy twice and the Conn Smythe in 2015. He sits 34th all-time in points from a defenseman, and 26th in games played.
When he is eligible, Keith will have a great case for Hall of Fame induction, as a player who was legitimately at (or at least near) the top of his position for a long stretch in his prime.
Photo courtesy of USA Today Sports Images