The Washington Capitals were bound to make a move of some sort after waiving Devante Smith-Pelly yesterday, and it comes in the form of Carl Hagelin. The Capitals have acquired Hagelin from the Los Angeles Kings in exchange for a 2019 third-round pick and a conditional 2020 sixth-round pick. The Kings will be retaining 50% of what remains on Hagelin's contract, which had already been involved in a retained salary transaction earlier in the year and expires at the end of this season. According to Pierre LeBrun of The Athletic, the sixth-round pick will be sent to Los Angeles if the Capitals win two playoff rounds and Hagelin plays in 50% of any two rounds combined.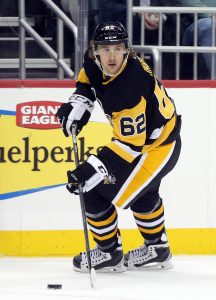 Hagelin, 30, should be very familiar to Capitals fans already from his days with the Pittsburgh Penguins, though he is not quite the same player that scored 16 playoff points en route to a 2016 Stanley Cup victory. In fact, Hagelin has just eight points through 38 games this season split between the Penguins and Kings. Still, Capitals GM Brian MacLellan obviously saw a way for his team to improve, and released a statement explaining why he made the move:
We are pleased to welcome Carl to our organization. We felt this trade enables us to add depth up front and provides us with a veteran player with a tremendous amount of speed to help us on the penalty kill.
If there is one thing Hagelin is still known for, it is that speed. One of the fastest players in the NHL, he will jump into the Capitals bottom-six and replace a player in Smith-Pelly who has slowed considerably this season. There's a good chance the former Penguins forward will also become a trusted penalty killer, a role that he has excelled at over the years.
For the Kings, this was always the plan after acquiring Hagelin from the Penguins in exchange for Tanner Pearson earlier this year. As an expiring contract he was never expected to stay the whole season in Los Angeles, where the team is committed to a short rebuild after getting off to such a slow start. The Kings now have ten picks in the upcoming draft including five in the first three rounds. The team could acquire even more by selling off other names like Ilya Kovalchuk, Tyler Toffoli or Alec Martinez, but it is unclear if they will really want to move on from those more important players.
Washington meanwhile is happy to give up a third-round selection to add some Stanley Cup experience to the team for another playoff run. While other teams were giving away their first-round picks last year to try and load up at the deadline, the Capitals decided to hold onto theirs and actually selected three times in the first two rounds. Once again they still have their first and second for the upcoming draft, ensuring that more young talent will continue to flow into their system.
Even with the retained salary on Hagelin's deal, the Capitals are right up against the cap and have almost no room to do anything else at the deadline. They could however move out some other names that have been rumored, including Dmitrij Jaskin who was expected to be placed on waivers yesterday. If not, this is the group they'll have to ride until the playoffs.
Photo courtesy of USA Today Sports Images