Andrei Markov never will get the chance to reach 1,000 games played in the NHL. The 41-year old defenseman has announced his retirement today, his agent reaching out to various reporters including Richard Labbe of La Presse. Markov hasn't played in the NHL since 2017 when he left for the KHL, but had been reportedly interested in a return to North America and the Montreal Canadiens as recently as last summer.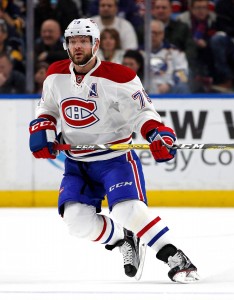 It's hard to climb up the mountain of elite NHL players that have come through Montreal in the history of the Canadiens, but Markov certainly tried. The sixth-round pick from 1998 played his entire career with the organization, racking up 990 games played–second to only Larry Robinson among Montreal defensemen. His 572 career points for Montreal ties him with Guy Lapointe for second (also behind Robinson) and his 119 goals come in third.
Sure, Markov didn't have anywhere near the postseason success of those two—Lapointe and Robinson each raised the Stanley Cup six times as Canadiens—but he'll still be remembered as one of the most impactful blueliners the franchise has ever had.
His exploits extended further than the NHL however. Markov suited up at three different Olympics, five World Championships and two World Cups for Russia over his long career. He also won the Russian league title three times, including the KHL's Gagarin Cup in 2018, the first year back following his return from the NHL.
A savvy, cerebral player that could set up a teammate in the blink of an eye, he received Norris Trophy votes on six different occasions.
Photo courtesy of USA Today Sports Images