The Carolina Hurricanes won't have Justin Williams on the ice this season, but he's still with them. The team announced today that Williams has been hired as a special advisor to general manager Don Waddell. In a release, Waddell explained why they've brought Williams back:
Justin has been a major part of the culture change that we've undergone here. We're thrilled to add someone with his experience to our front office.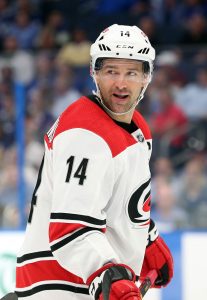 The 39-year-old Williams retired a few months ago after a long, successful career that included a short stint as the captain of the Hurricanes. Nicknamed "Mr. Game 7" for his outstanding performances in do-or-die situations, he is a three-time Stanley Cup Champion and the 2014 Conn Smythe winner.
Though his play on the ice was excellent, it comes as no surprise that Waddell mentioned his effect on the "culture" in Carolina instead. He was the face (and driving force) of a rebrand for the Hurricanes over the last several years, instituting things like the "Storm Surge" celebrations. He, along with veteran leaders like Jordan Martinook, also helped younger players like Sebastian Aho and Andrei Svechnikov become the stars they are today, protecting and guiding them through their early years in the league.
The Hurricanes are off to a 6-2 start this season and should be a strong contender in the Central Divison. Williams will now be around to help them reach the playoffs once again, even if he isn't going to be suiting up for any potential game sevens.
Photo courtesy of USA Today Sports Images