Veteran defenseman Ben Lovejoy is someone who was in demand at the trade deadline and has typically been viewed as a capable option on the third pairing.  Despite that, he finds himself still on the lookout for a new contract more than three weeks into free agency.
Last season, the 35-year-old was largely a regular defender for the Devils before they became sellers at the trade deadline.  Several teams showed interest but he was ultimately dealt to Dallas as the Stars wanted to add depth for their push to the postseason.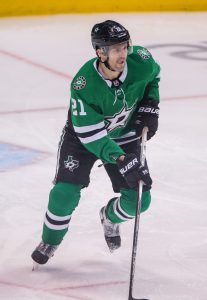 While Lovejoy's ice time dipped down the stretch to a little under 16 minutes per night, that changed in the postseason as he jumped back up over the 18-minute mark, right in line with his career averages that span over 500 regular season games.  That ranked fifth on the team and he was pretty close to Roman Polak who wound up with top-four minutes in the postseason.
Lovejoy is a very limited player at this stage of his career which certainly isn't helping his value now.  He doesn't bring much in the way of offense to the table nor is he a strong skater or puck mover.  He's an old school stay-at-home blueliner that can be counted on to help kill penalties and provide a shot-blocking presence; the only time in the last six years that he hasn't passed the 100 block mark was 2017-18 when injuries limited him to just 57 games.  Those aren't elements that are typically in high demand at this point of the summer but as the season progresses and injuries take their toll, players of this type of ilk become a lot more appealing to some teams.
Potential Suitors
While it's quite possible that Lovejoy ultimately winds up with a contender by the February 24th trade deadline, there's a good chance he won't wind up starting with one.  At this point, his market is largely limited to teams that could view him as an upgrade on their third pairing, as injury insurance, or as veteran leadership for a younger team.
That said, one contending team that could make some sense is Tampa Bay.  Of their four right-shot defenders that project to make a push for a roster, spot, three of them were in the minors for points of last season and the one that wasn't is better off being deployed as a right winger at this point (Luke Witkowski).  If Lovejoy is willing to sign for close to the league minimum (a requirement given their salary cap situation), he could be an end-of-roster upgrade.
As for some other fits in the West, Anaheim's defensive depth isn't what it once was.  While they could certainly give some of their prospects a look (something that would make some sense with Dallas Eakins now behind the bench), adding a veteran like Lovejoy could also be useful.  Chicago only has Brent Seabrook and Connor Murphy as proven fits on the right side while youngster Adam Boqvist may not be quite ready for NHL action yet so there could be a spot for Lovejoy there.  A return to Dallas isn't entirely implausible either, especially if they wind up dealing away youngster Julius Honka as many expect to see happen in the weeks to come.
Projected Contract
Lovejoy ranked 40th on our Top 50 UFA list with a projected contract of one year and $1MM plus an additional $900K in performance bonuses.  He's eligible to have those as long as he signs a one-year deal.  If the summer progresses without much progress being made on a new contract, signing a bonus-laden pact may open up a few more options for Lovejoy closer to training camp.
Photo courtesy of USA Today Sports Images.