The Buffalo Sabres have locked up another key piece of their future, signing Dylan Cozens to a seven-year extension. The $49.7MM deal keeps him from reaching restricted free agency and will keep him under contract through the 2029-30 season. He will carry a $7.1MM cap hit, and PuckPedia reports that the deal also includes a five-team no-trade clause in the last three seasons.
Cozens, 21, joins Tage Thompson and Mattias Samuelsson with recent seven-year extensions as the Sabres try to ensure that this core sticks around and grows into a contender together.
The seventh-overall pick from 2019 has already become a star if sometimes an overlooked one. Cozens has 17 goals and 43 points in 49 games this season, tying him with players like Anze Kopitar, Trevor Zegras, Dylan Larkin, Tomas Hertl, and Evgeny Kuznetsov. His performance has flown a little under the radar because of the attention that Thompson and Rasmus Dahlin receive in Buffalo, but make no mistake – Cozens will be a critical part of their future success.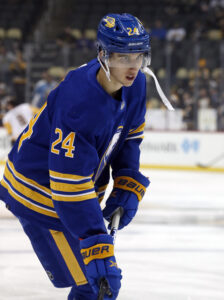 While this extension certainly isn't cheap, it also is pretty reasonable for a player who has shown such strides in the early part of his career. If the salary cap does increase like it is expected to over the next few years, the league may look back at this deal as a relative bargin, as it has with some other young players who were locked up early.
The fact that he plays center is a huge factor here. The Sabres now have their top two pivots locked up, meaning they can build around them with whatever complementary talents they can find. Any line led by Thompson and Cozens should be rather successful, especially with defense pairings anchored by Dahlin, Samuelsson, and Owen Power.
It's quite a group they are building in Buffalo, with plenty of financial flexibility to keep adding. While they will need to keep some room open for Dahlin's impending mega-deal (he is signed through next season), there is plenty of room to add some more talent in free agency or through trade, with Kyle Okposo's $6MM hit coming off the books at the end of this season.
A move like this will also affect other RFA negotiations around the league. Zegras, for instance, was picked just two spots after Cozens in 2019 and will finish his entry-level deal this summer. His 117 points in 150 games do trump the Sabres' center, but that has also been on an Anaheim Ducks team with virtually no competition for powerplay touches and offensive deployment.
There is also Cole Caufield, who is also from the 2019 draft and is in a negotiation with the Montreal Canadiens. His goal total is much higher than Cozens, but he has played fewer games and scored fewer points at a less demanding position. In both cases, this contract will be held up as a comparable.
It will be quite a happy birthday for Cozens on Thursday, when he turns 22. With nothing to focus on except hockey, the Sabres will hope he can reach new heights down the stretch and help them push for a playoff berth.
Photo courtesy of USA Today Sports Images