Buffalo Sabres GM Jason Botterill took the podium today for the team's season-ending press conference, and spoke on several topics including the future of Phil Housley—who, not unexpectedly, will be back next season—and the comments made by players like Ryan O'Reilly. Admitting that things need to change drastically right down to the culture of the team, he also touched on a goaltending situation that remains in flux.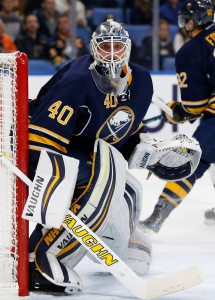 Botterill announced that he is excited to have Linus Ullmark as one of the NHL goaltenders next season, but couldn't say at this point who would be paired with him. That's partly because of the free agent situation both current netminders find themselves in, but likely also because of the disappointing season that preceded the presser.
Chad Johnson is an unrestricted free agent come July 1st, and after posting an .891 save percentage this season is unlikely to return for the Sabres. Though Johnson has posted fine numbers in the past, pairing him with the relatively inexperienced Ullmark seems like a recipe for disaster. He'll be 32 in 2018-19, and looked lost in the net at some points this season.
More likely—but perhaps only barely—is the return of Robin Lehner. After using a first-round pick to acquire him from the Ottawa Senators, Lehner actually put up two very strong seasons behind lackluster teams in 2015-17. Posting save percentages of .924 (albeit in a small sample) and .920, he looked like he truly could be a long-term option in Buffalo. There were some questions about his consistency though, as the emotional goaltender could sometimes get in his own way. Those inconsistencies were the story this season, as his numbers dropped across the board and led to questions about his future.
Lehner will be a restricted free agent this summer, but is coming off a $4MM salary this season. That means his qualifying offer would need to be at least that much, something the Sabres might not feel accurately portrays his value. If Ullmark is given the keys to the club and is expected to handle at least a good chunk of the starting duties, it's not clear if Lehner would be re-signed or moved.
If he is put up for trade, there are certainly clubs that would be interested. As stated above, Lehner clearly has the talent to be an above-average goaltender in the NHL. Put on a stronger team, with a healthy leadership core, perhaps the best of him would come out once again. Still only 26, there is even room for him to grow as a professional and squeeze out some of the inconsistency from his game.
Photo courtesy of USA Today Sports Images