Navigating the salary cap is one of the more important tasks for any GM.  Teams that can avert total cap chaos by walking the tightrope of inking players to deals that match their value (or compensate for future value without breaking the bank) remain successful.  Those that don't see struggles and front office changes.
PHR will look at every NHL team and give a thorough look at their cap situation heading into the 2020-21 season.  This will focus more on players who are regulars on the roster versus those who may find themselves shuttling between the AHL and NHL.  All cap figures are courtesy of CapFriendly.
Vegas Golden Knights
Current Cap Hit: $82,474,104 (over the $81.5MM Upper Limit)
Entry-Level Contracts
F Cody Glass (two years, $863K)
Potential Bonuses
Glass: $850K
Vegas was able to ease Glass into his injury-shortened rookie year and allowed him to get his feet wet without much pressure which is typically a strong development strategy.  They won't have that luxury moving forward, however, with Paul Stastny being moved back to Winnipeg, opening up a spot for a top-six center.  They're hoping Glass can fill that spot and if he does, he'll be in line for a big raise on his next deal.
One Year Remaining, Non-Entry-Level
D Carl Dahlstrom ($850K, RFA)
D Alec Martinez ($4MM, UFA)
F Tomas Nosek ($1.25MM, UFA)
Nosek has been a dependable fourth liner in his three years with the team which earned him a small raise on this contract.  It's hard to envision him getting much more, however, given how tight they are to the cap; they can't afford to pay any sort of premium for someone on the fourth line.
Martinez immediately stepped into a prominent role after being acquired from the Kings near the trade deadline as he fit in quite well with his new team.  He's likely to remain in their top four this coming season and he should be one of the more sought-after blueliners on the open market next offseason if he gets there.  Dahlstrom was acquired as part of the Stastny trade and will be in a depth role.  That's about all Vegas can afford for that role so if his price tag goes up, chances are he'll be replaced by someone willing to play for that amount next offseason.
Two Years Remaining
G Marc-Andre Fleury ($7MM, UFA)
D Nick Holden ($1.7MM, UFA)
D Brayden McNabb ($2.5MM, UFA)
F Ryan Reaves ($1.75MM, UFA)
F Reilly Smith ($5MM, UFA)
Smith has been a consistent producer in his three years with Vegas after being a bit more inconsistent during his time with Boston and Florida.  He has established himself as a capable top-six winger but he'll be 31 when he signs his next contract and the market wasn't too kind to wingers this offseason.  Things can change between now and then obviously but while he may be able to land a similar-priced deal in 2022, it's hard to see a big raise on the horizon.  Reaves took a pay cut to stay with the Golden Knights although he's still one of the more expensive pure fourth liners to recently sign.  At some point, they'll need a cheaper option out of that spot, whether it's him or someone else.
McNabb is never going to put up a lot of points but there is still a role for a stay-at-home, physical defender.  That's the good news.  The bad news is that the importance of players who play that style seems to be diminishing with each year.  As a result, even though he's a good fit on the second pairing most nights, his market two years from now may not be as strong as it should be.  Holden has been a serviceable player on the third pairing but that's another spot that Vegas will be looking to save money on which means they may turn to another player at that time.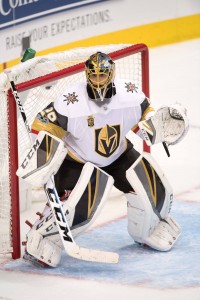 Fleury's contract made some sense at the time he was signed as he was their undisputed starter with no other option on the horizon.  Things have changed since then and he now sits as the presumptive backup and $7MM for a second option isn't ideal no matter how good that player is.  It's believed that the team tried to move him but found no takers at a price point they were comfortable with.  A buyout a year from now could be an option if they can't find a new home by retaining a sizable portion of the contract.  In the meantime, Vegas will have one of the stronger tandems in the league next season while also being one of the most expensive ones.
Three Years Remaining
F Max Pacioretty ($7MM, UFA)
Very quietly, Pacioretty has potted 30 or more goals and 60 or more points in five of the last seven seasons which is legitimate front line production.  Whether or not he can maintain that in his early to mid-30s remains to be seen but while his contract isn't a bargain, it's fair value from when he signed the deal shortly after being acquired in 2018.
Four Years Remaining
F William Carrier ($1.4MM, UFA)
F Jonathan Marchessault ($5MM, UFA)
F Chandler Stephenson ($2.75MM, UFA)
Marchessault is still one of the better stories out there.  After starting on an AHL contract and playing a middling role in his mid-20s, he has now emerged as a capable top liner while being paid like a second liner which is good value for Vegas.  Stephenson fit in quite well after being acquired in a midseason cap dump from Washington and was rewarded with the four-year deal this offseason.  That could prove to be expensive if he goes back to producing more like a fourth liner but at the same time, if he produces at a similar rate from his part year in Vegas, it'll be quite the bargain.  Carrier took a nice step forward offensively last season while playing his usual physical style.  Another small step forward in terms of production would give him a good chance to meet if not outperform this contract.