Navigating the salary cap is one of the more important tasks for any GM.  Teams that can avert total cap chaos by walking the tightrope of inking players to deals that match their value (or compensate for future value without breaking the bank) remain successful.  Those that don't see struggles and front office changes.
PHR will look at every NHL team and give a thorough look at their cap situation for the 2020-21 season.  This will focus more on players who are regulars on the roster versus those who may find themselves shuttling between the AHL and NHL.  All cap figures are courtesy of CapFriendly.
Toronto Maple Leafs
Current Cap Hit: $84,543,578 (over the $81.5MM Upper Limit)
Entry-Level Contracts
F Alexander Barabanov (one year, $925K)
D Mikko Lehtonen (one year, $925K)
D Rasmus Sandin (two years, $894K)
F Nicholas Robertson (three years, $822K)
Potential Bonuses
None
The Toronto Maple Leafs have a history of bringing in European players in on entry-level contracts. Sometimes they work out and other times not. However, the team feels good about bringing in Lehtonen and Barbashev. The 27-year-old Lehtonen is coming off a dominant season in the KHL last season with Jokerit where he scored 17 goals and 49 points in his first season there. His offense could come in handy as he already has three points in just five games. The 26-year-od Barabanov has also proved to be a useful depth piece after five full seasons in the KHL. Both should provide good production for what they're being paid.
The 20-year-old Sandin has worked his way up the depth chart and is knocking on the door of Toronto's defense. Sandin did get into 28 games with the Maple Leafs last season and likely will get another opportunity at some point this season and should be an eventual full-time player for Toronto in the future. Robertson also has shown flashes of brilliance and despite his knee injury has a bright future ahead of him that could come at some point later this season.
One Year Remaining, Non-Entry-Level
G Frederik Andersen ($5MM, UFA)
F Zach Hyman ($2.25MM, UFA)
F Wayne Simmonds ($1.5MM, UFA)
D Zach Bogosian ($1MM, UFA)
F Jimmy Vesey ($900K, UFA)
D Travis Dermott ($874K, RFA)
F Nic Petan ($775K, RFA)
F Joe Thornton ($700K, UFA)
F Jason Spezza ($700K, UFA)
F Travis Boyd ($700K, UFA)
The Maple Leafs will have an interesting decision to make in net during the offseason as Andersen's contract will be up and the team has not indicated any willingness to discuss an extension at this point. In fact, the team had been looking to potentially move Andersen to upgrade in net instead last offseason with no luck. The 31-year-old who had been quite consistent over the years in Toronto, didn't have as strong of a season, posting a .909 save percentage, significantly lower than his career number (.916). Of course the defense behind him wasn't much better, which could explain that, but it will be interesting if the team brings Andersen back next year. Hyman could be another interesting decision for GM Kyle Dubas. The 28-year-old has posted two 20-goal seasons and is a favorite among players, but with serious salary cap implications it will deal with over the next few years, Hyman might be a luxury the team cannot afford.
One thing the Maple Leafs focused on in the offseason with improving the team's depth and they did that, signing a bunch of players to one-year deals, including Simmonds, Thornton, Bogosian, Vesey. The team brought back Spezza as well for another year in hopes that they could improve the depth and experience level in their bottom six, although some of them like Simmonds and Thornton might get a crack at even bigger roles. Dermott will also require some tough negotiations as the RFA will want a raise next season.
Two Years Remaining
D Morgan Rielly ($5MM, UFA)
F Ilya Mikheyev ($1.65MM, UFA)
G Jack Campbell ($1.65MM, UFA)
F Pierre Engvall ($1.25MM, RFA)
F Adam Brooks ($725K, RFA)
G Michael Hutchinson ($725K, UFA)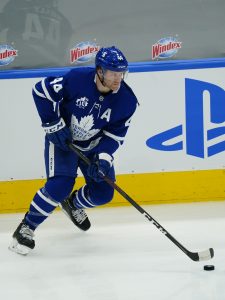 The most interesting player is Rielly, who leads the team in ATOI with 23:47. He has been the team's No. 1 defenseman for years and will be 28 years old when his contract runs out, which suggests the blueliner could be in line for quite a big raise at some point. Rielly should bounce back to his old offensive ways this year. He tallied 20 goals and 71 points in 2018-19, but injuries kept him to 47 games and just 27 points. A big season this year should begin to step up talks of signing him to an extension in as soon as a year.
Mikheyev is one of the success stories for general manager Kyle Dubas as the 26-year-old came over from the KHL and posted impressive numbers, scoring eight goals and 23 points in 39 games despite suffering a significant injury in the middle of the season. The forward is expected to play a bigger role for the Maple Leafs this year after signing a two-year extension and could be in line for an even bigger contract down the road if he can put his game together and maybe step into a top-six role at some point.
Campbell has fared quite well since being acquired by the Maple Leafs to be the team's backup and should continue to do so for the next couple of years. However, the 29-year-old has only appeared in eight games since the trade, meaning the team hasn't shown that much confidence in him. Regardless, he's been solid in the limited time he's played.
Three Years Remaining
F Alexander Kerfoot ($3.5MM, UFA)
D Justin Holl ($2MM, UFA)
The Maple Leafs brought in Kerfoot as part of the Nazem Kadri deal with Colorado and were hoping that the young center might take control of their third line and establish a dominant line. Three days after the trade, Toronto handed him a four-year, $14MM contract, but the 26-year-old struggled in his first season with the team. After scoring 34 goals in his first two seasons with Colorado, Kerfoot managed just nine goals and 28 points, career lows and struggled. The team has to hope that Kerfoot can find his way, considering the money the team spent on him and the constant cap problems.
Holl, on the other hand, has been a revelation to the team. He struggled to work his way into Toronto's lineup in the past, but finally earned a regular role last season and has forced his way into the team's top-four this year. Holl provides both the team with a well-rounded player who could be in line for a big contract down the road if he can continue to produce for the team. However, at $2MM per year, he is currently under a great contract.
Four Or More Years Remaining
F Auston Matthews ($11.6MM through 2023-24)
F John Tavares ($11MM through 2024-25)
F Mitch Marner ($10.9MM through 2024-25)
F William Nylander ($6.96MM through 2023-24)
D Jake Muzzin ($5.6MM through 2023-24)
D T.J. Brodie ($5MM through 2023-24)
Toronto definitely has done the core work of their job in locking up all their top players to long-term deals. The only real issue is whether the team can vie for a championship when most of their money is tied up in Matthews, Tavares, Marner and Nylander. The team began the process just two and a half years ago when they signed Tavares to a seven-year, $77MM deal and then inked Nylander, after a lengthy holdout to a six-year, $45MM contract. The Nylander deal, which didn't necessarily look that good after the first year is starting to look like a bargain with how he's been playing. That started the process. In 2019, the team then locked up Matthews to a five-year, $58.2MM deal and followed that up with signing Marner to a six-year, $65.4MM contract several months later. All four should keep this team competitive for quite a long time.
More recently, the Maple Leafs have focused on shoring up their defense, signing defense-oriented Jake Muzzin to a four-year, $22.5 deal one year ago. The team then added T.J. Brodie to a similar four-year, $20MM contract during the offseason in hopes that both defense-first blueliners can be major contributors down the road as well.
Buyouts
None
Retained Salary Transactions
F Phil Kessel ($1.2MM through 2021-22)
Still To Sign
None
Best Value: Nylander
Worst Value: Kerfoot
Looking Ahead
The Maple Leafs and Dubas will spend the next several years playing with the salary cap and attempt to exploit every possible way to get the most out of it. With so much top-heavy money on the Leafs books over the next four to seven years, the team will have to depend on younger players and their ability to bring in European players to augment their roster, something they have so far done quite well. With several strong draft classes in the books as well, the team may have some help coming their way sooner than they think as well, which should only hope this team.
Photo courtesy of USA Today Sports Images.