Navigating the salary cap is one of the more important tasks for any GM.  Teams that can avert total cap chaos by walking the tightrope of inking players to deals that match their value (or compensate for future value without breaking the bank) remain successful.  Those that don't see struggles and front office changes.
PHR will look at every NHL team and give a thorough look at their cap situation for the 2020-21 season.  This will focus more on players who are regulars on the roster versus those who may find themselves shuttling between the AHL and NHL.  All cap figures are courtesy of CapFriendly.
Tampa Bay Lightning
Current Cap Hit: $98,785,916
(over the $81.5MM Upper Limit)
Entry-Level Contracts
D Callan Foote (one year, $925K)
Potential Bonuses
Foote: $500K
Championship teams often don't have many entry-level contracts and the Tampa Bay Lightning are no different. The team does have Foote ready to step into the lineup after the team moved on from Brayden Coburn and the rookie has taken a third-pairing role for the team and likely will play sheltered minutes for most of the season even if he did already score a goal in just four games this season.
One Year Remaining, Non-Entry-Level
F Marian Gaborik ($4.88MM, UFA)
G Anders Nilsson ($2.6MM, UFA)
F Blake Coleman ($1.8MM, UFA)
G Curtis McElhinney ($1.3MM, UFA)
F Barclay Goodrow ($925K, UFA)
D Luke Schenn ($800K, UFA)
F Alexander Volkov ($700K, RFA)
F Gemel Smith ($700K, UFA)
D Andreas Borgman ($700K, RFA)
The Lightning is using its cap space wisely, taking advantage of several injured players and going out and acquiring several other contracts of players on LTIR to maximize their cap space. The contracts of Gaborik and Nilsson will help the team for cap purposes, but will also expire next season for the team. The Lightning also made a couple savvy deals at the trade deadline last year when acquiring Coleman and Goodrow in separate deals. Not only did each player make big contributions during the team's championship run, but both are still on affordable contracts for this year. The question will be whether Tampa Bay can bring one or both of them back for next season.
The team also has 37-year-old backup netminder in McElhinney. The veteran has been out for the start of the season, but it is believed he'll be back soon and should be quite reliable. McElhinney had a .906 save percentage in 18 games and should help the team for this year. The team may opt to go in a different direction for 2021-22. Schenn is another key depth piece for the Lightning.
Two Years Remaining
F Brayden Point ($6.75MM, RFA)
F Ondrej Palat ($5.3MM, UFA)
D Jan Rutta ($1.3MM, UFA)
F Pat Maroon ($900K, UFA)
F Mathieu Joseph ($738K, RFA)
F Mitchell Stephens ($738K, RFA)
The team has a number of players signed long-term, but the team has a few other key players they might want to lock up. One player will be Point who has taken his game to a whole new level in the last couple of years. The 24-year-old scored 32 goals in 2017-18; 41 in 2018-19; 25 in 66 games last year and has established himself as a first-line player. He will be eligible for an extension at the end of this season and it will be interesting if Tampa Bay gives him a long-term deal then.
While Palat's contract looked questionable a year ago when injuries were significant issues, Palat had an impressive year last year, putting up 17 goals and 41 points and was an essential top-six player for him. Maroon and Rutta both have been essential depth options for the Lightning, while Joseph and Stephens have taken significant roles on their fourth-line after splitting time between the AHL and NHL last year.
Three Years Remaining
F Anthony Cirelli ($4.8MM, RFA)
D Mikhail Sergachev ($4.8MM, RFA)
F Alex Killorn ($4.45MM, UFA)
D Erik Cernak ($2.95MM, RFA)
With three key restricted free agents during the offseason, Tampa Bay finally was able to get all three under contract, signing them to three-year bridge deals. Cirelli, Sergachev and Cernak are critical players to the team and the team can get three years out of them before having to figure out the complexities of their cap situation at that point. The 23-year-old Cirelli had 16 goals and a career-high 28 assists in 68 games last season. The 22-year-old Sergachev worked his way into the team's top-four on defense and had a career-high 10 goals last season. Cernak, 23, had a second straight solid season as a top-four defenseman, including 172 hits last year. The Lightning might be forced to move one of them down the road, but they are certainly locked in for the near future.
Killorn is the only player who will be an unrestricted free agent in three years. The 31-year-old had a breakout season last year with career highs in goals (26) and points (49).
Four Or More Years Remaining
G Andrei Vasilevskiy ($9.5MM through 2027-28)
F Nikita Kucherov ($9.5MM through 2026-27)
F Steven Stamkos ($8.5MM through 2023-24)
D Victor Hedman ($7.88MM through 2024-25)
D Ryan McDonagh ($6.75MM through 2025-26)
F Yanni Gourde ($5.17MM through 2024-25)
F Tyler Johnson ($5MM through 2023-24)
The team has its core locked up, something a championship team would have anyway, for quite a long time. The Lightning are starting the first year of Vasilevskiy's deal, which runs for eight years. However, at just 26 years, he should make that deal look pretty good. Vasilevskiy was impressive last year with a 35-14-3 record, a 2.56 GAA and a .917 save percentage in 52 games and should continue to be dominant for many years to come.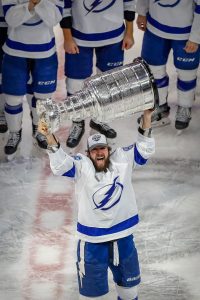 Kucherov was one of the top players in the league, but has undergone hip surgery and is expected to miss the regular season with the injury, which is what allowed Tampa Bay to utilize LTIR and keep all their players. The 27-year-old has already tallied 221 goals in just seven seasons in the league and should be a major contributor down the road for the Lightning. Stamkos, 30, has also dealt with injuries (especially last year), but the forward still is one of the best in the game, showing that early this season with seven points in six games.
The defense is also solid with Hedman, one of the best defensemen in the league, locked up for quite a deal at just $7.88MM, a great deal as many defensemen are making quite a bit more. He scored 55 points last year in 66 games and then dominated during the team's Stanley Cup run with 10 goals and 22 points in 25 games. McDonagh's deal is for another six years, which is a long time for a 31-year-old, which means he will be 37 years old when his contract ends. His offensive numbers have already dropped off quite a bit, so the team may have to deal with that contract down the line.
The Lightning may also have some tough decisions to make regarding Johnson and Gourde. The team tried to move Johnson over the offseason, even putting the forward on waivers, but to no avail. That won't stop them from trying again and Gourde would be a candidate to go as well. Johnson scored just 14 goals last season and has spent most of last year in the bottom-six. Gourde is also coming off a tough season, scoring just 10 goals after two 20-goal seasons. Tampa Bay has to hope both players rebound and improve their trade value this season.
Buyouts
None
Retained Salary Transactions
None
Still To Sign
None
Best Value: Hedman
Worst Value: Johnson
Looking Ahead
The team, whether we're talking about Steven Yzerman or Julien BriseBois, has done a great job putting together an impressive team and will keep trying to turn this winning team into a dynasty. The team will spend most of their time the next many years working the salary cap to the best of their abilities and will have to hope that their stars will age gracefully in order to make the season-to-season transition easier.
Photo courtesy of USA Today Sports Images.