Navigating the salary cap is one of the more important tasks for any GM.  Teams that can avert total cap chaos by walking the tightrope of inking players to deals that match their value (or compensate for future value without breaking the bank) remain successful.  Those that don't see struggles and front office changes.
PHR will look at every NHL team and give a thorough look at their cap situation for the 2020-21 season.  This will focus more on players who are regulars on the roster versus those who may find themselves shuttling between the AHL and NHL.  All cap figures are courtesy of CapFriendly.
Buffalo Sabres
Current Cap Hit: $79,614,282 (under the $81.5MM Upper Limit)
Entry-Level Contracts
F Dylan Cozens (three years, $894K)
D Rasmus Dahlin (one year, $925K)
D Henri Jokiharju (one year, $925K)
Potential Bonuses
Cozens: $850K
Dahlin: $2.85MM
Jokiharju: $637.5K
Total: $4.3375MM
Cozens made the team despite a shortened training camp due to him playing at the World Juniors where he was one of the top performers in the tournament.  He isn't eligible to play in the AHL whenever the WHL gets underway so a decision will have to be made in a few weeks as to whether or not to burn the first year of his entry-level deal.  The threshold has been cut to seven games meaning that if Cozens plays in that seventh contest, his contract officially burns a year.
Dahlin hasn't been the flashiest player since being taken first overall in 2018 but he has already established himself as an important part of their back end and a player they'll want to build around.  Discussions surrounding a long-term deal would likely use Florida's Aaron Ekblad ($7.5MM AAV for eight years) as a potential comparable and with the flexibility that they're about to have on the cap, they can easily afford to go that route if they want.  As for Jokiharju, he played a regular role on the third pairing after being acquired from Chicago.  Unless he's able to jump into their top four though, a short-term contract makes the most sense and without arbitration eligibility, he shouldn't be able to command a sizable raise.
One Year Remaining, Non-Entry-Level
F Taylor Hall ($8MM, UFA)
G Carter Hutton ($2.75MM, UFA)
D Matt Irwin ($700K, UFA)
D Jake McCabe ($2.85MM, UFA)
D Brandon Montour ($3.85MM, UFA)
F Sam Reinhart ($5.2MM, RFA)
F Tobias Rieder ($700K, UFA)
F Riley Sheahan ($700K, UFA)
F Eric Staal ($3.25MM, UFA)
G Linus Ullmark ($2.6MM, UFA)
The Sabres made a big splash in free agency by getting Hall to sign with them.  It was a surprise on multiple fronts in that a non-playoff team landed him and that it was just for one year although the state of the UFA market helped push his fate in that direction fairly quickly.  He'll get a chance to rebuild his value a little bit in the hopes of getting a similar price tag on a long-term deal this summer but with many teams trending to tight to the cap for next year as well, a contract similar to this one can't be ruled out either.  Staal was brought in from Minnesota in the offseason and is coming off a solid season.  He's slowing down but as long as he can produce like a second-liner, there's a spot for him around his current price tag.  Rieder and Sheahan are both depth players and will either be retained or replaced by others making the minimum.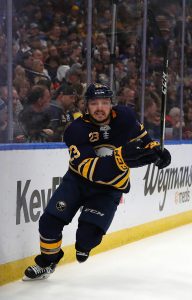 Reinhart's situation largely has flown under the radar due to Hall but it's reaching the point where a decision is going to need to be made.  Instead of inking a long-term deal this past offseason, Reinhart and the Sabres opted for a one-year deal, giving him another crack at restricted free agency with arbitration eligibility in the summer.  However, he's now only one year away from UFA eligibility so if talks on a long-term deal don't go well, he can easily just file for arbitration, get his one-year contract, and hit the open market in the prime of his career.  They've kicked the can as far as they can and GM Kevyn Adams will need to get a long-term agreement in place with Reinhart this offseason.
Montour was a speculative non-tender candidate after a tough first full season with the Sabres although he wound up accepting a small raise that walks him to UFA eligibility.  But if he doesn't show the promise that he did in his time with Anaheim, he'll be hard-pressed to receive his current salary on the open market.  McCabe has seen a lot of second pairing playing time in recent years and has held his own although he's better used as a fifth option.  While he doesn't produce much offensively, he's still fairly young and it wouldn't be surprising if he winds up with a deal around what Joel Edmundson signed to avoid hitting the open market with Montreal, a multi-year deal in the $3.5MM range.  Irwin has been at or near the minimum for a few years now and that's unlikely to change.
Ullmark was expected to be part of the long-term solution for Buffalo between the pipes and while that's still possible, the fact that he only received a one-year deal to get him to UFA eligibility means that the Sabres aren't yet sold on that possibility.  While he should be able to do enough to earn a small raise at a minimum given the recent demand for quality backups, he'll need a big year to have a shot at starter money.  Hutton is coming off of a tough season and will need a bounce-back year to garner some interest.  At the very least, he'll be going year-to-year moving forward as any future contracts will have 35-plus rules attached to them.
Two Years Remaining
F Cody Eakin ($2.25MM, UFA)
F Curtis Lazar ($800K, UFA)
D Colin Miller ($3.875MM, UFA)
F Victor Olofsson ($3.05MM, RFA)
D Rasmus Ristolainen ($5.4MM, UFA)
Olofsson was one of the pleasant surprises in what was a tough season for the Sabres as he was one of the top-scoring rookies in the league before a lower-body injury derailed his momentum.  A bridge deal made a lot of sense for both sides given how his production caught many off guard but if he picks up where he left off and scores at a 20-goal or more pace, he could easily add another million or two to his price tag.  Eakin was brought in as an unrestricted free agent to give them some veteran depth down the middle although the price tag was on the high side given what other role players had to sign for.  Lazar hasn't lived up to his first-round draft billing but he's affordable depth that will either be replaced or retained at that price tag.
Ristolainen continues to be one of the more polarizing blueliners in the league.  There's no denying that he has a strong offensive game but his play in his own end isn't graded anywhere near as favorably.  Still, he will enter the market at 27 in the prime of his career and is a right-shot player, the side where supply is much shallower than demand.  A small raise, even in this marketplace, is a definite possibility.  After being a key part of the back end in Vegas, Miller didn't fare anywhere near as well with Buffalo and his ice time has been cut further in the early going this year.  He will need to establish himself as a viable top-four option if he wants to have a chance at getting something close to his current AAV in 2022.
Three Years Remaining
F Zemgus Girgensons ($2.2MM, UFA)
F Kyle Okposo ($6MM, UFA)
F Tage Thompson ($1.4MM, RFA)
Okposo is now officially in the back half of the deal he signed in the ill-fated 2016 offseason.  His days of being an impact player have come and gone but he's still serviceable in a bottom-six role.  It's too bad for the Sabres that he's paid way too much for that particular role though.  Girgensons also got an above-market deal for a depth player and it's certainly not off to a good start as he's already out for the season.  Thompson is the lone player left from the Ryan O'Reilly deal to St. Louis and battled injury troubles last year.  He accepted a bit of security by taking the three-year agreement and it shouldn't take much for Buffalo to get a good return on it but he'll need to establish himself as a top-six forward to have a shot at a significant raise in 2023.
Four Or More Years Remaining
F Jack Eichel ($10MM through 2025-26)
F Jeff Skinner ($9MM through 2026-27)
Eichel's contract was exorbitant at the time although with some of the deals handed out since then, a case can be made that it's a market-value pact.  He has improved in every season and while Connor McDavid (the one player picked ahead of him in 2015) gets most of the spotlight, Eichel has emerged as a high-end center in the league.  It's a high-priced deal but he's a foundational piece.  The same can't be said for Skinner who failed to come close to duplicating his 40-goals first season with the team as he struggled mightily.  This contract also contains a no-move clause which is somewhat redundant as the price tag and term make it practically impossible to trade as it is.
Buyouts
D Christian Ehrhoff (compliance buyout so no cap hit but $857K owed annually through 2027-28)
F Cody Hodgson ($792K per year through 2022-23)
Retained Salary Transactions
None
Still To Sign
None
Best Value: Olofsson
Worst Value: Skinner
Looking Ahead
While having just shy of $2MM in cap room typically wouldn't be considered as a lot, they're just shy of the top ten in cap room this season.  If they're able to stay healthy and bank a good chunk of that closer to the trade deadline, they may be able to add an impact player in a trade if they're in the mix.  There are plenty of teams who would love to be in that situation a couple of months from now.
While Skinner and Okposo's contracts are far from pretty, Buffalo's books are pretty clean overall without too many long-term commitments.  There will be ample opportunity for Adams to dramatically reshape this roster over the next couple of years if he so desires, especially between the pipes and on the back end with Dahlin being the only long-term mainstay.  Decisions will need to be made on committing long-term deals to Hall and Reinhart that could cut into that flexibility up front but it wouldn't be surprising to see a fair bit of roster turnover from the Sabres in the near future.
Photo courtesy of USA Today Sports Images.