Panthers center Aleksander Barkov has emerged as one of the top centers in the league and is frequently discussed as one of the more underrated players in the league.  He has been a fixture in Florida's lineup for the last seven seasons but with new GM Bill Zito starting to change up the roster, teams have been inquiring about Barkov's availability, reports TSN's Frank Seravalli in the latest Insider Trading segment (video link).  Zito's response to all suitors thus far has been that Barkov is unavailable though.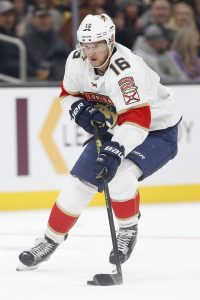 On the surface, it might seem a little odd that teams would be inquiring about Florida's top player at this point but the idea seems to come from his contract situation.  The 25-year-old still has two years left on his deal at a bargain price tag of $5.9MM but at this point, teams are questioning Barkov's willingness to sign what would be a long-term, lucrative extension given Florida's lack of postseason success since he has been there.  Over those seven years, the team hasn't won a playoff series and has only qualified for the postseason twice and one of those came last season when they were added to the expanded field of 24.
Barkov's offensive game has really taken off the last three seasons and he is tied for 17th league-wide in points over that span.  On top of that, he has been a key player in all situations and has logged over 20 minutes per game in each of those three years; his ATOI of 21:18 is eighth-most among NHL forwards in that span.  Basically, he has been exactly what Florida hoped he'd become when they drafted him with the second-overall pick back in 2013.
Premier centers in the prime of their career rarely become available on the open market and even with the current financial landscape (which could certainly change over the next 18 months), Barkov could easily command more than $10MM if he makes it to unrestricted free agency.  If he goes that route, Florida risks losing him for nothing which clearly has led to the inquiries but for now at least, Zito will try to continue to reshape his roster in the hopes of convincing his franchise player to stick around for the long term with many general managers around the league keeping close tabs on their progress.
Photo courtesy of USA Today Sports Images.