Navigating the salary cap is one of the more important tasks for any GM.  Teams that can avert total cap chaos by walking the tightrope of inking players to deals that match their value (or compensate for future value without breaking the bank) remain successful.  Those that don't see struggles and front office changes.
PHR will look at every NHL team and give a thorough look at their cap situation for the 2020-21 season.  This will focus more on players who are regulars on the roster versus those who may find themselves shuttling between the AHL and NHL.  All cap figures are courtesy of CapFriendly.
Florida Panthers
Current Cap Hit: $78,081,662 (under the $81.5MM Upper Limit)
Entry-Level Contracts
F Eetu Luostarinen (two years, $898K)
D Riley Stillman (one year, $773K)
F Owen Tippett (two years, $863K)
Potential Bonuses
Tippett: $850K
Luostarinen somewhat surprisingly made the team out of training camp and has made an early impact on the third line.  If he's able to hold down that spot for this season and into next, he'll be in a good spot for a small raise but it's far too early to forecast that.  Tippett had a decent first pro season, one that was mostly spent in the minors.  Like Luostarinen, there's a definite path to a raise at the end of his deal but he will need to show that he's capable of being a full-time player first.
Stillman established himself as a regular in the second half of last season but some of the defensive additions and his waiver exemption could work against him. If he winds up being shuffled to and from the taxi squad (where he currently sits), he'll go from someone that could get a two-year deal at a small raise to one that will likely be settling for close to his qualifying offer.
One Year Remaining, Non-Entry-Level
G Chris Driedger ($850K, UFA)
F Anthony Duclair ($1.7MM, RFA)
D Gustav Forsling ($700K, RFA)
F Vinnie Hinostroza ($1MM, UFA)
D Noah Juulsen ($700K, RFA)
F Alexander Wennberg ($2.25MM, UFA)
Wennberg was bought out by Columbus after a third straight tough season with Columbus but did relatively well for himself on the open market compared to others who suffered a similar fate.  He's still young enough where a bounce-back season could help position him for a multi-year deal with a raise – likely not as much as he was getting on his last deal ($4.9MM) but an increase nonetheless.  Duclair leaving Ottawa was one of the bigger surprises after the Sens didn't want to risk an arbitration hearing.  The winger had to settle for less than expected and with him being arbitration-eligible again, he may be more inclined to agree to a deal to avoid unrestricted free agency next summer.  Hinostroza showed flashes of offensive upside with Arizona but his arbitration eligibility hurt him as he was instead non-tendered in October.  He's in a spot where if he can work his way up the lineup a bit, he'll position himself for a small increase but otherwise, he'll stay around this salary level.
Forsling and Juulsen were both added off waivers in training camp.  While Forsling has a reasonable amount of NHL experience, he's someone that is going to hang around the minimum salary until he can establish himself as a regular.  As for Juulsen, injuries have cost him nearly two years of development.  It will be hard for him to step into a regular role which will have him in line for a minimal raise at most this summer.
Driedger had been a career minor leaguer until last year where he played quite well, albeit in a limited sample size of just a dozen appearances.  That gave him the backup spot heading into this season, his first real opportunity.  Even in a shortened year, a decent showing could have him double his AAV given the higher demand for backups in recent seasons.
Two Years Remaining
F Noel Acciari ($1.67MM, UFA)
F Aleksander Barkov ($5.9MM, UFA)
F Ryan Lomberg ($725K, UFA)
D Markus Nutivaara ($2.7MM, UFA)
D Anton Stralman ($5.5MM, UFA)
F Frank Vatrano ($2.533MM, UFA)
F Carter Verhaeghe ($1MM, UFA)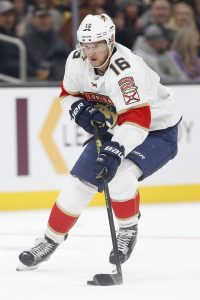 Barkov's situation has come in recent days when it was revealed that teams were calling to inquire if he may be available; those were quickly rebuffed by GM Bill Zito.  Still, it suggested that the perception around the league may be that they think it's unlikely that Florida's franchise center will opt to sign an extension when this deal expires.  The Panthers have benefitted from being at a well below-market rate for several years now and it stands to reason that he'll jump past the $10MM mark on his next contract given his elite two-way game and the fact he'd be hitting the open market at the age of 26 in the prime of his career.  He'll immediately jump to the top of the UFA class for 2022 if he makes it that far.
Vatrano had a career year in his first full season with Florida after coming over from Boston, allowing him to get this deal which nearly tripled his previous AAV.  He followed that up with an improved 2019-20 campaign and while that normally would mean another raise would be in his future, what happened to middle-six wingers in free agency makes that outcome a bit less likely.  Even with a deflated market, a dip would be minimal though.  Acciari was one of the more surprising 20-goal scorers last season (his first after joining them from the Bruins) as he'd had just 18 in his entire career before then.  If it is indeed a sign of things to come, he'll be well-positioned in free agency as the fact he can play down the middle would bolster his value.  If he goes back to being more of a checker though, he could be looking at a small cut.  Verhaeghe is an interesting pickup.  He has played heavy minutes in the early going and done well.  It's obviously still early but Florida is hoping it could be another Jonathan Marchessault situation where the player leaves Tampa Bay and with a bigger opportunity, becomes a key player.  Verhaeghe, meanwhile, is hoping such a scenario would lead to a top-six payday, much like Marchessault got.  Lomberg is filling a depth role, one that should stay at a similar price point down the road.
Stralman was brought in to try to solidify Florida's defense a year ago and that simply didn't happen.  He didn't have an overly poor season but it was a quiet year and their defensive issues persisted.  His next deal will carry 35-plus caveats so he'll likely be going year-to-year moving forward, likely at a considerably lower salary as well.  Nutivaara was brought in from Columbus to bolster their third pairing.  He has a high price tag for someone that's ideally a number six option though with their cap room, it's a premium they can easily afford.
Three Years Remaining
F Brett Connolly ($3.5MM, UFA)
D Radko Gudas ($2.5MM, UFA)
F Patric Hornqvist ($5.3MM, UFA)
F Jonathan Huberdeau ($5.9MM, UFA)
D MacKenzie Weegar ($3.25MM, UFA)
D Keith Yandle ($6.35MM, UFA)
Huberdeau has turned into another bargain for the Panthers, providing top-line production for a second-line price tag.  Free agency wasn't kind to wingers this offseason but that should change by the time he hits the open market which should have him in a spot to add another couple of million to his AAV.  Hornqvist was brought in to give them some more grit up front but he's on the downswing of his career (despite the hot start this season) and his style of play has left him susceptible to injuries in recent years.  That combination makes it likely that his next deal (which also will be a 35-plus pact) will be a much smaller one.  Connolly did relatively well in his first season with Florida with 33 points.  It's an above-market contract based on the most recent free agent market but they should still get a good return if he can stay around that point range.
Yandle's situation has been well-documented.  After it looked like he'd be a healthy scratch, he has played in both games so far, albeit in a more limited role and actually has recorded points in each of them.  Nevertheless, it's clear that it's a contract they wouldn't mind not having on the books but in this market, finding a taker will be tricky.  Weegar has worked his way up from a role player to a top-four piece and that price tag for that role is a below-market one.  Is he a top-four option if he wasn't in Florida?  That is debatable but as long as their back end stays as is, they'll get a good return on this contract.  Gudas was also brought in to reshape their third pairing with Florida paying a premium in terms of salary and probably term as well for his physicality.
Four Or More Years Remaining
G Sergei Bobrovsky ($10MM through 2025-26)
D Aaron Ekblad ($7.5MM through 2024-25)
Ekblad's contract was a market-setter, setting a new benchmark for defensemen coming off their entry-level deals and bypassing the bridge contract altogether.  I wouldn't say it has been a bad contract but it hasn't quite worked out as planned either as he has yet to really become that high-end number one blueliner.  He's still effective at both ends of the ice and at 24, there's still some hope for improvement as well.  An upgraded back end would go a long way towards helping him become that bigger threat.
Bobrovsky was signed to give them a high-end starting goalie while also serving as a bridge for Spencer Knight to ease his way into the league.  The early returns weren't just bad, they were an unmitigated disaster considering he signed the second-richest pact for a goalie in NHL history.  It looked like a bad contract then and now should be considered among the worst deals in the league.  Things can certainly change – there's plenty of time for him to turn it around with six years left including this one – but for now, it's a deal that certainly hurts.
Buyouts
G Scott Darling ($2.33MM in 2020-21, $1.183MM in 2021-22 and 2022-23)
Retained Salary Transactions
D Jason Demers ($563K in 2020-21)
Salary Cap Recapture
G Roberto Luongo ($1.092MM through 2021-22)
Still To Sign
None
Best Value: Barkov
Worst Value: Bobrovsky
Looking Ahead
After losing both Mike Hoffman and Evgenii Dadonov in the offseason without them being replaced, it's no surprise that Florida is among the teams with considerable cap room in the early going this year.  As long as they stay healthy, they'll be well-positioned to try to add if they're in playoff contention or to retain salary (or absorb a high-priced deal) if they're selling.
The big contracts to watch for down the road clearly are Barkov and Huberdeau.  The good news for the Panthers is that there is ample money coming off the books at the same time as those two, especially when Huberdeau's deal is up.  They'll be able to afford the big raise that both players will be able to get.  The big question between now and then will be whether or not Zito and the Panthers can get the team to a place where their stars will want to re-sign.
Photo courtesy of USA Today Sports Images.