Navigating the salary cap is one of the more important tasks for any GM.  Teams that can avert total cap chaos by walking the tightrope of inking players to deals that match their value (or compensate for future value without breaking the bank) remain successful.  Those that don't see struggles and front office changes.
PHR will look at every NHL team and give a thorough look at their cap situation for the 2020-21 season.  This will focus more on players who are regulars on the roster versus those who may find themselves shuttling between the AHL and NHL.  All cap figures are courtesy of CapFriendly.
Ottawa Senators
Current Cap Hit: $70,678,775 (under the $81.5MM Upper Limit)
Entry-Level Contracts
F Drake Batherson (one year, $736K)
D Erik Brannstrom (two years, $863K)
F Logan Brown (one year, $863K
F Joshua Norris (two years, $925K)
F Tim Stutzle (three years, $925K)
F Brady Tkachuk (one year, $925K)
Potential Bonuses
Batherson: $20K
Brannstrom: $450K
Brown: $710K
Norris: $850K
Stutzle: $2.5MM
Tkachuk: $2.5MM
Total: $7.03MM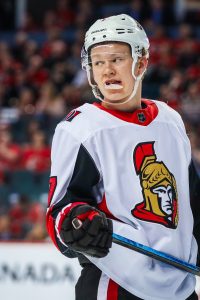 The way Ottawa's cap situation is structured, there is going to be a prominent player coming off an ELC on an annual basis which, from a long-term planning standpoint, is a good way to stagger things.  Tkachuk then becomes the one to watch for in the coming months as he's eligible for an extension now.  He's not near the top of the scoring charts but power forwards tend to get paid quickly which makes his case intriguing.  The Sens have tried to bypass bridge contracts with the players they perceive to be long-term core assets and Tkachuk is certainly in that category but unless he has a breakout year offensively, it may be in his best interest to go the more traditional route and take a short-term pact with the hopes of cashing in with a higher payday down the road.
Stutzle is one of just two players from October's draft class to make the jump to the NHL and the early returns have been promising.  While he's just three games into his NHL career, it seems likely that Ottawa's intent will be to lock him up long-term as soon as his deal expires.  Norris dominated in the AHL last season and has gotten off to a good start this year with the Sens so again, he's one that they will likely try to sign to a long-term deal.  While this is still a couple of years away (and three for Stutzle), their ability (or inability) to get these long-term pacts done will greatly affect their plans for eventually bolstering their roster with impactful veterans.  As for Batherson, he looks like he has made it as a regular for now but it's hard to see them going long-term with him just yet.  Instead, a one-year deal around double his AAV or a two-year pact at a bit more makes more sense.  Brown and Brannstrom haven't seen NHL action yet this season but that should change.  They'll need to see if Brown is a part of that future core while Brannstrom is one of the defensemen they're intending to build around.
One Year Remaining, Non-Entry-Level
F Artem Anisimov ($4.55MM, UFA)
D Braydon Coburn ($1.7MM, UFA)
F Alex Galchenyuk ($1.05MM, UFA)
D Erik Gudbranson ($4MM, UFA)
G Marcus Hogberg ($700K, RFA)
F Cedric Paquette ($1.65MM, UFA)
D Mike Reilly ($1.5MM, UFA)
F Derek Stepan ($6.5MM, UFA)
D Christian Wolanin ($900K, RFA)
Stepan's acquisition in training camp was curious, both in the sense that Ottawa didn't necessarily need a veteran while they gave up a second-round pick and alleviated Arizona's cap concerns.  He's not an impact player at this stage of his career although he can still play in the middle six.  At this point, he seems like a good trade candidate with some cap hit retention but he may be hard-pressed to get half of his AAV on the open market this summer.  Anisimov was another cap dump and has a limited role with the Sens.  Again, he's a trade candidate if Ottawa is willing to eat money and his next contract in free agency will be a lot less than this one.  Paquette was yet another pickup from a team clearing money and his price tag is a bit high for a fourth liner but even so, he should have enough interest on the open market to come close to his current deal.  Galchenyuk was signed as a reclamation project and while it made a lot of sense at the time, he has struggled to get in the lineup so far which isn't a great start.
Three of the four defensemen on this list were also brought in through teams freeing up cap room.  Gudbranson, an Ottawa native, can still hold his own in a limited role but he's being paid top-four money.  Something around half the price tag (or perhaps a bit more) should be doable in free agency.  Coburn's role has lessened in recent years and he is best served as a sixth or seventh defender.  He'll be eligible for an incentive-laden deal in July but will need to take a low base salary.  Reilly has shown flashes of upside going back to his time with Minnesota but he hasn't been able to establish himself as a regular.  If that continues, he will likely be facing a small dip as well.  Wolanin, the lone home-grown blueliner in this section, is a player who has basically been on the fringes in recent years and as such, can't be expected to command much more than his qualifying offer.
Hogberg is in his first full NHL season so he won't have a long enough record to command a long-term deal.  Having said that, this is his final RFA-eligible campaign so a two-year deal with an AAV around the $1.75MM range is one that could make some sense for both sides, assuming he plays well this year.
Two Years Remaining
D Josh Brown ($1.2MM, UFA)
F Nick Paul ($1.35MM, UFA)
F Chris Tierney ($3.5MM, UFA)
Tierney was more of a throw-in in the Erik Karlsson trade but responded with two strong seasons with Ottawa, earning himself a raise this summer.  He almost certainly isn't in their long-term plans but this is a fair price tag for a middle-six center who has hovered near the 0.5 point per game mark in each of the last three seasons.  Paul worked his way into a regular role last season and earned himself a bit of security as a result.  If he's a late-bloomer, this could wind up being a team-friendly contract but even if not, he won't need to produce a whole lot to live up to it.  Given his physicality, he could be highly sought after if his output continues to improve.
Brown was brought in from Florida as Ottawa looked to reshape their defensive depth.  He's still a number six option most nights and while the Senators can afford to pay him that right now, that's a position that they will need to go cheaper on as some of their entry-level players land richer second contracts.
Three Years Remaining
F Connor Brown ($3.6MM, UFA)
F Evgenii Dadonov ($5MM, UFA)
F Austin Watson ($1.5MM, UFA)
While most wingers were hit hard in free agency, Dadonov did pretty well for himself, earning a $1MM increase in his AAV while getting three years when multiple options wound up settling for just one.  His role should decrease as their youngsters improve but even so, they should get good value out of this deal.  Brown has been the beneficiary of a lack of depth on the wing, permitting him to have a career year last season despite it being shortened.  It's unlikely he'll get back to those offensive levels again (in part thanks to Dadonov) but he does enough other things that should help offset a drop in production.  Watson was brought in to give them a boost physically but he has shown some flashes of offensive upside in the past.  He might have a hard time getting this on the open market next summer if he was a free agent but it's not much of an overpriced contract either way.
Four Or More Years Remaining
D Thomas Chabot ($8MM through 2027-28)
G Matt Murray ($6.25MM through 2023-24)
F Colin White ($4.75MM through 2024-25)
D Nikita Zaitsev ($4.5MM through 2023-24)
White was one of the players that Ottawa bypassed the bridge deal with and it's a move that hasn't worked out well so far.  After struggling offensively last season, he has found himself a healthy scratch multiple times already and has played fourth line minutes when he's in the lineup.  There's plenty of time for things to change though but right now, they're not getting a good return on their investment.
Chabot is another one that eschewed the bridge and went straight to a long-term contract.  He already has established himself as a capable number one defender and should improve more as Ottawa's back end improves over the years to come as some of their prospects graduate.  Given some of the higher-priced contracts given to veterans lately, this already compares favorably to them.  Zaitsev's contract was puzzling at the time he got it with Toronto and still is now.  In a perfect world, he's a fourth or fifth option but he's being counted on to do more than that.  On the other hand, he's their leading point-getter at the moment though he's nearly halfway to his 2019-20 production already.
With no internal options ready to contend for the starting role, Murray was brought in from Pittsburgh and promptly signed this contract.  With the year he just had, it's a bit of a gamble but he also brings them some stability at a position that hasn't had a lot of it in recent years.  He's also young enough still to be considered part of their core group by the time this deal is up.
Buyouts
D Dion Phaneuf ($1.354MM in 2020-21, $354K in 2021-22 and 2022-23)
F Bobby Ryan ($3.583MM in 2020-21 and 2021-22, $1.583MM in 2022-23 and 2023-24)
Retained Salary Transactions
None
Still To Sign
None
Best Value: Paul
Worst Value: Stepan (based on his AAV, not salary)
Looking Ahead
Despite some higher-priced short-term deals, Ottawa has more than enough space under the cap ceiling although the Lower Limit of the cap has typically been the benchmark to compare to instead of the Upper Limit.  They'll have sufficient space to utilize cap retention on some of those veterans and could still take on a higher cap hit for assets if a team needs to free up money to facilitate another acquisition.
Team owner Eugene Melnyk has committed to spending towards the cap down the road and they're going to have to in order to keep this core around.  Tkachuk, Norris, and Stutzle are all heading for much higher second contracts (bridge or not) and other prospects not yet in the NHL will probably be in line for bigger deals after them.  It's a good situation to be in though GM Pierre Dorion will need to carefully plan his spending and balance some short-term deals with the long-term ones to try to keep his intended core intact for the long haul.
Photo courtesy of USA Today Sports Images.