Navigating the salary cap is one of the more important tasks for any GM.  Teams that can avert total cap chaos by walking the tightrope of inking players to deals that match their value (or compensate for future value without breaking the bank) remain successful.  Those that don't see struggles and front office changes.
PHR will look at every NHL team and give a thorough look at their cap situation heading into the 2020-21 season.  This will focus more on players who are regulars on the roster versus those who may find themselves shuttling between the AHL and NHL.  All cap figures are courtesy of CapFriendly.
Winnipeg Jets
Current Cap Hit: $83,015,356 (over the $81.5MM Upper Limit)
Entry-Level Contracts
David Gustafsson (two years, $818K)
Potential Bonuses:
Gustafsson: $132.5K
The 20-year-old made the team out of camp last year as a fourth liner but was eventually moved to the minors.  He's probably in a similar situation this season and shouldn't be looking at a costly second deal.  Kristian Vesalainen (two years, $894K plus $850K per year in bonuses) could also be heard from at some point but he may be more of a midseason recall.
One Year Remaining, Non-Entry-Level
G Laurent Brossoit ($1.5MM, UFA)
F Andrew Copp ($2.24MM, RFA)
D Derek Forbort ($1MM, UFA)
F Patrik Laine ($6.75MM, RFA)
F Adam Lowry ($2.916MM, UFA)
F Mathieu Perreault ($4.125MM, UFA)
D Neal Pionk ($3MM, RFA)
D Tucker Poolman ($775K, UFA)
D Luca Sbisa ($800K, UFA)
F Paul Stastny ($6.5MM, UFA)
F Nate Thompson ($750K, UFA)
F Dominic Toninato ($700K, UFA)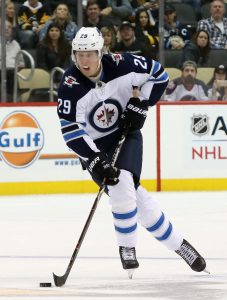 Let's start with the biggest name on the list in Laine.  His preference for a trade doesn't matter a whole lot for this exercise and knowing it's a contract year with plenty on the line, even if he isn't thrilled about his situation, it shouldn't affect his play.  There's no denying that he is one of the better pure goal-scorers in the league but there's also no denying that he's one of the streakiest scorers in the league either.  With a $7.5MM qualifying offer on the horizon, Laine will need to improve on his consistency if he wants to land more than a nominal bump on that if it goes to arbitration.  A long-term deal may not be as lucrative as it could have been a couple of years ago given the current financial landscape but Laine should be one of the highest-paid wingers in the league next year if one can be reached – with Winnipeg or someone else.
Stastny was brought in as a cap dump from Vegas but this is a good landing spot for him.  He's familiar with the system and could see a small uptick in minutes.  While he'll re-enter the market subject to 35+ caveats in July, he's still a capable middle-six center and should be able to command longer than a one-year deal although it will have to come with a notable dip in pay.  Perreault is still a serviceable player that can move up and down the lineup but someone with that skillset should be making about half of what he currently is and that should be his market rate this summer.
Lowry is a player who could very well be hit hard by the current financial situation.  The hope that he'd be able to provide more offense has largely faded and instead, he's someone that should be between 20-25 points in a normal year while winning a fair share of faceoffs and providing some physicality.  That's definitely an effective role player but teams will be trying to squeeze their lower-line options for financial savings which doesn't bode well for his chances of a raise.  Copp saw a lot of time in the top six last season and the offensive results weren't really there.  He'll need to be better at that end if he wants to get much more than his $2.3MM qualifying offer.  Thompson and Toninato were brought in for extra depth down the middle and their spots will be filled by similarly-priced depth players if they don't re-sign for next season; neither should be expected to command much more than the minimum on the open market.
On the back end, Pionk vastly exceeded expectations in his first season in Winnipeg and appears to be well-positioned to land a long-term deal this offseason and if his point per game rate this season is similar to 2019-20, doubling his AAV isn't out of the question.  Forbort had a rough year injury-wise a year ago which cratered his market this fall but before that, he was a 20-minute per game player.  He should have the opportunity for similar ice time and if he can stay healthy, he could re-enter free agency in July with a considerably larger number of suitors.  Poolman's progression has been slow and steady so far.  He already has shown himself to be capable of handling a third-pairing workload which on its own should help earn him a small raise.  If he can work his way into number four minutes though, he could be one of the more intriguing unheralded options in free agency next summer.  Sbisa was an effective depth player last season but it's hard to anticipate his market growing substantially after having to wait until 2019-20 started before he could get a deal last season.
Brossoit's second year with the Jets wasn't anywhere near as good as his first as he went from high-end backup numbers to low-end.  Nevertheless, he got a small raise but will need to be closer to his 2018-19 numbers for that to happen again next offseason.
Two Years Remaining
F Mason Appleton ($900K, RFA)
D Nathan Beaulieu ($1.25MM, UFA)
F Jansen Harkins ($725K, RFA)
Appleton has been in and out of Winnipeg's lineup the last couple of years in a limited role.  If he remains primarily a fourth liner, he won't have much leverage in securing a bigger deal two years from now with his arbitration eligibility potentially working against him at that time.  Harkins made his NHL debut last season and did enough to convince the Jets to give him a one-way deal at the minimum for both seasons.  He'll need to work his way into a regular role for his arbitration eligibility to work in his favor in 2022.
Beaulieu hasn't lived up to his first-round draft billing but since joining the Jets, he has been a serviceable option on the third pairing.  That earned him this two-year guarantee but it's unlikely he'll be able to land much more than that on the open market unless he can step into a spot inside their top four.
Three Years Remaining
The Jets don't have anyone on their roster whose contract expires in 2023.
Four Years Remaining
D Dylan DeMelo ($3MM, UFA)
G Connor Hellebuyck ($6.166MM, UFA)
F Bryan Little ($5.292MM, UFA)
F Mark Scheifele ($6.25MM, UFA)
F Blake Wheeler ($8.25MM, UFA)
Wheeler has been one of the faces of the franchise since the team moved from Atlanta and was recognized for it by this deal, one that takes him through his age-37 season.  There is definitely some risk in the last year or two but he is still a top-line player and even acquitted himself well having to play down the middle for extended periods last season.  Scheifele's deal seemed like a bit of a risk at the time considering that he only had one 20-goal campaign under his belt at the time it was signed but it has turned into one of the better bargains in the league as he has emerged as a legitimate front-line center.  Little, another long-time Jet, played just seven games last season and has been ruled out for the season as he continues to recover from a perforated eardrum after taking a shot to the head.  He'll be eligible for LTIR which will get Winnipeg into cap compliance.
DeMelo has certainly seen his stock rise.  He was only two years removed from a non-tender by San Jose, only to re-sign for $900K a week into free agency.  He hit his stride after being traded to Ottawa and fit in quite well with Winnipeg after they acquired him before the deadline.  This was certainly a big raise but he's worth the price if he plays at a similar level throughout this contract.
Hellebuyck has had a heavy workload the past three seasons and has held up quite well overall, even taking home the Vezina Trophy in 2019-20.  Without a top goalie prospect in the system, this is going to be his spot to hold for a while and at a price tag that's barely $1MM above the median above starting goaltenders, this has become another bargain for GM Kevin Cheveldayoff.
Five Or More Years Remaining
F Kyle Connor ($7.142MM through 2025-26)
F Nikolaj Ehlers ($6MM through 2024-25)
D Josh Morrissey ($6.25MM through 2027-28)
Connor has shown offensive improvement each year and surpassed the point per game mark for the first time in his career last season as he tied for the team lead in scoring.  The contract likely isn't a bargain in the current financial landscape but it was certainly a fair deal at the time it was signed.  Ehlers rebounded nicely last season after struggling considerably in the first year of this contract.  At that price tag, they only need second line production from him to get a good return and aside from his off year in 2018-19, he has been able to provide that over the last several seasons.
Morrissey isn't an ideal number one defenseman but he has been pressed into that role by default by the departures of several veteran blueliners recently.  While he isn't going to be among the top-scoring defenders, he's above average in the offensive end and strong in his own zone.  He's being paid like a number two defender which is arguably a better spot for him on their depth chart and if he continues to show improvement while holding down that number one role, they'll do quite well with this contract.
Buyouts
None
Retained Salary Transactions
None
Still To Sign
F Jack Roslovic – Another player that is seeking a trade, the 2015 first-round pick hasn't quite lived up to expectations yet.  While he has been a capable complementary player, he was drafted as a center but has been moved off the position despite the team looking for additional help down the middle for the last few years.  He's not in a spot to command a long-term deal so a one or two-year bridge seems likely whether it's with Winnipeg or elsewhere if they can find room for him.
Best Value: Scheifele
Worst Value: Perreault
Looking Ahead
Cap space has been an issue for Winnipeg in recent years and 2020-21 will be included with that.  While they'll be able to get back into compliance with Little, they won't have a lot left over if they wind up signing Roslovic or acquiring another player to take his place on the roster.  LTIR room doesn't bank accrue over the season on a daily basis like regular cap space so they won't be in a position to try to add a significant player closer to the trade deadline.
The good news?  Relief is on the horizon.  Yes, Laine will be owed another raise if he's still around by then but that is easily offset by the money coming off the books from pending UFAs.  While Cheveldayoff will have several roster spots to fill with the nearly $30MM in projected cap room, he should be able to add another notable player to their team, perhaps on the back end to replace some of the veterans they lost last year.
Photo courtesy of USA Today Sports Images.