Navigating the salary cap is one of the more important tasks for any GM.  Teams that can avert total cap chaos by walking the tightrope of inking players to deals that match their value (or compensate for future value without breaking the bank) remain successful.  Those that don't see struggles and front office changes.
PHR will look at every NHL team and give a thorough look at their cap situation heading into the 2020-21 season.  This will focus more on players who are regulars on the roster versus those who may find themselves shuttling between the AHL and NHL.  All cap figures are courtesy of CapFriendly.
St. Louis Blues
Current Cap Hit: $84,550,315 (over the $81.5MM Upper Limit)
Entry-Level Contracts
Jordan Kyrou (one year, $758K)
Robert Thomas (one year, $894K)
Potential Bonuses
Thomas: $425K
Despite not always seeing minutes in the top six, Thomas has quickly established himself as a reliable secondary scorer and had a shot at a 50-point year last season had it not been for the pandemic.  Assuming he's able to produce at a similar level in 2020-21, he should have enough of a track record to make a long-term deal at least possible.  Having said that, their cap situation may force them into a bridge pact, one that will cost at least three times as much as his current contract.  Kyrou has yet to establish himself as a regular and while he should have the opportunity to do so this season, a one-year deal close to his $874K qualifying offer may make the most sense for both sides unless he has a breakout year.
One Year Remaining, Non-Entry-Level
F Ivan Barbashev ($1.475MM, RFA)
G Jordan Binnington ($4.4MM, UFA)
F Tyler Bozak ($5MM, UFA)
F Jacob de la Rose ($700K, RFA)
D Vince Dunn ($1.875MM, RFA)
D Carl Gunnarsson ($1.75MM, UFA)
F Zach Sanford ($1.5MM, RFA)
F Jaden Schwartz ($5.35MM, UFA)
F Alex Steen ($5.75MM, UFA)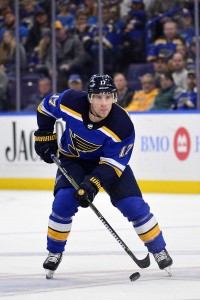 Schwartz is one of the more intriguing potential unrestricted free agents in the class of 2021.  He has put up at least 55 points in five of the last seven seasons and one of the two he didn't was an injury-shortened 2015-16 where he missed 42 games.  But the other was just two years ago where he struggled mightily which may still be fresh in the minds of general managers.  In a normal free agent market, the 28-year-old would be a safe bet for a contract of anywhere from five-to-seven years with an AAV somewhere in the $6.5MM range.  But we saw the UFA market really hit wingers hard back in October and with the financial environment likely to be the same this summer, we could be looking at a similar trend.  On the other hand, that could work well for the Blues in their efforts to re-sign him.
Steen's playing days have come to an end but he won't collect his salary if he retires so instead, he'll be heading for LTIR with the team eventually using that money to formally sign Mike Hoffman next week.  Bozak is someone who had been in trade speculation for most of the offseason given his contract and declining role but he remains and will likely once again serve as the number three center.  He'll be 35 on this next deal so a 50% pay cut seems probable given his drop in offensive production but his ability at the faceoff dot should help his market.  Sanford has emerged as a capable third liner which should allow him to get a decent raise despite the market for bottom-six forwards taking a hit lately and Barbashev is in a similar situation although he may start on the fourth line.  As for de la Rose, he's a capable filler but they'll need to keep that roster spot for someone at the league minimum whether it's him or someone else down the road.
Dunn just recently signed his deal and did relatively well given that he's coming off of his quietest offensive season yet and didn't have a whole lot of leverage.  With the expiring contracts coming off the books up front, it wouldn't be surprising if he is one of the first players that the Blues try to lock up, perhaps as soon as March 12th (this year's equivalent of the usual January 1st threshold for players on one-year deals being eligible for extensions).  With him being arbitration-eligible now, his price tag should double at the very least.  Gunnarsson is a bit expensive for the reserve defender that he now is.  That's a spot they'll be looking to spend about half of that spot on for next year and that's about what his ceiling will be on his next deal.
Binnington is another particularly interesting pending UFA.  His track record isn't the longest at just two NHL seasons, one that was elite and one that was decent.  Because of the lack of experience, how he fares in this shortened campaign where he's in a situation where it shouldn't be a platoon will really go a long way in determining if he adds a couple million to his price tag or it stays close to where it currently is.
Two Years Remaining
F Sammy Blais ($1.5MM, RFA)
D Robert Bortuzzo ($1.375MM, UFA)
F Kyle Clifford ($1MM, UFA)
G Ville Husso ($750K, UFA)
F Mackenzie MacEachern ($900K, UFA)
D Colton Parayko ($5.5MM, UFA)
F David Perron ($4MM, UFA)
Perron has been quite the bargain since rejoining the Blues and has provided above-average production inside their top six for a price that typically is below market value (this past offseason being the exception).  Even with the market being what it is, if he hovers around a 50-point pace the next two years, he should still be able to get a deal around this price tag.  Blais' contract felt a little high at the time and the deflated market for physical forwards only cemented that.  St. Louis feels that he has some offensive upside but he'll need to put up more than a handful of goals if he wants to be qualified at $1.6MM in 2022.  Clifford came over in free agency, taking a fairly significant dip in pay along the way while MacEachern landed a small raise.  Both are on market value deals for 12th and 13th forwards.
Parayko is the most notable player out of this group.  The departure of Alex Pietrangelo should pave the way to step into an even bigger role that could approach the 25-minute mark.  An uptick in offense has been expected for a while but if that doesn't come, his pay bump could be limited a bit as a result.  But if he can establish himself as a 40-point player or more and become that high-end all-around blueliner, he could command something around the $8.8MM that Pietrangelo received from Vegas.  Bortuzzo is a capable sixth defender although the contract may be a small overpayment given some of the recent deals that have been signed.  This is a spot that's likely to be filled by a prospect when the deal is up.
Husso has long been billed as a goalie of the future for the Blues and was ahead of Binnington on the depth chart not that long ago.  However, he's 25 and has yet to make his NHL debut.  He's going to have an opportunity to at least show that he's an NHL-caliber goaltender over these next two years but unless Binnington falters or is injured, Husso shouldn't be in a spot to really cash in on the open market at the price point that other top backups have received in the $3.5MM range.
Three Years Remaining
F Ryan O'Reilly ($7.5MM, UFA)
F Oskar Sundqvist ($2.75MM, UFA)
F Vladimir Tarasenko ($7.5MM, UFA)
O'Reilly, the new captain, has fit in quite well since joining the Blues.  He's never going to contend for a scoring title but he's quite strong in his own end and remains one of the top faceoff players in the league, especially among top-liners.  He'll be 33 when this deal is up and while that might hurt his market, it's quite possible that his next contract comes in at a similar amount.  Tarasenko didn't hide his feelings about wanting the captaincy but his recurring shoulder troubles certainly didn't help his candidacy (nor does it help his odds of a similar-priced deal three years from now).  He will miss a good chunk of the season which makes him LTIR-eligible although if they believe he'll be back at some point (which seems to be the indication), they'll only be able to fill his absence internally.  Sundqvist stepped into a bigger role in 2018-19 which earned him this contract but he still primarily is in the bottom six which makes this contract one that's above market value.
Four Or More Years Remaining
D Justin Faulk ($6.5MM through 2026-27)
D Torey Krug ($6.5MM through 2026-27)
D Marco Scandella ($3.275MM through 2023-24)
F Brayden Schenn ($6.5MM through 2027-28)
Schenn has been rather consistent offensively in his three years with the Blues, averaging between 0.75 and 0.85 points per game which is close to top-line production.  Given the scarcity of impact centers that become available, even having an impact second-line pivot at that rate is good value for St. Louis.
Faulk was brought in to add some offensive pop from the back end and serve as insurance if Pietrangelo went elsewhere.  Instead, he struggled at both ends and his extension (which was signed before he ever played for the Blues) played a large role in their inability to keep their former captain.  They were at least able to squeeze enough money together to bring in Krug from Boston.  He's not the all-around player that Pietrangelo is but he will certainly give a boost to their defensive firepower.  The term is a little long but that's normal for top free agents.    Scandella fit in well in his limited action after being acquired from Montreal.  His contract seemed a bit pricey at the time and with the way the free agent market went, they may have been better off waiting him out a little bit.  That said, if he can handle top-four minutes for most of the deal, they'll be fine with the contract.
Buyouts
None
Retained Salary Transactions
None
Still To Sign
None
Best Value: Parayko
Worst Value: Faulk
Looking Ahead
Once Steen and Tarasenko head to LTIR, St. Louis should be able to comfortably sign Hoffman but with Tarasenko expected to return, they probably won't have any other impact additions on the horizon.  While using LTIR means that the Blues won't have any banked cap space, they're not in a spot where they're staring down much of a bonus overage penalty with Thomas being the only regular that has some (and as 'A' bonuses, they should be attainable if he stays healthy).  They won't have a lot of true wiggle room but they're not in bad shape.
Don't expect that situation to change much down the road.  While they have roughly $25MM in projected cap room for next season, a good chunk of that will go towards re-signing or replacing Schwartz and Binnington and giving Thomas and Dunn new deals as restricted free agents.  They may have a bit of wiggle room in the end to try to add a secondary piece but expect them to be up against the Upper Limit for the foreseeable future.
Photo courtesy of USA Today Sports Images.