Navigating the salary cap is one of the more important tasks for any GM.  Teams that can avert total cap chaos by walking the tightrope of inking players to deals that match their value (or compensate for future value without breaking the bank) remain successful.  Those that don't see struggles and front office changes.
PHR will look at every NHL team and give a thorough look at their cap situation for the 2020-21 season.  This will focus more on players who are regulars on the roster versus those who may find themselves shuttling between the AHL and NHL.  All cap figures are courtesy of CapFriendly.
Detroit Red Wings
Current Cap Hit: $73,886,389 (under the $81.5MM Upper Limit)
Entry-Level Contracts
F Mathias Brome (one year, $925K)
D Moritz Seider (three years, $894K)
F Filip Zadina (two years, $894K)
F Michael Rasmussen (one year, $894K)
D Dennis Cholowski (one year, $894K)
D Gustav Lindstrom (one year, $775K)
D Filip Hronek (one year, $714K)
F Givani Smith (one year, $714K)
Potential Bonuses
Zadina: $850K
Rasmussen: $850K
Seider: $850K
Brome: $213K
Hronek: $158K
Smith: $158K
Lindstrom: $133K
Total: $3.21MM
The one thing that Detroit has plenty of is young talent on entry-level contracts. While not all of them have earned full-time roles on the team yet, others are ready to step in order to try and earn a bigger role. Currently, only Zadina and Hronek have earned full-time roles. Zadina earned a full-time role late in the season last year as he posted eight goals and has worked his way onto the second line to start the season. Hronek has been the team's top defenseman for quite some time already and has already developed into an impressive blueliner.
Seider is an interesting case. The blueliner was originally expected to be at training camp, but with the long delay in the season, the team instead loaned him to the SHL for the entire season where he is flourishing. However, once the SHL season is over, Seider is likely to arrive in Detroit and take over a full-time role in a few months and could quickly become the team's top defenseman.
Brome has impressed after signing a one-year deal, while Rasmussen, Smith, Cholowski and Lindstrom are currently on the taxi squad, hoping to work their way into the lineup as the year goes.
One Year Remaining, Non-Entry-Level
F Henrik Zetterberg ($6.08MM, UFA)
F Marc Staal ($5.7MM, UFA)
F Darren Helm ($3.88MM, UFA)
F Tyler Bertuzzi ($3.5MM, RFA)
F Valtteri Filppula ($3MM, UFA)
D Patrik Nemeth ($3MM, UFA)
G Jonathan Bernier ($3MM, UFA)
F Luke Glendening ($1.8MM, UFA)
F Bobby Ryan ($1MM, UFA)
D Christian Djoos ($1MM, RFA)
F Adam Erne ($998K, RFA)
D Jonathon Merrill ($925K, UFA)
D Alex Biega ($875K, UFA)
F Sam Gagner ($850K, UFA)
The Detroit Red Wings have taken advantage of the fact that they are quite a bit under the cap and that likely won't change next year as several of those old, long-term deals are about to expire next season, including those of Zetterberg, Staal, Helm and Glendening amongst others. That should give the team even more advantages down the road and could make them players in free agency if they think they are closer to competing.
Bertuzzi is in line for a bigger deal as well. The RFA signed a one-year bridge deal, but if the first-line winger can put up big numbers once again, he could be in line for a significant raise. Bertuzzi has scored 21 goals in each of the past two seasons and has developed into a go-to scorer for the team. Bernier has been solid since signing last offseason. Despite being on a team with a weak defense, Bernier appeared in 46 games and still somehow maintained a .907 save percentage, making him a solid tandem-pairing goaltender.
Detroit and general manager Steve Yzerman have also invested in veteran players who can help the team develop and avoid finishing dead last again. Players like Ryan, Filppula, Merrill, Erne and Gagner all will have to prove themselves if they want to return next year.
Two Years Remaining
F Frans Nielsen ($5.25MM, UFA)
D Danny DeKeyser ($5MM, UFA)
G Thomas Greiss ($3.6MM, UFA)
F Robby Fabbri ($2.95MM, UFA)
F Vladislav Namestnikov ($2MM, UFA)
D Troy Stecher ($1.7MM, UFA)
If you think the team will start accruing serious cap space in two years, you're mistaken. The team has a number of other contracts that will come off the books in two years, including those of Nielsen and DeKeyser. Nielsen was once a big scorer in Detroit, but potted just four goals in 60 games last season and could slowly be worked out of the lineup as younger players prove they are ready. DeKeyser does have a more significant role with the team, but injuries have derailed his career the last few years. He will have to really step up his game to get any kind of an extension down the road.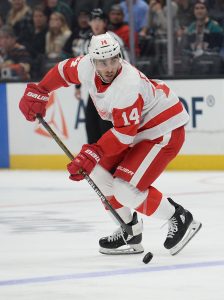 The team has high expectations for Fabbri, who the team acquired midseason last year at a cheap price. He then took his game up a notch, posting 14 goals and 31 points in 52 games. The 24-year-old has now moved onto the second line as he is focusing on moving back to the center position. If he can keep it up, he might be able to reach the promise that he had when he was first drafted.
Yzerman invested in several one-year deals during the offseason, but also went out of his way to bring in a few significant players on two-year deals as well. The team is hoping that Greiss can pick up where he left off last year with the Islanders and be the perfect complement to Bernier in net. Greiss posted a .913 save percentage in 31 games last season and should be a solid presence in net for Detroit this season. Namestnikov has also proven to be a solid middle-six player, who can play almost anywhere in the lineup. Stecher also has proven to be a player that the Red Wings can use to help out in second and third pairing options to bolster its defense.
Three Years Remaining
F Dylan Larkin ($6.1MM, UFA)
There isn't many long-term deals already in the books, but the team still has three more years of Larkin, the team captain, at a reasonable salary. The deal looked even better two years ago when he put up 32 goals and 73 points. Unfortunately, those numbers dipped a bit last season as he scored just 19 goals and 53 points in just five less games. Detroit has to hope that Larkin can get back to his 2018-19 numbers with improved play at his wings and a team that isn't mired in a horrendous season. Regardless, Larkin is the face of the franchise and, at just 24 years of age, should continue to get better and better over the next few years.
Four Or More Years Remaining
F Anthony Mantha ($5.7MM through 2024-25)
Injuries prevented Mantha from taking that next step in his game. The 26-year-old had 12 goals and 12 assists in his first 29 games before suffering a mid-body injury when he was tossed to the ice by Toronto's Jake Muzzin. He did come back and play well too, keeping up his almost point-per-game production with 14 points in 14 games before play stopped. Mantha looks ready to take that next step in his development alongside Larkin and Bertuzzi. He tallied 24 goals in 2017-18 and 25 goals in 2018-19 and would have surpassed those numbers had he not gotten injured. The new four-year deal could also look like a bargain if he continues to improve on his game.
Buyouts
F Justin Abdelkader ($1.8MM in 2020-21; $2.31MM in 2021-22 and 2022-23; $1.06MM from 2023-24 through 2025-26)
F Stephen Weiss ($1.67MM in 2020-21)
Retained Salary Transactions
None
Still To Sign
None
Best Value: Larkin
Worst Value: Nielsen
Looking Ahead
Whereas once the Detroit Red Wings were in cap purgatory, the Red Wings have done a nice job of slowly shedding salary during their rebuild and the team is slowly working their way back to respectability, although they are still a number of years away from being a playoff team. Regardless, the team should continue to free up cap room and will have that money to spend on either free agents or to re-sign their own young players as their entry-level contracts begin to expire.
Photo courtesy of USA Today Sports Images.