Navigating the salary cap is one of the more important tasks for any GM.  Teams that can avert total cap chaos by walking the tightrope of inking players to deals that match their value (or compensate for future value without breaking the bank) remain successful.  Those that don't see struggles and front office changes.
PHR will look at every NHL team and give a thorough look at their cap situation heading into the 2020-21 season.  This will focus more on players who are regulars on the roster versus those who may find themselves shuttling between the AHL and NHL.  All cap figures are courtesy of CapFriendly.
Boston Bruins
Current Cap Hit: $78,517,314 (under the $81.5MM Upper Limit)
Entry-Level Contracts
F Trent Frederic (one year, $925K)
D Urho Vaakanainen (two years, $894K)
F Jack Studnicka (two years, $769K)
Potential Bonuses:
Vaakanainen: $425K
Frederic: $300K
Studnicka: $108K
Young players on entry-level deals are hard to find, but the team does have three prospects drafted high back in 2016 and 2017 who look to be ready to step into the Bruins' lineup or at least should find their way onto the taxi squad at the very least in Frederic, Studnicka and Vaakanainen. Frederic and Studnicka are battling for middle-six roles, while Vaakanainen is fighting for one of the third pairing roles available on the defense. All have the potential to be solid role players for the team down the role. The question is, when will that happen?
One Year Remaining, Non-Entry-Level
F David Krejci ($7.25MM, UFA)
G Tuukka Rask ($7MM, UFA)
D Brandon Carlo ($2.85MM, RFA)
F Ondrej Kase ($2.6MM, RFA)
G Jaroslav Halak ($2.25MM, UFA)
F Nick Ritchie ($1.5MM, RFA)
F Sean Kuraly ($1.28MM, UFA)
D Kevan Miller ($1.25MM, UFA)
F Par Lindholm ($850K, UFA)
D Steven Kampfer ($800K, UFA)
F Greg McKegg ($700K, UFA)
F Anton Blidh ($700K, RFA)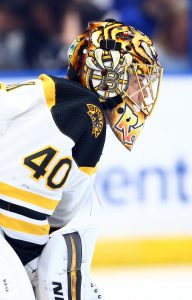 Quite a few names are on their final year and Boston will have to make some key decisions with the flat salary cap likely remaining the same for the moment. At the top of the list, is their goaltending situation with both netminders, Rask and Halak, ready to hit unrestricted free agency. Rask has said recently that he would like to remain with the Bruins for the rest of his career, but there also has been questions on how much longer the 33-year-old wants to play as retirement has been an option too. Rask was dominant last year during the regular season with a 2.12 GAA and a .929 save percentage. Unfortunately he opted to leave the bubble during the playoffs due to concerns to tend to a family emergency. A long-term deal wouldn't make sense, but the team could offer him a three-year pact, if he's willing to take it. Halak is in a similar situation and was solid with a 2.39 GAA and a .919 save percentage and also could see a similar extension.
Krejci is another veteran the team will have to make a decision on. The veteran is completing a six-year, $43.5MM contract. The belief is that the two sides are expected to begin talks of a potential extension, likely less years and less money, considering he'll be 35 when his contract expires. However, he has been a solid second-line center for years, although he only scored 13 goals last season, a disappointing season for him. Carlo, however, could see a significant raise next year as the blueliner has developed into a solid top-four pairing defenseman over the last few years.
Two other key decisions will be Kase and Ritchie, both acquired from Anaheim before the trade deadline last season. The speedy Kase struggled once he got to Boston, and didn't register a goal in six regular season and 11 playoff games. Ritchie was brought in to add some muscle to their bottom-six, but he also hasn't stood out yet. Both will get long looks this season before the team decides whether to offer them new contracts.
Two Years Remaining
F Patrice Bergeron ($6.88MM, UFA)
D Charlie McAvoy ($4.9MM, RFA)
F Jake Debrusk ($3.68MM, RFA)
D Jeremy Lauzon ($850K, RFA)
F Karson Kuhlman ($725K, RFA)
The Bruins' first line has been dominant for years and Bergeron's contract will be the first to expire. The 35-year-old veteran hardly plays his age, but will be 37 years old when his deal expires. He continues to dominate, scoring 31 goals in 61 games last year and doesn't look like he's slowing down, but the team will have no choice but to wait and see how he progresses over the final two years in his deal.
The team likely will have to pay up in a couple years for two of their restricted free agents as both McAvoy and Debrusk will likely be taking on bigger roles this season and could take that next step, which suggests that much of their available cap room at this point will be going to both these players. McAvoy had 32 points in 67 games last year, but will likely become the key to the first power play with Torey Krug gone and could see a big jump in his offensive numbers. Lauzon is an interesting name as he currently is playing next to McAvoy on the first pairing, although that may not remain that way. Regardless, he's pushed his way into what looks like a top-four pairing role and could be a valuable commodity down the road.
Three Years Remaining
F David Pastrnak ($6.67MM, UFA)
F Craig Smith ($3.1MM, UFA)
D John Moore ($2.75MM, UFA)
F Anders Bjork ($1.6MM, RFA)
F Chris Wagner ($1.35MM, UFA)
D Connor Clifton ($1MM, UFA)
Pastrnak is likely to get a long-term deal in three years. He'll be 27 and an unrestricted free agent, meaning it could cost the Bruins a great deal to lock him up to a long-term deal considering other teams could bid on him too at that time. The team has to hope they can sign him to an extension before he hits UFA status in 2023. Regardless, he has developed into one of the top scorers in the league, posting 48 goals and 95 points in 70 games. Of course, he is currently out of the lineup after he underwent a right hip arthroscopy and labral repair on September 16. He should return at some point in the season, but no word yet on his return.
Smith was brought in this offseason on a reasonable three-year deal in hopes of adding some scoring to their third line, something that has been a trouble-spot for the team in recent years. He tallied 18 goals last season and has scored 64 goals over the past three seasons with Nashville. Bjork has struggled with injuries over the years, but looks ready to contribute this year. He finally played a full season, scoring nine goals in a bottom-six role and should get more opportunities this year.
Of course, the five-year, $13.75MM deal handed to Moore continues to look bad. The veteran blueliner has struggled earning a full-time role on defense and currently looks like the team's seventh defenseman when the third pairing role is completely in the air.
Four Years Remaining
D Matt Grzelcyk ($3.69MM, UFA)
Grzelcyk's role with the team has been a diminished one as the defenseman mainly has seen third-pairing minutes. However, with Krug gone, many of those minutes will be given to Grzelcyk, including some power play time, suggesting this could be a big season for him. The team anticipated that and rewarded his hard work with a four-year deal and believe that he will take off, especially offensively this year and be a big contributor for many years, which could make his contract look like a bargain if he does take that next step.
Five Or More Years Remaining
F Brad Marchand ($6.13MM through 2025-26)
F Charlie Coyle ($5.25MM through 2026-27)
For such a veteran team, it's a little surprising, and good, that the Bruins only have two players locked in for five or more years. Marchand is one. The 32-year-old will be 37 years old when his contract expires, something that Marchand might be able to handle. The forward still looks strong, scoring 28 goals and 87 points in 70 games and so far has aged well, suggesting the deal still looks good. On the other hand, the team handed out a long-term deal to Coyle, who so far looks like a third-line forward for the team and is being paid quite a bit for that. They 28-year-old did score 16 goals last year, but the team likely was hoping for more than that when they signed him to that six-year, $31.5MM deal. Hopefully, that deal won't come back to haunt them.
Buyouts
None
Retained Salary Transactions
F David Backes ($1.5MM in 2020-21)
Still To Sign
None
Best Value: Marchand
Worst Value: Coyle
Looking Ahead
The Bruins and general manager Don Sweeney have done a nice job spacing out their big contracts and look to be a team that might not suffer too much with their salary cap, especially if/when the team begins getting too old. They do have a number of talented young players just entering their prime, suggesting the team may not drop too far in the standings then, although the lack of young talent now is the most concerning.
However, the team has done a great job of raiding the college ranks and have a number of interesting young players who could make an impact down the road, even if the team has traded many of their top draft picks away to bolster their talent.
Photo courtesy of USA Today Sports Images.