Navigating the Salary Cap is probably one of the more important tasks for any general manager to have. Teams that can avert total cap chaos by walking the tightrope of inking players to deals that match their value (or compensate for future value without breaking the bank) remain successful. Those that don't see struggles and front office changes.
PHR will look at every NHL team and give a thorough look at their cap situation heading into the 2018-19 season. This will focus more on those players who are integral parts of the roster versus those who may find themselves shuttling between the AHL and NHL. All cap figures are courtesy of CapFriendly.
Current Cap Hit: $77,729,424 (under the $79.5MM Upper Limit)
Entry-Level Contracts
F Luke Kunin (two years, $925K)
F Jordan Greenway (two years, $917K)
F Joel Eriksson Ek (one year, $894K)
Potential Bonuses:
Kunin: $500K
Eriksson Ek: $425K
Greenway: $400K
Total: $1.35MM
The team has just three entry-level players and all three will be critical to the team over the next couple of years. Their 2016 first-rounder, Kunin, suffered an ACL injury in April that required surgery. While he is close to be ready to return, he's still being held out to allow his knee to fully heal. Regardless, the team has high expectations for him. He struggled to capture a full-time role with Minnesota last year, but scored 10 goals in the AHL in just 36 appearances there, while getting 19 games in with the NHL club. The team will need him to step into a full-time role as soon as he's healthy. Eriksson Ek, the team's 2015 first-rounder, got himself a full-time role, but struggled to put up points in the bottom-six, posting six goals in 75 games. A bigger role could allow him to take that next step.
The team also has big hopes for Greenway, who the team pried away from Boston University this spring. The 6-foot-6, 226-pound winger should provide the team with a solid power forward, who could jump into the team's top-six immediately.
One Year Remaining, Non-Entry-Level
F Eric Staal ($3.5MM, UFA)
F Eric Fehr ($1MM, UFA)
D Gustav Olofsson ($725K, RFA)
F Matt Hendricks ($700K, UFA)
F Matt Read ($650K, UFA)
D Nate Prosser ($650K, UFA)
G Alex Stalock ($650K, UFA)
G Andrew Hammond ($650K, UFA)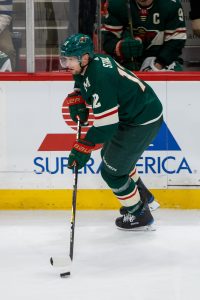 The team will have an interesting decision to make on Staal at the end of this season. Staal, who was coming off a disappointing 13-goal season a few years ago, signed a three-year, $10.5MM deal, which has been one of the team's best signings in their history. Staal, who many thought might be slowing down, responded with 28 goals in 2016-17 and followed that up with a 42-goal season last year. Now at age 33, what will Minnesota do in a year when he's 34 and in need of another deal? If he posts another impressive season, the Wild will have to pay up to keep his services. A disappointing year could mean the end of a thrilling ride.
The rest of the group are full of one-year deals in which the players must prove their worth. The team brought in Fehr, Hendricks and Read to shore up their fourth line, which struggled at times last year, while the team also has a pair of veteran netminders fighting for the backup goalie spot in Stalock and Hammond.
Two Years Remaining
F Mikael Granlund ($5.75MM, UFA)
F Mikko Koivu ($5.5MM, UFA)
D Jared Spurgeon ($5.18MM, UFA)
F Charlie Coyle ($3.2MM, UFA)
F J.T. Brown ($688K, UFA)
The team gave Koivu a two-year extension a year ago, but the 35-year-old is starting to fade after a 14-goal, 31-point performance last season and could be moved down a line, especially if Eriksson Ek continues to improve. Koivu still remains the all-time leader in both games played and points, however, but this could very likely be his last contract.
Granlund could also be an interesting situation. The 26-year-old has improved his game over the last two season, posting a combined 47 goals and he had a career-high in assists last year with 46. His second half was also a big success as he posted 45 points in 46 games, almost a point a game. If he can keep that production up, the Wild should look good. Fortunately, the team has two more years to monitor his success before they have to offer him a new contract. Coyle is another player, who has the ability to put up big points, yet Coyle has struggled more recently, posting just 11 goals and 37 points in 66 games. However, a broken fibula could have been a cause of his on-ice struggles. The team hopes that he can bounce back and prove he belongs in the team's top-six.
Spurgeon has been perhaps the team's best defenseman this season. The 28-year-old missed 21 games with a partially torn hamstring and rushed back for the playoffs, but wasn't 100 percent. Already injury-prone, the team still has the veteran for another couple of years before they have to decide on another long-term contract.Read more