In the NHL, a team is allowed to have 50 Standard Player Contracts signed at any one time. That includes all players on the active roster, in the minor leagues or on long-term injured reserve. Players under the age of 20 who've been loaned back to their junior or European clubs are exempt, giving the team some flexibility on signing draft picks during the year.
Teams generally try to leave themselves a few open slots in case an opportunity arises—through waivers, trade or free agency—to add a useful player. Two teams don't currently have this luxury as CapFriendly points out, as Minnesota and Toronto both have hit the 50-contract cap. They've come about it in different ways.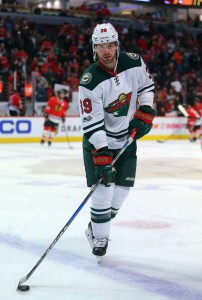 Minnesota was at 49 contracts for much of the season, until they claimed Nate Prosser off waivers from the St. Louis Blues at the end of last month. Prosser's addition pushed them right up against the cap, likely a contributing factor in their search for a landing spot for Kyle Quincey. They could use the cap space from a Quincey trade—he's still causing a $225K cap hit while in the minor leagues—but being at the 50-contract mark limits them in other ways.
As referenced above, they can still sign draft picks to entry-level deals, as they did recently with Ivan Lodnia. The bigger issue is that they can't go after any other players on waivers, or negotiate a trade without sending bodies out the other way. Ridding yourself of contracts isn't as easy as it sounds. Waiving or assigning players to the minor leagues doesn't move them off the list, meaning you have to either agree to a mutual termination (very unlikely with the vast majority of players) or trade them away.
Toronto recently filled up in a different way. To start the season, Carl Grundstrom's contract didn't count towards the limit because he was 19 and playing in Sweden. Earlier this month he celebrated his 20th birthday, and became ineligible for the SPC exemption. The fact that Toronto had already traded for Calvin Pickard earlier in the year had brought them closer to the limit, with Grundstrom pushing them right up against it.
The Maple Leafs have been cognizant of this situation in the past, even allowing Dominic Toninato to hit free agency after his college career because they didn't have a contract slot for him. Toninato signed with the Colorado Avalanche and even made his NHL debut this season. It wouldn't be surprising to see the team move out a contract before long to recapture some flexibility, though it's not clear who that would be.
Either way, it's something to watch out for when the Maple Leafs or Wild are involved in a transaction. The two teams have to carefully navigate their contract limits, or end up missing out on a possible opportunity.
Photo courtesy of USA Today Sports Images