Free agency is now a little more than a month away and teams are looking ahead to when it opens up.  There will be several impact players set to hit the open market in July while many teams have key restricted free agents to re-sign as well.  We continue our look around the NHL with an overview of the free agent situation for the Boston Bruins.
Key Restricted Free Agents
F Trent Frederic – Frederic earned a full-time role on the Bruins this season, which is an accomplishment when you consider the team won 65 games in the regular season, setting an NHL record. The 25-year-old center was a late first round draft pick in 2016 and just had his best NHL season. He scored 17 goals and 31 points, adding some offensive punch while routinely playing on the team's fourth line.
Frederic is coming off a two-year contract where he earned just over $1MM per season. He signed that contract before he even became a regular in the lineup, so after scoring nearly 20 goals he will be looking for a big raise, and a bigger role on the ice as well. He has arbitration rights and a decent argument to make $2.5 – $3MM with his offensive numbers.
G Jeremy Swayman – Technically the team's backup goaltender, Swayman was pretty busy, playing 37 games for the league leading Bruins. He posted a 2.27 GAA and a .920 SV%. Though he is just completing his entry-level contract, the 24 year old has played 88 career NHL games and has a 2.24 GAA and .920 SV% in that time. He has a great argument for a large raise on his $925k salary, and could earn as much as $3MM on a short-term deal which would give him a chance to really prove himself before cashing in on a longer contract.
Others RFAs: Samuel Asselin, Shane Bowers, Jakub Lauko, Marc McLaughlin, Kai Wissmann, Brandon Bussi, Michael DiPietro, Kyle Keyser
Key Unrestricted Free Agents
F Patrice Bergeron – Yet another Selke nomination (and likely winning) season in the books for Bergeron as he continues his reign as the best defensive forward in the game. The only question is, will he continue to play or is his career coming to a close? He played this season on a one-year contract with a cap hit of $2.5MM but a total value of $5MM when you include bonuses. Of course, the veteran is worth every penny, but is he going to sign another team-friendly deal?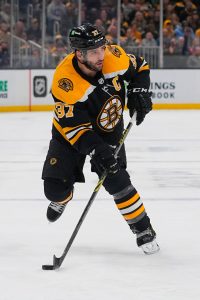 At 37 years of age, and a long wait after the Bruins season ended to embrace his teammates, it appears Bergeron may be considering retirement instead of a return to the Bruins in 2023-24.
F David Krejci – Like Bergeron, Krejci played on a team-friendly deal this past season, but also appears to be considering the end of his playing career. He earned just $1MM in salary last season plus $2MM in bonuses, and scored 16 goals and 56 points in 70 games. The 37-year-old center played the 2021-22 season in Czechia and could be heading back there next season as well.
F Tyler Bertuzzi – Bertuzzi was a trade deadline pickup of the Bruins and could be in for a big payday if he decides to hit the open market this offseason. He fit in perfectly in Boston, scoring 16 points in 21 regular season games and ten points in seven playoff games with the Bruins. A bit of a scrappy winger, Bertuzzi adds a lot more than just offense and could capitalize on a rather weak free agent class this offseason.
The 28-year-old winger made $4.75MM for the past two seasons and is likely looking to add another $2MM or so to that on his next contract after a strong run with the Bruins and a 30-goal and 62-point season in 68 games in 2021-22. The Bruins will need to decide if they want to commit that to a winger, or hold onto that cap space to find centers.
F Nick Foligno – Foligno signed a two-year contract with the Bruins in 2021 and though he ended up being overpaid during that time, he did fill a valuable role on the team as an experienced winger who plays a scrappy style and adds a bit of scoring from the fourth line. The 35 year old had ten goals and 26 points in 60 regular season games and would be willing to return to Boston at a fraction of the $3.8MM salary he earned for the past two seasons.
F Garnet Hathaway – Another trade deadline pickup, Hathaway played on the team's bottom six while bringing energy, physicality and strong defensive play. He also scored 22 points in 84 games split between the Washington Capitals and Bruins. Hathaway signed a four-year contract with a cap hit of $1.5MM with the Capitals in 2019 and played well in that time, earning himself a raise on his next contract. At 31 years of age, he may not get another four year deal, but a two or three year contract with a cap hit of $2MM would make sense, though the Bruins may look to spend their money elsewhere.
D Dmitry Orlov – Orlov was an elite fit on the Bruins lineup, earning the moniker (Orr)lov during his short stint in Boston. He arrived with Hathaway in a trade from the Capitals and clicked immediately on the left defense, scoring 17 points in 23 regular season games and eight more points in seven postseason contests. The Bruins already have big money committed to Hampus Lindholm and Charlie McAvoy on the blue line and may not have the space to retain Orlov.
The 31-year-old defenseman is arguably the most valuable player eligible to become a free agent this offseason, and would be wise to see what offers are out there for him. It has been suggested he wants to return to Washington, but wherever he ends up, he will sign a long-term agreement and it will surely be with a larger cap hit than the $5.1MM he has been earning since 2017. If he tests the open market, he could earn as much as $7MM on a five year contract.
Other UFAs: Tomas Nosek, Matt Filipe, Joona Koppanen, Vinni Lettieri, Chris Wagner, Connor Clifton, Jack Ahcan, Connor Carrick, Anton Stralman, Nick Wolff
Projected Cap Space
The Bruins show just under $5MM in cap space this offseason but they have some considerable holes to fill. If Bergeron and Krejci both leave the NHL, the Bruins are without their top two centers. Bertuzzi, Orlov and Hathaway were all trade deadline acquisitions but there is little chance they find the room to keep any of them with their limited space. Swayman has been excellent for them, and is just coming into his own at the NHL level, but will they be able to find space to keep him or does he get traded? Ideally, the Bruins would find a way to move Mike Reilly's contract which has one year left on it at $3MM. This would open up a bit of space to re-sign some key players and fill out their roster. It will be an interesting offseason in Boston with so many holes to fill and not many dollars to spend.
Photos courtesy of USA Today Sports Images.  Contract information courtesy of CapFriendly.