With free agency now just hours away, the activity around the league is about to pick up considerably.  This past week has encompassed the UFA interview period although the big news has come from the trade and retirement fronts.  Note that while some signings have already been rumored, those aren't considered here as they're not official yet.
Luongo Retires: While Roberto Luongo had three years left on his contract, his salary took a big dip in those seasons as part of an effort to lower the AAV down.  Accordingly, there was speculation as to whether or not he'd play again.  He put an end to those talks with the announcement of his retirement.  He leaves in third place on the all-time wins list with 489 and is a safe bet to be inducted into the Hall of Fame down the road.  He also leaves a bit of a legacy with Florida and Vancouver on the salary cap as both teams are subject to recapture penalties due to the back-diving nature of his contract.  The Panthers will carry a $1.094MM penalty for three seasons while the Canucks will be charged $3.033MM per year over that same span.
Colorado Swaps: Shortly after being eliminated from the postseason, Avalanche GM Joe Sakic said he planned to be aggressive this offseason.  He certainly has made good on that promise on the trade front after completing a pair of deals (plus a small AHL swap as well).  First, the Avs moved center Carl Soderberg to Arizona for blueliner Kevin Connauton and a 2020 third-round pick.  They then flipped that pick plus a second-rounder to Washington for Andre Burakovsky.  Burakovsky was qualified at $3.25MM so that will be the minimum that Colorado will pay him for the upcoming season; as a result, they didn't really add or save payroll space with these moves.  No team has less in cap commitments for next season than the Avalanche so expect them to continue to be active in the coming days.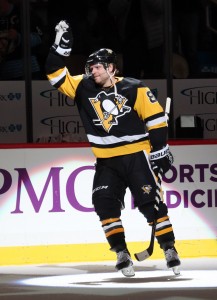 Kessel To Arizona: After weeks, months, and even a couple of years of trade speculation, the Penguins pulled the trigger on a Phil Kessel trade, flipping the winger to Arizona along with defenseman Dane Birks in exchange for forward Alex Galchenyuk and 2017 first-rounder Pierre-Olivier Joseph.  The trade reunites Kessel with former Pittsburgh assistant Rick Tocchet who he enjoyed playing for while giving the Coyotes a legitimate top-line forward that can produce on a fairly consistent basis.  Meanwhile, Galchenyuk has shown flashes of offensive upside over the years but has yet to put it all together while Joseph boosts their prospect depth on the back end.  Galchenyuk has one year left on his contract at a $4.9MM cap hit and will be UFA-eligible after the season.  That frees up a bit of short and long-term flexibility with Kessel costing $6.8MM for three more years.
Chicago Additions: A couple of months ago, the Blackhawks looked like they'd be big players in free agency.  That may not be the case anymore as they've instead focused on the trade route.  After bringing in Olli Maatta earlier this month, they added another piece to their back end, acquiring Calvin de Haan and prospect Aleksi Saarela from Carolina in exchange for defenseman Gustav Forsling and goalie Anton Forsberg.  All of a sudden, their defensive depth is quite strong.  After that, they brought back winger Andrew Shaw (and a 2021 seventh-round pick) from Montreal in exchange for a trio of draft picks.  Shaw is coming off of a career year and will give them a physical dimension that they've been lacking since they dealt him away three years ago.  The three acquisitions have added more than $12.5MM on their cap and with Alex DeBrincat and Dylan Strome each being a year away from restricted free agency, they'll want to make sure they don't take on many more multi-year commitments.
Vegas Cap Cuts: With all of the long-term contracts that Vegas handed out last season, some cuts were going to be required in order to get back into salary cap compliance.  Those moves were made with center Erik Haula being sent to Carolina in exchange for center prospect Nicolas Roy and a fifth-round pick.  Meanwhile, Colin Miller was dealt to Buffalo for a 2021 second-round pick and a 2022 fifth-round selection.  The swaps save the Golden Knights a little over $6.6MM in cap room but they will still be in tough to stay under the Upper Limit, especially with Deryk Engelland closing in on a new deal as well.
Photo courtesy of USA Today Sports Images.