The Colorado Avalanche have added some more skill and youth to their team, acquiring Andre Burakovsky from the Washington Capitals in exchange for a 2020 second-round pick, a 2020 third-round pick (previously acquired from Arizona in the Carl Soderberg deal) and minor league forward Scott Kosmachuk. Burakovsky is set to become a restricted free agent, and Kosmachuk is actually set to become a Group VI unrestricted free agent in a few days.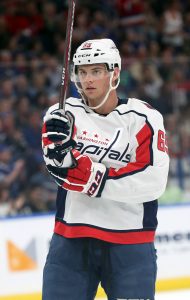 Burakovsky could potentially accept his $3.25MM qualifying offer as well, given that his development hasn't quite gone the way the Capitals hoped the last few seasons. In fact, the 24-year old forward has now posted two 25-point years in a row, a far cry from the 17-goal 38-point sophomore season that looked like his coming out party. Armed with plenty of speed and skill, Burakovsky was the 23rd-overall pick in the 2013 draft and quickly made his way to the NHL.
In Colorado, he will likely receive a bigger offensive role on the left wing where the Avalanche needed some more depth. A change of scenery may be the key to unlocking his full potential, something the Avalanche will hope for after giving up a not-insignificant package for him. Those two draft picks plus the potential $3.25MM salary is a fair amount of assets for a 25-point player, so he will have pressure on him to perform with his new team.
For Washington, trading Burakovsky was basically inevitable after extending the qualifying offer. The team didn't have enough cap space to afford him this season and he just wasn't providing the necessary offense for their championship goals. With a new contract due for Jakub Vrana and potential extensions on the horizon with Nicklas Backstrom and Braden Holtby, moving Burakovsky was an obvious choice. Getting two relatively high draft picks out of the move is a win, though GM Brian MacLellan had tried to secure another young player during the most recent season and wasn't able to.
At the very least, Washington now has some more ammunition for a potential trade deadline acquisition. Depending on where Vrana falls they could also potentially circle back to 20-goal forward Brett Connolly, who is scheduled to become an unrestricted free agent on Monday and was previously too expensive for the team to retain.
Photo courtesy of USA Today Sports Images