With the postseason and draft now finished, the activity is really about to pick up with free agency now just hours away from officially opening.  What storylines lie ahead around the league in what is shaping up to be a busy NHL offseason?  Next up in our Offseason Keys series is a look at the St. Louis Blues.
What a strange season it was for St. Louis.  They were a team that was believed to be on the way up following the offseason acquisition of Ryan O'Reilly.  Instead, they were in the basement around the halfway point of the year.  A relative unknown was brought up as their backup goalie at this time and the team took off.  They worked their way up to second in the division and then got it done in the postseason as they won the Western Conference crown before defeating Boston in the Stanley Cup Final.  As a result, their offseason to-do list isn't as big as some other teams.  Here's what will be on the horizon for them.
Schenn Extension Talks
While Brayden Schenn took a step back offensively after a career year in 2018-19 (O'Reilly's addition was a big factor), the center was still a big part of their attack.  He eventually settled in on their second line and the potential is there for that to be a nice one-two punch down the middle for a while.
However, the 27-year-old is entering the final year of his contract and is slated to hit the open market next summer.  We've seen the going rate for second-tier centers go up considerably in recent years and as someone who at the very least is a capable second liner, Schenn is going to be in that mix.  Accordingly, he should be looking at a minimum of a $2MM increase on his current $5.125MM AAV.
Will he be seeking more than O'Reilly's $7.5MM?  Will GM Doug Armstrong be using that as sort of a hard cap for as high as he's willing to go?  (It's worth noting that Vladimir Tarasenko also sits at $7.5MM.)  As is always the case at this time of year, it's not a pressing need but for certainty moving forward, expect the Blues to at least get a sense of what the parameters of a new deal for Schenn will be.
New Contract For Binnington
Jordan Binnington's rise from being a goalie that got loaned to Boston's farm team in 2017-18 after he blocked an ECHL demotion to anchoring their second-half turnaround and helping lead them to the Stanley Cup was certainly fascinating.  From a contract standpoint, what's to come could be just as interesting to follow.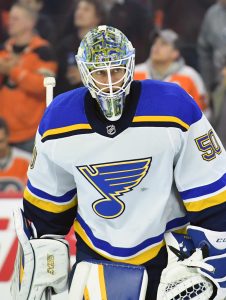 What is the going rate for a Cup-winning goalie that has a grand total of 33 career regular season games under his belt (all but one of which came in the same season)?  Simply put, there isn't one.  There isn't anything close to one so this is uncharted territory here.  He's also arbitration-eligible which just adds another wrinkle to the equation.
At the very least, given how he took over for Jake Allen down the stretch and in the playoffs, Binnington's camp will likely be seeking a price tag that's equal to or greater than the $4.35MM AAV that Allen carries.  But how much higher is justifiable?  He has basically had one good season so he's not going to be able to command top dollar or even the type of money that a proven multi-year starter could fetch.
The other question the two sides will have to work through is the term.  There's risk here for both sides.  If the Blues commit long-term and he falters, it will be a tough contract to get out from under it.  On the other hand, if Binnington fares well, he could wind up leaving a lot of money on the table by locking in now.  A short-term deal could be safer for the Blues but riskier on Binnington's end.  There's a lot to work through here.  They'll get a contract done but the process of how they get there is going to be worth following.
Add Defense Prospects
While the Blues have some short-term work to do to get their bottom-six forward group re-signed, they have a longer-term concern that they may be looking to address.  Their NHL defense corps is basically set once RFA Joel Edmundson re-signs.  However, there isn't much depth behind that group in the minors which is something they'll likely look to address on the open market with some two-way contracts and get a player or two that can be recalled in a pinch when injuries hit.
Beyond that, their prospect pipeline is fairly thin at that position beyond 2018 draft pick Scott Perunovich.  Depending on what they're able to do in free agency, a forward or two could eventually be squeezed out and if that's the case, expect Armstrong to try to target defense prospects in any trades they try to make over the coming months.
Photo courtesy of USA Today Sports Images.