With the postseason now finished, the activity is about to pick up.  What storylines lie ahead around the league in what is shaping up to be a likely busy NHL offseason?  Next up in our Offseason Keys series is a look at the New York Islanders.
It was certainly an eventful year in Columbus.  The team hovered around the middle of the pack for most of the season before GM Jarmo Kekalainen went all in at the deadline.  Not only did he not move his top pending unrestricted free agents, he also went and brought in two more rental players in the hopes of pushing them over the top.  While they still hovered around the middle of the pack – they didn't clinch a playoff spot until the final days of the regular season – they had their best showing in the postseason.  They swept the Presidents' Trophy-winning Lightning (their first ever series victory) before falling to the eventual Eastern Conference champion Bruins.  While getting through Tampa Bay was certainly a tough task, Kekalainen is now faced with a tougher one as he tries to keep this team together.  Accomplishing that is basically their entire objective for this offseason.
Re-Sign Werenski
While it's the forwards that are getting most of the attention among the bumper crop of restricted free agents coming off their entry-level deals, defenseman Zach Werenski also deserves to be included among that group.  He has emerged as a legitimate top pairing blueliner already and has provided a level of offensive production that not a lot of two-way defenders reach in the early stages of his career.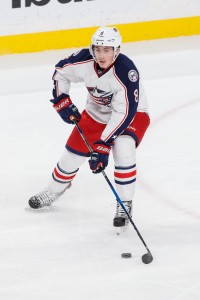 Not only does that put him in line for a big raise, it also makes it a bit tricky to predict how much he'll ultimately get.  There are offensive-minded blueliners with similar numbers but lack the overall two-way game that Werenski provides.  There are defensive-minded players who by this point have ascended to a top pairing role but don't put up the numbers that Werenski has.
Those players have tended to sign for between 6-8% of the salary cap in recent years.  With Werenski being an all-around player, he should check in above that which could push his new cap hit on a long-term deal (a short-term bridge pact is unlikely) over the $8MM mark.  With so much money coming off the books on expiring contracts, Kekalainen won't have to worry about any potential salary cap repercussions as he sets a new bar for a defenseman signing off his entry-level deal.
Keep Or Replace Top Forwards
Artemi Panarin hasn't exactly hidden his intentions.  Since the start of the season, he was intent on testing the free agent market.  He certainly didn't hurt his value in 2018-19 as he had a career season as the focal point of their attack where he led the team in scoring.  That continued in the postseason as well.  Panarin is by far the top free agent forward on the open market and could set a new benchmark for an AAV for a winger.
Then there's Matt Duchene.  Columbus paid a pretty high price to bring him in as a rental and they'll have to do to keep him around in more ways than one.  Not only is he the consensus top center on the open market (in a class that doesn't have a lot of top-six talent at that position), they'll also have to give up their 2020 first-round pick to Ottawa if he sticks around.  While the Blue Jackets have what they hope is their long-term top pivot in Pierre-Luc Dubois, keeping Duchene in the fold would give them a very strong one-two punch for a long time.  If nothing else, the first-round that's encumbered for him re-signing takes any thought of a potential sign-and-trade off the table which means that Columbus is truly the only team with a chance to give him an eight-year deal.  Before going any further, former Ottawa teammate Ryan Dzingel is one of the better secondary options of this free agent class as well.
Keeping Panarin looks like it's going to be a challenge.  Columbus can offer him top dollar but all indications going back to the start of the season are that he has some interest in moving on.  Keeping Duchene would be nice but losing another top draft pick would be tough to swallow.  Kekalainen will be in tough to keep both in the fold and if he can't get new deals done for them, he's going to have to be aggressive to find replacements for them either on the open market or via trades.
Find A Starting Goalie
Goaltending hasn't been a big question mark for the last several years with Sergei Bobrovsky in the fold.  That certainly seems like it's about to change as he's also eligible for unrestricted free agency and eschewed overtures to talk about a new contract during the season.  John Tortorella's aggressive usage of Joonas Korpisalo at times seemed to hint that they may have been testing his potential readiness to take on a larger role for 2019-20 and beyond.
Korpisalo's results imply that he's not yet ready to take over from Bobrovsky just yet.  The only other goalie they have under contract is Elvis Merzlikins and while he has some upside, he's not going to be transitioning from being a starter in Switzerland to a starter in the NHL right away.  It's certainly possible that they could use the two as a platoon for next season but that strategy would certainly carry some risk, especially if they don't intend on taking a step back in the short term.
With that in mind, Kekalainen could be scouring the free agent market to find at least a short-term option between the pipes if Bobrovsky does indeed move on.  The next best option may be Semyon Varlamov, who could be open to a shorter-term 'pillow contract' in the hopes of rebuilding his value.  That could play in well with what Columbus needs if they believe that one of their other two netminders could soon be ready for that role.  At any rate, it appears quite likely that there will be less stability at that position for next season than there has been for a while in Columbus.
Photo courtesy of USA Today Sports Images.