As the holiday season approaches, PHR will look at what teams are thankful for as the season nears the quarter point of completion. There also might be a few things your team would like down the road. We take a look at what's gone well in the first month and what could improve as the season rolls on. So far we've covered the following teams:
Atlantic: BOS, BUF, DET, FLA, TOR
Metropolitan: CAR, CBJ, NJD, NYI, NYR, PHI, PIT, WSH
Central: COL, MIN, NSH, STL
Pacific: ANA, ARZ, CGY, EDM, LAK, SJS, VAN, VGK
What are the Canadiens most thankful for?
A watered-down Atlantic Division.  Beyond Tampa Bay and Toronto, the last guaranteed playoff spot is up for grabs and so far, none of the six other teams in the Atlantic have staked a claim.  The Canadiens have underachieved and had already endured losing streaks of five and seven games before they hit the 30-game mark of the season.  Most years and in most divisions, that's all but a death knell but with the current state of the division, they're still within striking distance of a playoff position.
Who are the Canadiens most thankful for?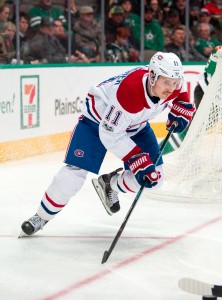 Staying healthy has been an issue for winger Brendan Gallagher the last couple of years, particularly when it comes to his hand which has been broken twice already.  As a result, he was largely ineffective last season which led to some speculation about his future with the team.  Fortunately for the Canadiens, he has been one of their most consistent forwards and leads the team in goals with 13 and is tied for the team lead in points with 19 which is strong value for his $3.75MM cap hit.  With Montreal's attack struggling for big chunks of the season already, he has been one of their lone bright spots up front.
GM Marc Bergevin showed earlier this summer how much he believes in goaltender Carey Price when he signed the netminder to an eight-year, $84MM extension.  Price's play has been up-and-down this season while he missed ten games with a lower-body injury.  However, Montreal has their franchise player locked up long-term and in doing so, they are avoiding the inevitable media frenzy that would have existed had he entered the season without a new deal.  Even though his numbers are far from strong so far, this team will go as far as Price can take them and if he gets on a run, the odds of them making the postseason will go up considerably.
[Related: Canadiens Depth Chart from Roster Resource]
What would the Canadiens be even more thankful for?
Their top players playing like their top players.  We've already looked at Price's struggles but their top forwards aren't.  Winger Max Pacioretty, who has led the Canadiens in scoring for the past six seasons, has just eight goals and 18 points so far and has only scored once in the last month.  Center Jonathan Drouin, their top acquisition over the summer, has just five tallies in 27 contests.  While he sits second on the team in assists, they were clearly expecting more goal production out of him when they immediately signed him to a six-year deal after the trade was made.  Those two were expected to lead the way offensively and if they can start doing so, Montreal would be in much better shape.
What should be on the Canadiens' Holiday Wish List?
Following a summer that saw Montreal fail to re-sign both winger Alexander Radulov and defenseman Andrei Markov, there are sizable weaknesses both on the back end and up front.  Finding a reliable partner to play on the left side alongside Shea Weber would certainly be beneficial while they've been seeking a top-line center for many years now.  That said, any sort of offensive boost would be an upgrade.
The Canadiens will have the ability to add significant salary between now and the deadline as they currently project to be more than $7.4MM under the cap, per CapFriendly.  That would allow them to absorb a big-ticket contract without having to send money the other way, something that most teams looking to buy won't be able to do.
Photo courtesy of USA Today Sports Images.