As the holiday season approaches, PHR will look at what teams are thankful for as the season nears the quarter point of completion. There also might be a few things your team would like down the road. We take a look at what's gone well in the first month and what could improve as the season rolls on. So far we've covered the following teams: ANA, ARZ, BUF, CGY, CAR, CBJ, COL, DET, FLA, LAK,  NSH, NJD, NYI, STL, TOR, and VAN.
What are the Bruins most thankful for?
It's not easy to establish a youth movement nowadays without bottoming out in the standings or doing a considerable sell-off of assets but the Bruins have managed to accomplish that.  They've welcomed key youngsters like Charlie McAvoy, Brandon Carlo, Danton Heinen, and Anders Bjork (among others) into their lineup and haven't really missed a beat.  Add that to a strong draft pipeline over the last couple of years and Boston is well-positioned for down the road while still being competitive in the present.
Who are the Bruins most thankful for?
There were some questions surrounding David Pastrnak heading into the season.  Was his 70-point performance last season a sign of things to come or a one-time thing?  How would he respond after contract talks were drawn out to training camp?  So far, he couldn't have responded better as he leads Boston in scoring with 25 points in 26 games, a pace that would have him surpass his 2016-17 production.  It's safe to say now that the jump in scoring wasn't a one-time thing and to have a scoring leader locked up for five more seasons after this one is certainly something to be thankful for.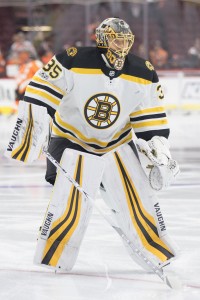 Goaltender Anton Khudobin went into the season with his roster spot not even entirely secure with youngsters Malcolm Subban (now in Vegas) and Zane McIntyre pushing for the number two job behind Tuukka Rask.  Fast forward to today and the veteran has been a very important part of their early-season success.  Rask has struggled for the most part which has resulted in Khudobin being asked to take on a bigger workload than expected.  He has responded with his best save percentage (.922) since 2013-14 and the Bruins have picked up at least a single point in all but one of his ten starts.  As other teams around the league look to fortify their backup goaltending, Boston has seen theirs keep them in a playoff position.
[Related: Bruins Depth Chart from Roster Resource]
What would the Bruins be even more thankful for?
Some good fortune in the health department.  No fewer than 15 different players have missed time due to injury through the first two months of the season which has Boston near the top of the league in man-games missed.  If there is any consolation, they've played the fewest games so far so the impact of the injuries could certainly have been worse than it already has been but knowing they have the most games still to play, a full lineup (or something even close to one) would certainly be a big boost for them the rest of the way.
What should be on the Bruins' Holiday Wish List?
For starters, some cap space would certainly be beneficial.  They presently project to have just under $58K in room at the end of the season per CapFriendly, which doesn't give them enough to do much of anything (and with Adam McQuaid set to return soon, LTIR won't be in effect much longer).  If they can get back to a fully-healthy roster, they'll free up enough space to be able to make a small addition but it will most likely be of the depth variety.  It wouldn't be surprising to see them look to add a veteran winger like they did with Drew Stafford last season or an extra defender to hedge against injuries which is something that crept up in the playoffs last year.  With the way the roster currently stands, they won't be able to do much more than that though.
Photo courtesy of USA Today Sports Images.