As the holiday season approaches, PHR will look at what teams are thankful for as the season nears the quarter point of completion. There also might be a few things your team would like down the road. We take a look at what's gone well in the first month and what could improve as the season rolls on. So far we've covered the following teams: ANA, ARZ, BOS, BUF, CGY, CAR, CBJ, COL, DET, FLA, LAK, NSH, NJD, NYI, NYR, STL, TOR, and VAN.
What are the Flyers most thankful for?
Over the past few seasons, Philadelphia has quickly amassed an embarrassment of riches in their pipeline.  Even while they've been integrating key youngsters like Nolan Patrick and Ivan Provorov – among others – into their lineup in recent years, they're still well-stocked at each position in terms of prospects.  That gives them the ability to use some of that capital to try to add to their roster if they can get on a run to get back into the playoff hunt if they desire.  If not, they're establishing a strong group of cost-effective players that may allow them to be aggressive in free agency in the next couple of years.
Who are the Flyers most thankful for?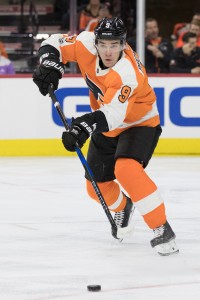 When Philadelphia drafted Provorov seventh overall back in 2015, they were hoping he'd be a key cog on their back end down the road.  Instead, he has wasted little time not only becoming a regular in the lineup but he has quickly become their go-to defender in all situations.  He is following up a very strong rookie season with an even better sophomore campaign that sees him hovering around 25 minutes per game of ice time while playing near a 40-point pace.  He's only 20 but Provorov is already a top-pairing player and there is still room for him to grow.
While Claude Giroux and Jakub Voracek are once again their top-two in scoring, the Flyers have to be quite thankful for the emergence of Sean Couturier this season.  After being deployed more as a checker the last few years, he has thrived in a top-line spot and is already one goal away from matching his career-high.  If he can come close to maintaining this pace the rest of the way, Philadelphia will have a top center that is locked up at a cap hit that is well-below market value ($4.33MM) through 2021-22.
[Related: Flyers Depth Chart from Roster Resource]
What would the Flyers be even more thankful for?
Getting some consistent secondary scoring.  The top line has been extremely productive but they have been carrying the team for most of the season.  Travis Konecny is on pace to produce less than his rookie year, Jordan Weal hasn't played as well as he did late last season, Valtteri Filppula has scored just once in his last 14 games, while Patrick, the number two overall pick in June, has been largely quiet so far as well.  If Philly wants to get back into the playoff chase, they'll need at least a couple of those players to pick up their scoring.
What should be on the Flyers' Holiday Wish List?
If they can't get much in the way of secondary scoring but are still in the postseason hunt, they'll have to go outside the organization in the hopes of adding a top-six winger.  Finding a taker for Matt Read's expiring contract ($3.625MM) would certainly help to free up some extra cap space, even if they have to retain some money to get it done.  Finding a way out of Dale Weise's contract ($2.35MM for two more years) is something they will likely want to do as well regardless of what route they go on the trade market.  As things stand, he's a potential buyout candidate this summer.
Photo courtesy of USA Today Sports Images.