FanRag Sports' Hannah Stuart pens an article wondering if the 2017 NHL Draft class is actually not as bad as many think it will be. Coming off two drafts with all-world talents–Connor McDavid and Jack Eichel in 2015 and Auston Matthews and Patrik Laine in 2016–anything less of that type of talent would be considered "worse" by definition. Clouding judgement has been the lack of what many analysts believe to be at least one generational player, and a muddled class after the first seven-eight players in most mock drafts. But is it a fair assessment?
Stuart cites ESPN's Corey Pronman, who put together his ranking of the prospects and even wrote in his opening paragraph that its one of the weakest drafts in the cap era. He goes as far as to say it's in the same category of the 2011 and 2012 drafts, which in his opinion, didn't yield much in the way of top tier talent. Pronman lists Halifax's Nico Hischier as his top prospect, with Brandon Wheat Kings center Nolan Patrick second and Mississauga's Owen Tippett third. Pronman does write that it's essentially a toss-up as to who can be the #1 overall pick in the draft–Hischier or Patrick, and that whoever is taken first will be a benefit to his new team.
Looking at the two drafts that Pronman mentioned, the 2011 did feature a slew of players chosen in the top 10 who have been productive in the NHL. Ryan Nugent-Hopkins went first overall, and while he hasn't produced in the way that Matthews or McDavid have, many analysts (and fans) blame his development by the Oilers as a culprit for his stunted growth. Other notables in the 2011 draft–by draft order–are Gabriel Landeskog (#2), Jonathan Huberdeau (#3), Adam Larsson (#4), Ryan Strome (#5), Mika Zibanejad (#6), Mark Scheifele (#7) Sean Couturier (#8), Dougie Hamilton (#9), and Jonas Brodin (#10). There are a number of strong players in the ten, and while viewed as a "weaker" draft, it at least paid dividends for those teams that drafted them–or acquired them later via trade.
It thins out from there, but there were certainly notables later in the first round or later in the draft. Brandon Saad was taken in the second round by the Blackhawks and he was clutch for Chicago until they were forced to deal him away due to cap issues.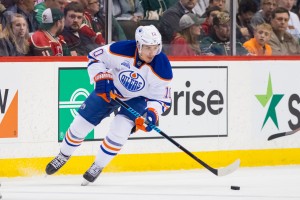 2012's draft was somewhat weaker one-through-ten, but saw some return in the middle of the first round, namely with Filip Forsberg being taken 11th by the Capitals. Nail Yakupov was taken first by the Oilers, and he certainly hasn't been the players the Oilers envisioned–but again, that may go back to development questions. Hampus Lindholm (#6) and Jacob Trouba (#9) are the headliners of a defensive heavy top ten. But a look through the rounds and it's pretty telling that the 2012 edition was not only weaker than 2011, but possibly one of the weakest in the salary cap era.
Stuart makes an extremely important point about drafting: it's a crapshoot.
A player can make a bad first impression or be a weak skater and be completely written off by certain scouts. However, maybe that player has an excellent hockey IQ, and a team recognizes that and drafts them in a later round. If the team works with them to fix the deficiencies in their skating, there's every chance they could develop into an effective NHLer. On the other hand, let's take what we'll call the Oilers model. A team might consistently draft high, taking players who show elite skill and throwing those players into the NHL before they're ready rather than taking time to develop weaknesses in their game.
Stuart continues to argue that since the drumbeat has been steady in saying this draft class will be weak, it's been all but believed by those on the internet. But as she points out, it isn't so much the drafting as much as it is the development and scouting staff that every team employs.