As the holiday season is upon us, PHR will continue its look at what teams are thankful for as we get closer to the halfway point. There also might be a few things your team would like down the road. We'll examine what's gone well in the early going and what could improve as the season rolls on for the Ottawa Senators.
What are the Senators most thankful for?
Before the season even started, almost everyone throughout hockey predicated that the Ottawa Senators would finish dead last and have yet another embarrassing season after they finished in 31st place last year with just 64 points, not even close to 30th place.
However, with new head coach D.J. Smith, the team has not been a last place team. Granted the young, rebuilding squad is hardly in a playoff position, but the team has proven that they aren't a laughing stock anymore as the team is starting to regain respectability and is proving that they are no longer they easy victory they have been in the past. The team is currently in a tie for 26th place in the league with a 16-18-4 overall record and their 36 points is a far cry from the last-place Red Wings, who have just 21 points.
Who are the Senators most thankful for?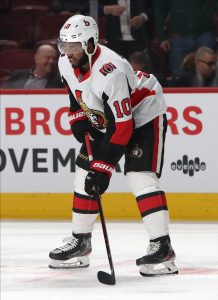 The team has gotten a large chunk of their offense from two players who they weren't expecting to get it from. Anthony Duclair, who was playing for his fifth team already at the young age of 24 and was written off just a season ago by Columbus head coach John Tortorella as someone who can't play hockey, has been a surprise as the forward looks to have figured things out, having scored 21 goals and 30 points in 38 games. Duclair always had potential as a third-round pick back in 2013 and had a 20-goal season with Arizona during his second NHL season, but fell out of favor and failed to re-establish himself the last few years until now.
The team also has seen center Jean-Gabriel Pageau take another step in his development. Used mainly as a third-line center the last few years, the 27-year-old Pageau has taken on a bigger role this year, having already potted 18 goals and 28 points. He is just one goal away from tying his career high.
What would the Senators be even more thankful for?
The team is loaded with prospects and young talent, but the team has gotten little production so far from them. Several top prospects have played with Ottawa, but few have made any impact. Erik Brannstrom, who was the key piece in the Mark Stone trade, has struggled in 28 games and currently is working on his game in Belleville. Several others, including Logan Brown, Filip Chlapik, J.C. Beaudin, Jonathan Davidsson, Vitaly Abramov, Maxime Lajoie, Max Veronneau and Drake Batherson, have been given opportunities, but none has been able to cement a spot into the team's permanent rotation yet. The team also has a number of young players thriving in Belleville, including Josh Norris, Rudolfs Balcers and Alex Formenton. If the team can get one or two of those players to step up and establish themselves as top-line players, they would be in a much better state.
What should be on the Senators' Holiday Wish List?
Goaltending.
While many have been pleased with the play of Anders Nilsson in net for Ottawa, his numbers still haven't been that impressive for a starting goaltender. The netminder has a 9-9-2 record with a 3.18 GAA and a .908 save percentage, which might work for a backup, but what the Senators really need is to find a starting netminder who can help take the team to that next level. Whether the team could find a trade partner soon or wait to try to pry a goaltender off the free-agent market, the team must find an answer to this problem sooner than later.
Photo courtesy of USA Today Sports Images.