We're in the home stretch in our thankful series where PHR will continue its look at what teams are thankful for with the second half of the season underway.  We'll examine what has gone well in the first half and what each team may be looking for at the trade deadline.  Our last team to look at is the Winnipeg Jets.
What are the Jets most thankful for?
A young, controllable core up front that has been quite productive.  Of Winnipeg's top five scorers (Blake Wheeler being the exception), four are 26 or younger and are signed or under team control for at least three more years after this one.  That gives them a very strong foundation to build off of and for the time being, all are on below-market contracts.  GM Kevin Cheveldayoff faced some criticism early in his tenure with the team for his patience but right now, his commitment to the long-term improvement has paid dividends and should continue to do so for a few more years at least.
Who are the Jets most thankful for?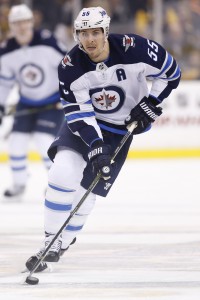 Mark Scheifele.  The center has just continued to improve year after year and has gone from a middle-six player early in his career into a top-flight producer that is quietly among the most productive in the league.  He's on pace for a career year offensively and if he can keep it up, he'll extend his streak of seasons averaging a point per game to four.  When Scheifele signed his current contract (eight years, $49MM) following the 2015-16 season, it was viewed as somewhat of a risky one with only one season of more than 15 goals under his belt.  Now, his $6.125MM is one of the top bargains in the league among top-line players and even better for Winnipeg, it still has four years left on it after this one.
What would the Jets be even more thankful for?
A resolution on the Dustin Byfuglien front.  The blueliner has been involved in a particularly strange situation that saw him leave partway through training camp where it was suspected that he was pondering his playing future and was suspended by the team.  It turns out that he was injured and underwent ankle surgery without consulting the Jets.  The injury brings into question whether or not the suspension is valid and the issue is heading for an arbitrator.  How the ruling goes there will ultimately determine what type of cap room that they have to work with down the stretch.  Getting a healthy Byfuglien back for the stretch run if he's willing to return would also be huge.  Basically everything that they can or can't do revolves around this.
What should be on the Jets' Wish List?
With the Byfuglien situation holding things up, Cheveldayoff will likely have to look for depth options at this time as he won't want to add any high-cost acquisitions until he knows how much room he actually has to work with.  Their back end has been banged up as of late so adding another option or two there would be beneficial.  Roster size restrictions would likely mean that one of those players would need to be stashed in the AHL though.  They've also churned through a few different fourth line options.  They're not going to get much support in that regard from AHL Manitoba (a lot of their better players have already spent time with the Jets) so looking outside the organization is going to be the next option, similar to what they did when they added Nick Shore.
Photo courtesy of USA Today Sports Images.