As the holiday season approaches, PHR will take a look at what teams are thankful for as the season heads towards the midway mark. There also might be a few things your team would like down the road. We'll examine what's gone well in the early going and what could improve as the season rolls on for the Los Angeles Kings.
What are the Kings most thankful for?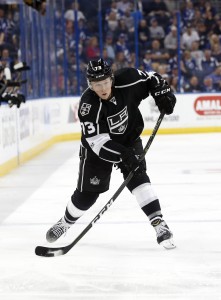 A bounce-back first half from Tyler Toffoli.  Last season, he struggled offensively and posted the lowest point per game mark of his career.  As a result, any chance of maximizing his trade value a year ago fell by the wayside and GM Rob Blake rightfully held off on selling low.
His patience has been rewarded.  The 27-year-old sits third on the team in scoring while his scoring rate, if maintained, would see him reach the 20-goal mark and approach 50 points.  That's going to help restore his value around the league and give Los Angeles one of the better rental trade chips heading into the trade deadline two months from now.  Of their expiring contracts, his is the one that can bring back a notable young asset.
Who are the Kings most thankful for?
Anze Kopitar.  Yes, his $10MM AAV is a bit on the high side but he continues to be a cornerstone piece for them.  He continues to play in all situations and has seen his production improve after a tough 2018-19 campaign.  The 32-year-old has played his entire career with Los Angeles and with a full no-move clause and four years left on his contract after this one, he's not going to be getting trade anytime soon.
What would the Kings be even more thankful for?
Production from their veterans.  Drew Doughty is second to only Erik Karlsson in terms of the highest-paid defensemen in the league but he has struggled to put up the points unless his opponents are from Western Canada (13 of his 23 points have come in just 10 games against those teams).  They're counting on a lot more than that from him.  Jeff Carter and Dustin Brown are on pace for roughly 40 points each but carry cap hits of over $5MM apiece.  Jonathan Quick is making $5.8MM and after a particularly rough start, his save percentage has still only worked its way up to .893, a mark that is well below average for a backup let alone a starter.  The Kings were built to rely on the veterans carrying the load but that just hasn't been the case.
What should be on the Kings' Holiday Wish List?
Draft picks and prospects.  The playoffs don't appear to be a realistic possibility this season so for Blake, the focus needs to be adding for the future.  Toffoli is the likeliest to be dealt while Kyle Clifford should draw some interest if they don't work out a contract extension.  If they want players over draft picks, adding to their group of young defensemen would be a good way to go.
In a perfect world, one of their veterans would go on a run and give the Kings a chance to open up some cap flexibility as well as an opportunity to give more playing time to some of their younger players.  The second half of the season should be about evaluating who could be part of the puzzle moving forward so creating more playing time for them would certainly be beneficial for the long haul.
Photo courtesy of USA Today Sports Images.