As the holiday season approaches, PHR will take a look at what teams are thankful for as the season heads past the one-quarter mark. There also might be a few things your team would like down the road. We'll examine what's gone well in the early going and what could improve as the season rolls on for the Florida Panthers.
What are the Panthers most thankful for?
Firepower and plenty of it.  Very quietly, Florida sits fourth in the league in goals scored heading into Thursday's action and already have five forwards in double digits for goals.  Brett Connolly, an offseason free agent signing, leads the way somewhat surprisingly.  There are teams that are built to have one dominant line and then hope that the other trios can break even.  The Panthers are not one of those squads and have multiple lines that are capable of producing on a regular basis.  Assuming other elements to their game come around (more on that shortly), this offense should easily be strong enough to get Florida back to the postseason.
Who are the Panthers most thankful for?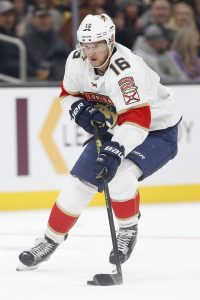 Aleksander Barkov.  In recent years, he has blossomed into an offensive star and it hasn't come at the expense of his defensive game either.  At a time where not a lot of forwards log over 20 minutes a night, he's over that mark for the third straight season.  Barkov isn't always mentioned among the elite centers in the NHL but his presence in that discussion is certainly warranted.
Another element that Florida is certainly thankful for when it comes to Barkov is his price tag.  With a $5.9MM AAV, he's making money that's more at the level of a second line forward; they're getting a lot of bang for their buck for this one.  Considering he's signed through 2021-22, they're going to enjoy his below-market deal for a while yet as well.
What would the Panthers be even more thankful for?
When the Panthers handed Sergei Bobrovsky the second-richest contract ever given to a goalie this summer, the expectation was that they'd now get top goaltending which would give them a big boost.  If he wasn't at the top of his game, he'd at least be better than what they got last year out of Roberto Luongo and James Reimer.  Bobrovsky's .903 SV% is well below expectations and only a few points ahead of last year's tandem.  As a result, they're in the bottom ten in goals allowed which is why they're still hanging around the bubble in the Atlantic Division.  If he can get up to even an average level, they'll be in good shape.  If he can get back to his top form, look out.
What should be on the Panthers' Holiday Wish List?
Beyond Bobrovsky getting back to form, not much.  It's not that there aren't areas where they could still improve but rather the fact that with barely $500K in cap space at the moment per CapFriendly, there isn't a whole lot they can do right now.  Finding a new home for Mark Pysyk (a pending UFA with a $2.73MM cap hit) would give them a bit of flexibility but that's a high price tag for a depth defender.  Improving the bottom of their back end would certainly be beneficial for a postseason push.
Their backup goalie situation is likely a bit of concern for GM Dale Tallon.  Samuel Montembeault struggled at the start of the season and as a result, Chris Driedger, a veteran of three NHL appearances heading into this season, is currently the backup.  Finding someone with a bit more of a track record that can spell Bobrovsky a bit more often would be ideal but they'll need to free up some extra cap space to do that.
Photo courtesy of USA Today Sports Images.