As the holiday season approaches, PHR will take a look at what teams are thankful for as the season heads past the one-quarter mark. There also might be a few things your team would like down the road. We'll examine what's gone well in the early going and what could improve as the season rolls on for the Edmonton Oilers.
What are the Oilers most thankful for?
Getting out of the Milan Lucic contract with minimal long-term repercussions ($750K per year is much more palatable than carrying a $6MM AAV on a buyout-proof contract).  That alone was decent work by GM Ken Holland.
What truly makes them thankful for the move is what they got in the trade from Calgary.  Their cap dump, winger James Neal, has fit in surprisingly well with Edmonton's attack.  Neal ranks third on the team in goals with 15 already; for perspective, he has all of seven last season while Lucic had 16 in the previous two years combined.  Yes, his $5.75MM cap hit means they're not saving money but the Oilers are at least getting a lot more bang for their buck.  As a team with very limited financial flexibility, that's huge.
Who are the Oilers most thankful for?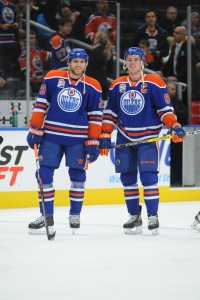 Who else?  They have arguably the best player in the league in Connor McDavid and he's signed through 2026.  On top of that, his running mate in Leon Draisaitl is also locked up through 2025.  The duo are the top-scoring pair in the league with McDavid (59 points) and Draisaitl (57 points) sitting first and second in points heading into play on Tuesday.  Their combined 41 goals account for 38% of Edmonton's offense while they each log over 22 minutes a night which; they're the only forwards in the league playing that much.  They have arguably a generational player in McDavid and a franchise player in Draisaitl.  Those are two pretty strong building blocks to have in place.
What would the Oilers be even more thankful for?
Scoring beyond the top line.  Add in Neal's goal total to McDavid's and Draisaitl and all of a sudden, that trio accounts for more than half of their goals.  It is difficult to have success in this league when their secondary scoring is basically non-existent.  Zack Kassian is providing some value beyond those three but Ryan Nugent-Hopkins (six goals) and Alex Chiasson (four goals) have both underachieved relative to what they've provided in the past.  Despite the one-line attack, Edmonton is holding onto first place in the Pacific Division but someone stepping up and giving them a second line that's a threat would really go a long way towards bolstering their chances of holding onto that spot.
What should be on the Oilers' Holiday Wish List?
With Draisaitl spending a lot of time with McDavid, that has left Edmonton's center depth thinned out.  Riley Sheahan and Gaetan Haas are serviceable players but both are better suited for fourth line duties.  If Nugent-Hopkins is staying in the top six, the Oilers are going to need a third-line pivot.
Adding more defensive depth is also something they could stand to do.  Joel Persson hasn't been able to lock down a regular role while Brandon Manning and Caleb Jones are passable recalls but not full-fledged regulars either.  A top-four player would be ideal but with very limited cap room, Holland is likely going to be shopping for bargains which means a third pairing upgrade (or even a seventh defenseman improvement) will be what he winds up shopping for.
Photo courtesy of USA Today Sports Images.