As the holiday season approaches, PHR will take a look at what teams are thankful for as the season heads towards the midway mark. There also might be a few things your team would like down the road. We'll examine what's gone well in the early going and what could improve as the season rolls on for the Minnesota Wild.
What are the Wild most thankful for?
Not being at the bottom of the Western Conference. For the first 18 games of the season, Minnesota had a 6-11-1 and were at the bottom of the conference and looked to be an obvious lottery team that had a chance at the top pick. Instead the veterans seems to have found their game, going on a 11-3-4 run (including a six-game winning streak) and the team suddenly finds itself in the playoff race once again.
While the team currently sits outside the playoff race, the Wild have returned to respectability and have plenty of time to make up for lost time and try and fight for a playoff spot down the road.
Who are the Wild most thankful for?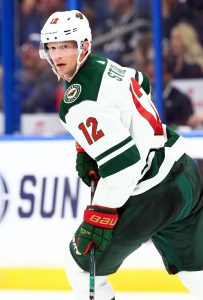 The team got 42 goals from the veteran winger after the 2017-18 season, but then came away with a disappointing 22-goal performance last season, suggesting that the now 35-year-old might be fading quickly. While he may never return to that 42-goal season form ever again, Staal has looked a bit more like himself, having scored 13 goals already through 37 games, which could bring him close to a potential 30-goal season, something the team desperately needs.
Staal still has another season on his contract after this one and a big performance from Staal this year, will make his final year sound more promising.
What would the Wild be even more thankful for?
While the team has gotten solid production from backup goaltender Alex Stalock who has been solid with a 2.81 GAA and a .907 save percentage, the Wild need to get starter Devan Dubnyk back on track. The starter, who just returned Thursday after being out since Nov. 16 due to a personal matter, has struggled before this season. He carries a 3.48 GAA and a .891 save percentage through 15 games. Dubnyk appeared in 67 games last season and maintained a .913 save percentage, which is a number that the team needs their star goaltender needs to return to. A solid netminder in goal would help this veteran team make a legitimate playoff run.
What should be on the Wild's Holiday Wish List?
The team needs to get some of its young players going and producing more offense. The team has been waiting for Joel Eriksson Ek, Jordan Greenway and Luke Kunin to take that next step and develop into bonafide top-six players. While they occasionally find themselves up there, they have yet to show any consistency the team needs to move forward. Eriksson Ek has just two goals and 12 points through 30 games, while Greenway has just four goals and 13 points in 35 games. Kunin might have the most goals with eight, but still has just 13 points in 36 games.
Photo courtesy of USA Today Sports Images.