As the holiday season is upon us, PHR will continue its look at what teams are thankful for as we get closer to the halfway point. There also might be a few things your team would like down the road. We'll examine what's gone well in the early going and what could improve as the season rolls on for the New Jersey Devils.
What are the Devils most thankful for?
A promising young core down the middle.  Jack Hughes, the top pick in June, has shown flashes of the raw offensive upside he showed at the lower levels.  While his numbers aren't the greatest this season, he is making the unprecedented jump from the USHL; much brighter days are on the horizon for sure.  Nico Hischier, the 2017 top selection, may not be a top-line producer in the end but his all-around game continues to improve.  He's also under contract through 2026-27 after signing an extension back in October so he's a piece for the long haul as well.  Pavel Zacha has held down more of a regular role this season as well and at 22, he could still be part of the long-term future.
They also have some other youngsters that aren't far away from making an impact.  2016 first-rounder Michael McLeod has shown some early promise while the Devils are fond of Nate Schnarr, one of the prospects they added in the recent Taylor Hall deal.
The center position is a tough one to fill outside of the organization.  It's unlikely the Devils will be dealing with that problem anytime soon.
Who are the Devils most thankful for?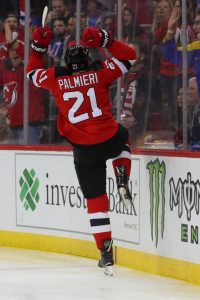 While it would be easy to pick Hughes given his upside, they're also quite thankful for Kyle Palmieri.  The winger has been a model of consistency since being acquired from Anaheim back in 2015 for a second and third-round pick.  Since then, he has scored at least 24 goals in each season (and he missed 18 games the year he had 24) and is on pace for over 30 this season despite New Jersey being among the lowest-scoring teams in the NHL.  While other players have garnered more attention along the way, he just has been steadily productive for a bargain price tag of $4.65MM.  It's safe to say that GM Ray Shero will be looking to get a contract extension done when the window to do so opens up in July.
What would the Devils be even more thankful for?
Better performances from their high-paid veterans.  P.K. Subban's acquisition seemed like a great fit but he has struggled mightily this season and has just seven points in 36 games.  They're expecting a lot more for someone making $9MM per year.  Veteran goalie Cory Schneider was unable to build upon his good finish to last year and strong showing at the Worlds and is even languishing in the minors, posting a .853 SV% in five AHL games.  They're expecting a lot more for $6MM.  Wingers Wayne Simmonds (four goals in 36 games for $5MM) and Nikita Gusev (five goals in 33 games for $4.75MM) aren't getting the job done either.  If any of them could get on track, they'd be thrilled.
What should be on the Devils' Holiday Wish List?
Long term, another starting goalie is something they're going to need with Schneider not likely being part of their future plans anymore.  That's likely an offseason move, however.
In terms of what they should be wishing for between now and the trade deadline, it's more of what they got for Hall – picks and prospects.  Blueliner Sami Vatanen could yield a strong return if he's not extended while defenseman Andy Greene could attract some interest as well if he's willing to waive his no-trade clause.  Simmonds struggled down the stretch and in the playoffs a year ago but he could bring back a draft pick as well.  It's not overly exciting but having cashed in their top trade chip already, New Jersey's shopping is going to be quieter between now and late February.
Photo courtesy of USA Today Sports Images.