As the holiday season approaches, PHR will take a look at what teams are thankful for as the season heads past the one-quarter mark. There also might be a few things your team would like down the road. We'll examine what's gone well in the early going and what could improve as the season rolls on for the Montreal Canadiens.
What are the Canadiens most thankful for?
Plenty of depth scoring.
While the team may not be an elite scoring team, they do get quite a bit of offense from their team with multiple players producing for the Canadiens. The team has six players with 20 points or more and four players with 10 or more goal and another four that have seven or more goals. Tomas Tatar leads the squad with 13 goals and 30 points, while Brendan Gallagher is right behind him 15 goals and 28 points. Phillip Danault has eight goals and 27 points, while Max Domi isn't far behind with eight goals and 24 points. Joel Armia has 12 goals and even rookie Nick Suzuki has potted seven goals this season.
Who are the Canadiens most thankful for?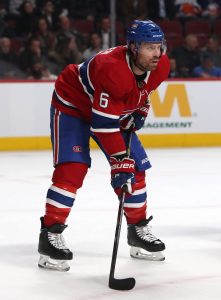 Anyone who thinks that at age 34, Shea Weber's career might begin to decline haven't seen how well he's played this year. In 58 games last season, he put up a respectable 14 goals and 39 points even though he was returning from a major injury. However, now fully healthy, he's shown that little can stop him as he has produced almost a point-per-game pace with 11 goals and 29 points in 33 games this season and is on pace for a potential career-high in goals and points.
Of course, Weber still has six more years remaining on his mega-deal that is worth an AAV of $7.86MM per season, but with the way he's playing at his age, that contract has been a better value than many thought it might be.
What would the Canadiens be even more thankful for?
The team still has a number of players underproducing and could use a solid second-half of the season.
While Carey Price hasn't been a disappointment by any measure, his numbers also lack that dominance that has made him one of the best goalies in the league. Through 29 appearances, the 32-year-old has a very pedestrian 2.89 GAA and a .905 save percentage. With the Canadiens battling in quite a tight Atlantic Division, a dominant Price could vault the team even higher in the standings.
On the other hand, a pair of forwards continue to struggle. Jonathan Drouin still hasn't figured it out. Brought in to be the new dominant face of the franchise back in 2017, Drouin hasn't been that player and now has been derailed with a wrist injury, but if the team can get Drouin to become the star they had envisioned when he returns at some point in January, the team might be able to take that next step as well.
What should be on the Canadiens' Holiday Wish List?
A star.
The Montreal Canadiens were rumored to be deep in trade negotiations in hopes of prying star forward Taylor Hall to the team, but failed in the end to land the former Hart Trophy winner. Regardless, the team that should have some cap money to spend this coming summer has made it clear it would like to bring in a big name to headline the team. Unfortunately, with Hall of the table, the options for landing a big name have dwindled as the next biggest star available to the team might be Chris Kreider, who likely doesn't qualify as a franchise player.
Photo courtesy of USA Today Sports Images.