Before the season even started, several names surfaced as options to be on the dreaded "first to be fired" list released by a number of outlets. Detroit's Jeff Blashill led the pre-season predictions while Chicago's Joel Quenneville was even included on the list. Other names included were  Colorado's Jared Bednar, and Winnipeg's Paul Maurice. PHR ran a poll last week on this and Alain Vigneault and Claude Julien led the votes.
Heres a closer look at some of these names as teams approach completion of the first quarter of the season.
Raise your hand if you expected his name on this list before the season started. Edmonton, who was mentioned as a possible Stanley Cup contender during the preseason, has not only struggled in the first month of the season, but also had a heck of a time trying to score goals. Is it all on McLellan? It's probably unfair to say so. But with giving up 13 more goals than scoring, and spared only by a dreadful Arizona team from being in last place, McLellan might be in trouble if the Oilers continue to slide.
Alain Vigneault
Another coach who was expected to lead his team deep into the playoffs, Vigneault's Rangers were sputtering for the first few weeks of the season. Just two weeks ago, New York Post writer Larry Brooks wondered if Vigneault would even make it out of October with a job. It's amazing what can change in such a short time. The Blueshirts are riding a six-game winning streak and have racked up quality wins against Vegas, Tampa Bay, and Columbus. Vigneault will still be scrutinized but the latest change in fortune have certainly helped his job status.
Jeff Blashill
After a brutal six game losing streak, Blashill's seat was rumored to be scorching. Following a couple wins and a not-so-bad road trip, the Red Wings have 13 of their next 15 at home. This will most likely dictate Blashill's fate, should there be a coaching change during the season. The third year coach can't possibly be blamed for the roster, but the Red Wings want to be a perennial playoff participant. While that doesn't seem realistic, an 8-8-1 record through 17 games is certainly not helping matters. Further, should the Red Wings not see progression with their younger players, it may seal Blashill's fate.
Paul Maurice
Out of all the coaches who have been spoken of, Maurice's name constantly pops up on the list. But so far this season, the Jets are 8-4-3 with 19 points and in second place in the Central Division. How many had him on the list is surprising since the veteran coach was not only extended back in September, but also has a winning mark in Winnipeg.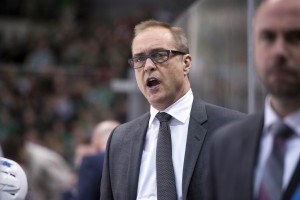 Jared Bednar
Mark it down as one of the biggest surprises that Colorado is 8-6-1 and are now sitting prettier after finally dealing Matt Duchene in what looks like a win for Joe Sakic. Bednar accepted the job after winning the Calder Cup with AHL Affiliate Cleveland before he endured the most miserable season in Avalanche  history since moving to Denver in 1995. If the Avs continue to keep their head above water, Bednar would have a relatively cool seat.
Joel Quenneville
It doesn't seem right to put him on this list. A man who led the Blackhawks to three Stanley Cups is leading a team that is now older and shuffling a roster to remain cap-compliant. Firing him, regardless of what the Blackhawks do, seems like a cop out for a general manager who outside of a few players, has won off of his predecessor's work. Fan Rag's Craig Morgan wrote as much back in August.
After a torrid start, the Blackhawks have cooled, and are struggling to find the back of the net. The power play is in the bottom rung of the league at 13.6% (27th out of 31) and Quenneville has been employing a line blender to try and find something to work. Should Chicago run out of gas and be eliminated early again or worse, miss the playoffs, then it's safe to say Coach Q is in trouble. However, if history has taught hockey fans anything, it's to never count out the Blackhawks.