The Boston Bruins have locked up one of their restricted free agents, signing Trent Frederic to a two-year contract. The deal will carry an average annual value of $1.05MM. The young forward was coming off his entry-level deal and was not yet eligible for salary arbitration. PuckPedia reports that the first year of the contract will carry a salary of $950K, while the second will be $1.15MM.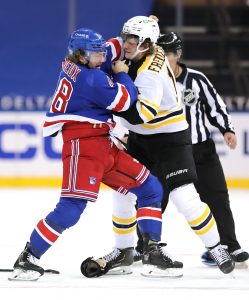 Frederic, 23, was the Bruins' first-round pick in 2016 and has had a target on his back since the day he was selected. Despite being ranked 47th among North American skaters, Boston decided to pick him 29th overall, hoping that his physicality and in-your-face style would translate well to the professional ranks. Well, it's been five years now and Frederic has finally established himself as an NHL player, but certainly not the middle-six presence the team was hoping for.
In 42 games this season, the 6'2″ forward scored just four goals and recorded a single assist. His 65 penalty minutes were the biggest impact he had on the scoresheet (though it is interesting to note that three of his four tallies were of the game-winning variety), being used in a role closer to an enforcer than a first-round pick. Boston didn't use him on either special team and gave him just over 11 minutes a night, limiting his ability to have any real impact.
That lack of offensive production did end up keeping his salary low in these negotiations, meaning the Bruins will hope for a step forward during this very reasonable second contract. Even though he will likely never become a top-six scoring threat, Frederic can still be an important bottom-six piece on a team that is going through a transition period. The Bruins core that was so dominant at one point is getting older, meaning more and more minutes will be up for grabs. Frederic did score 32 points in 59 games for the Providence Bruins in 2019-20, showing there is still some upside there.
As with any signing right now, there are expansion draft complications. Frederic is eligible for selection, meaning the Bruins will have to use a protection slot if they want to keep him away from the Seattle Kraken. If they don't feel the need to protect him though, this contract does mean he now fills one of the team's exposure requirements. Chris Wagner and Curtis Lazar look to be the most likely candidates right now to be left exposed to meet those requirements, but this does at least give them a little more flexibility.
Photo courtesy of USA Today Sports Images