In February, we covered word from former Vancouver Canucks defenseman Nikita Tryamkin's agent that the hulking six-foot-eight blueliner would be receiving "tremendous interest" from NHL clubs this summer. Moreover, Tryamkin's agent stated that his client had rejected a contract extension offer from his KHL club and after the season would shift his focus towards making a return to the NHL.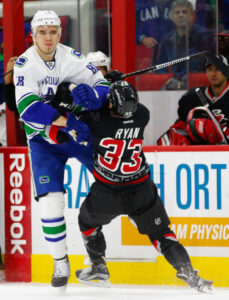 Now, it seems that won't be happening, and that Tryamkin won't make his NHL return until he's 31 years old, if at all. Announced officially by the club, Tryamkin has signed a two-year contract extension with his longtime KHL employer, Avtomobilist Yekaterinburg.
This news comes as a bit of a surprise, as since leaving the NHL Tryamkin has been a two-time KHL All-Star and one of the better defensemen in that league.
The soon-to-be 29-year-old offers extremely rare size at the position, and if he made the NHL he would instantly become one of the tallest players in the league.
Tryamkin regularly logs heavy minutes for Yekaterinburg, and while his offensive game has never been quite as high of a focus he has chipped in 110 career points in 507 KHL games. His physicality and defensive upside thanks to his size and reach have always been his calling card.
The success of the Vegas Golden Knights as well as some trends at the NHL draft suggested teams are placing increased value on blueliners with size, so it's somewhat surprising that Tryamkin couldn't find a sufficient NHL offer to motivate him to cross the Atlantic.
With the current state of NHL/KHL relations and the haze of general uncertainty that surrounds the availability of many Russian players, perhaps there's more to this at play than has been currently reported. Or, it could also be as simple as NHL teams not believing Tryamkin has progressed enough since his time with Vancouver to be worth signing to a significant enough offer to convince Tryamkin to change leagues.
In any case, while some fans were hoping Tryamkin would make his return to the NHL, it appears that his return will now have to wait another two seasons if it's going to happen at all.
Photos courtesy of USA Today Sports Images