With the new year upon us, the NHL season is in full swing. Teams are jockeying for playoff position, and many players with expiring contracts across the NHL are playing games that could ultimately determine what type of payday they might receive in the summer.
In a multi-part series, we'll take a look at each position group of the upcoming free agent class, and do a rundown on how those upcoming unrestricted free agents have performed this year. Which players have increased their odds of landing a massive contract? Which players have potentially hurt their earning potential with their play? We'll break it all down here.
The Marquee Names
Shayne Gostisbehere, Arizona Coyotes
While Gostisbehere may not be the traditional free agent "marquee name" whose acquisition can shape the fortunes of an entire franchise, his play as an Arizona Coyote has solidified his status as one of the top left-shot free agent defensemen in his class.
Gostisbehere arrived in Arizona in the summer of 2021, with his former team, the Philadelphia Flyers, paying draft picks to the Coyotes in exchange for Arizona taking on Gostisbhere's $4.5MM cap hit.
After scoring 65 points in 2017-18, Gostisbehere's descent from stardom was rapid, and his warts in his own end combined with declining offense forced his way out of favor in the Flyers organization.
While the trade to the Coyotes at one point seemed to be rock bottom for Gostisbehere's professional career, the deal seems to have actually served as the catalyst for a career rebirth. Gostisbehere scored 14 goals and 51 points last season, which ranked him in the top-15 in defensive scoring.
It was the inconsistency of Gostisbehere's production that caused him major issues in Philadelphia, but thankfully he has continued his strong play into this year as well. In 37 games so far this year Gostisbehere has 26 points, which is a 58-point full-season pace.
He'll never be someone coaches trust for his play in his own end or away from the puck. But using the case of Tony DeAngelo as an example, it's clear defensemen in Gostisbehere's mold are valued league-wide.
Gostisbehere's former team parted with multiple draft picks in order to acquire DeAngelo, who like Gostisbehere is a supremely talented and productive offensive defenseman without much off-puck or defensive value. It's possible that in his trip to unrestricted free agency, Gostisbehere views the $5MM AAV DeAngelo makes to be his target on any new contract.
Given that Gostisbehere, who will be 30 in April, was just two years ago seen as a salary cap deadweight at a $4.5MM AAV, the possibility of him now receiving a new contract above that cap hit on the open market would be the perfect culmination of what has been a stunning career revival.
The Solid Contributors
Ryan Graves, New Jersey Devils
Graves, like Gostisbehere, is another blueliner who has seen his career take a significant upward trajectory in recent years. At one point, Graves was more or less viewed as one of the dime-a-dozen minor league farmhands that patrol the many bluelines of the AHL.
Three seasons into his professional career, Graves had seen his importance in the New York Rangers organization decline, and he was unceremoniously shipped out west in exchange for Chris Bigras in a deal PHR at the time called a swap of minor leaguers.
The Avalanche organization saw something in Graves and believed they could get the most out of his hulking six-foot-five frame. After another year and a half spent in the minors, Graves earned a spot in the NHL with the Avalanche and didn't let it go.
He played an extremely limited role in 2018-19, but in the very next season, he averaged the second-most ice time on the penalty kill of any Avalanche player.
The year after, Graves led Colorado in short-handed ice time. With his cap hit set to rise as a restricted free agent, the team was forced to trade Graves to the New Jersey Devils.
In New Jersey, Graves has further solidified his status as a quality top-four defenseman. He flashed some more offensive touch last season, setting a career-high with 28 points.
This year he's remained an important part of the Devils' defensive plans even as he's ceded his role as a penalty-killing anchor to John Marino and Jonas Siegenthaler, two other formidable defenders.
Graves will be 28 in the summer, and his age lines him up quite well for a potential payday. He isn't having as strong of a season this year as he had last year, but he remains a valued defenseman nonetheless.
Dmitry Orlov, Washington Capitals
Orlov may well belong in the "marquee names" tier of free agents, but given that he'll be 32 when (or if) he hits free agency this summer, it seems more appropriate to put him in a tier below Gostisbehere.
That's not meant as any slight to Orlov's play or value, though. Although he's acted somewhat in the shadow of John Carlson, one of the league's most prolific offensive defensemen, Orlov has been a rock for Washington for an entire era of Capitals hockey.
The Russian blueliner has played in nearly 700 career games and is typically a slam-dunk bet to score around 30 points. Orlov pairs that valuable secondary scoring with the ability to weather difficult defensive minutes, making him a dream number-two defenseman.
This season, Orlov has put an injury behind him and resumed his high-end play. He's helping the Capitals' penalty kill rank inside the league's top-ten, and is scoring at a 36-point pace.
While his age may mean a massive long-term deal is ruled out for him, his stock is holding steady in advance of the expiration of his $5.1MM AAV deal.
Vladislav Gavrikov, Columbus Blue Jackets
While the Blue Jackets have had a season to forget so far in 2022-23, Gavrikov has continued his strong play from last season and positioned himself at the forefront of the NHL's trade rumor news cycle.
After scoring 33 points last season, Gavrikov's offense is down this year. He's on pace to score just 20 points, but that may not take a major bite out of his overall value.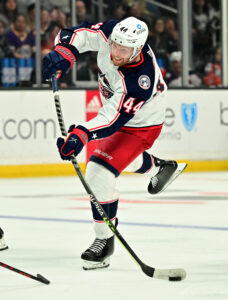 Ever since it was announced that franchise blueliner Zach Werenski would miss the rest of the season due to injury, Gavrikov has been thrust into a significant role as the Blue Jackets' number-one defenseman.
Gavrikov averages the third-most short-handed ice time per game, and although the Blue Jackets have been one of the league's worst teams, their penalty kill actually ranks in the middle of the pack league-wide.
He's a big, physical defenseman who has been pressed into extremely difficult minutes and has found success in those circumstances.
Defensemen who bring that kind of value to the table are in-demand league-wide, and Gavrikov should be one of the top defensemen in the mix around the trade deadline.
A trade to a contender and a deep playoff run would do wonders for Gavrikov's stock heading into free agency, just as the Canadiens' run to the 2021 Stanley Cup Final did wonders for Ben Chiarot's league-wide standing.
Even if that extensive playoff run doesn't materialize, Gavrikov's play in extremely challenging circumstances has raised his stock heading into free agency. Since he'll be just 27 when he hits the open market, he could be in line to land a major contract.
Dmitry Kulikov, Anaheim Ducks
There are certain players across the NHL who are established, known commodities. When teams add these players to their roster, they know with a strong degree of certainty what they'll be receiving, and those players in turn have established track records of providing performances well within what could reasonably be expected of them.
Kulikov is one of those players. The journeyman blueliner is on his fifth team in four seasons, and could add a sixth in that time frame should he get traded before the trade deadline. He arrived in Anaheim as part of an offseason trade, landing in Southern California in exchange for future considerations.
The Wild weren't able to generate a significant trade market for Kulikov, as his $2.25MM cap hit may have been a major obstacle in a flat-cap environment. Nonetheless, the fact that he was acquired for essentially nothing hasn't stopped him from providing value to the Ducks, one of the league's worst teams.
Kulikov's offense isn't his calling card, and his performance of nine points in 39 games underscores that notion. But what Kulikov does provide is steady defensive play and minutes a coach doesn't need to worry about.
He's been a bit overmatched as an anchor of a penalty kill in Anaheim, as he's averaging over three minutes per night on the league's third-worst shorthanded unit. In a less significant role on a contending team, he should be able to thrive.
The fact that he was traded for future considerations on just a $2.25MM cap hit doesn't bode very well for his odds of earning a raise in the summer, but nonetheless, Kulikov's stock is holding steady, and he remains a safe investment for any team looking to reinforce their blueline.
The Role Players
Ian Cole, Tampa Bay Lightning
The Lightning signed Cole last summer with a particular reason in mind. They needed an experienced, reliable defenseman to fill in some vacant minutes on their back end, and needed one who wouldn't require a pricey long-term commitment.
Cole, 33, has done exactly that, scoring 12 points in 34 games and averaging the fourth-most ice time per night of any Tampa Bay blueliner.
A two-time Stanley Cup champion, Cole has helped the Lightning's penalty kill rank inside the league's top-ten, and has been a reliable defensive presence overall.
While teams are far wearier of giving pricey contracts with term attached to veteran defensive defensemen than they once were, Cole's play in Tampa has been strong enough to earn him another decent contract, albeit possibly another one-year deal.
He has major playoff experience under his belt, which is something teams value, and should the Lightning go on yet another deep run in the spring, Cole's wallet stands to benefit.
Olli Maatta, Detroit Red Wings
It may have been a surprise to some when Maatta, who is now 28 years old, signed a one-year, $2.25MM contract in the offseason.
While Maatta's lack of foot speed had kept him from being the minutes-eating, top-four force many envisioned him becoming when he was a top prospect, he had still developed into a reliable NHL blueliner.
That one-year deal came at a major pay cut from the $4.08MM AAV he had earned on his last contract, although the flat cap environment likely played a role in that.
As we inch closer to an environment where the salary cap will rise again, Maatta could be in line to benefit. He's been a solid contributor for the Red Wings, averaging the fourth-most minutes of any Detroit blueliner. He's chipped in on their penalty kill as well.
Maatta has also added 13 points in 32 games, which is a 33-point pace. After scoring just eight points in 66 games last season, this uptick in offensive production is certainly going to be useful as Maatta readies for a second consecutive trip to the open market.
Brian Dumoulin, Pittsburgh Penguins
On one hand, it looks like this year has been business as usual for Dumoulin, one of the Penguins' most important defensive contributors for the past seven-plus seasons. He remains a crucial part of the Penguins' penalty kill, one of the league's best units, and is still playing nearly twenty minutes per night.
Although some of the public analytics models are split on Dumoulin's value, some look at his defensive performance positively and indicate that he's remained the valuable defensive rock that he's been for much of this era of Penguins hockey.
Look more closely, though, and you'll see that Dumoulin has had a challenging season in Pittsburgh. His usually rock-solid defensive play has been far more mistake-prone than usual this season, and the team's unshakeable loyalty to Dumoulin in the midst of this decline in play has garnered criticism from Penguins fans and members of the media alike.
This reality leaves Dumoulin in a complicated position heading into the expiration of his $4.1MM AAV contract. His name still carries value to many, especially to those who remember his exploits during the Penguins' back-to-back Stanley Cup Championships.
But there are growing signs that the Dumoulin of those years is gone, signs that are becoming harder and harder to ignore. With that in mind, it's hard to say that Dumoulin's stock is trending anywhere but down.
Erik Gustafsson, Washington Capitals
One could not be blamed for being a bit confused by Gustafsson's career trajectory. After a few seasons spent largely in the AHL, Gustafsson had an extremely successful 2018-19 campaign, scoring 17 goals and 60 points. The year after, though, Gustafsson scored just 29 points, a total not high enough for an offense-only blueliner to justify regular minutes.
Gustafsson was traded to the Calgary Flames that next season, and then signed a contract with the Flyers.
He was downright bad in Philadelphia and was shipped to Montreal for a seventh-round pick. After playing a sheltered role during the Canadiens' run to the Stanley Cup final, it looked as though Gustafsson could be headed back to Europe, having played his way out of favor in the NHL.
That summer, though, Gustafsson managed to earn an NHL deal, returning to Chicago after a PTO with the New York Islanders. He wasn't great, scoring just 18 points in 59 games, but his performance was good enough to earn him a cheap one-year deal from the Capitals, who were looking to affordably fill the void left by Justin Schultz's departure.
This year, Gustafsson has been great for the Capitals, and he's recently been on a scoring tear. He had a stretch where he scored 13 points in just seven games, and his season total is up to 23 points in 40 games.
That's a 47-point pace, and if he can manage to hit the 40-point plateau, you can consider his NHL career revived.
The inconsistency that has plagued Gustafsson's NHL career may hurt his odds at a major contract, as might his age, as he'll be 31 when he hits the open market.
But at the very least, Gustafsson's resurgent offensive production places him as a solid backup plan for any team that misses out on signing Gostisbehere.
His stock has shot up in recent weeks, and if he can keep scoring he'll likely earn a decent raise from his current $800k cap hit.
Carson Soucy, Seattle Kraken
There were some who questioned why the Kraken selected Soucy, 28, in their expansion draft, rather than selecting then-24-year-old goalie Kaapo Kahkonen, who had stellar performances in Liiga and the AHL on his resume.
The Kraken's choice has largely been justified by Soucy's play, though, as the blueliner has established himself as a full-time NHLer in Seattle. Soucy scored 10 goals and 21 points last season and saw his role increase after the departures of Mark Giordano and Jeremy Lauzon.
This season, Soucy has been an important contributor to the Kraken's bottom pairing, adding reliable minutes in that third-pairing capacity as well as solid second-unit penalty-killing duties.
Soucy's defensive play has been extremely well-liked by public analytics models, and although those strong underlying numbers haven't materialized into a top-four role in Seattle, it could make him a potentially savvy investment for a team looking to unearth an underrated player on the open market.
While he may not have the box score numbers or the type of minutes that typically earn blueliners major contracts, there are things to like in Soucy's game. Whether those commendable qualities are rewarded with a significant contract remains to be seen.
Alexander Edler, Los Angeles Kings
A veteran of over 1,000 NHL games, Edler is firmly in the one-year deal phase of his career. He earned $3.5MM last season before taking a one-year, $750k extension (with bonuses attached) to remain in Los Angeles.
Edler isn't what he once was, but he's still been able to give the Kings bottom-pairing minutes, some time on the penalty kill, and some leadership value. It's unlikely that Edler will look for or manage to earn a major raise from the contract he received last season, but his status heading into free agency is notable nonetheless.
At this stage of his career, a major move, one with the potential to uproot his family as he heads to a new market to play, seems unlikely. But he's still a useful piece, and should have a place in the mix for Los Angeles should he choose to continue his career beyond this season.
Niko Mikkola, St. Louis Blues
Mikkola is on the other end of his career compared to Edler, set to hit free agency for the first time at the age of 27. The Finnish blueliner has been a defensive specialist in St. Louis, playing second-pairing minutes next to Colton Parayko as well as time on the penalty kill.
He's earning $1.9MM against the cap this season, and at the age of 27 represents a younger investment for teams looking to add a defenseman. There isn't much offense to his game, but teams can always find a use for a big, physical defensive defenseman, and that reality should help him on the open market.
Others Of Note
Nick Holden, Ottawa Senators
A veteran of over 600 NHL games, the 35-year-old Holden has embraced a veteran leadership role on a young Senators team. The undrafted blueliner has seen quite a bit in his extensive career and is helping the Senators inch closer to a return to contention.
Holden has largely played on the third pairing for the Senators, helping shelter Erik Brannstrom, a young, offensively-focused blueliner who is prone to defensive lapses. There isn't much offense to speak of in Holden's game, but he has a major role in the Senators' penalty kill.
His play this season has kept his stock steady heading into a possible trip to free agency, and he'll be an attractive option for a team looking to add a veteran defensive defenseman at a lower price point.
Marc Staal, Florida Panthers
The role Holden could end up playing in this summer's free agent market is the one Staal played on the market last summer. The veteran stay-at-home defenseman signed a one-year, league-minimum deal with the Panthers, acting as a cheap addition of leadership and defensive play to a strong Panthers roster.
Florida's season hasn't gone as they'd hoped it would, and part of their struggles have been due to Staal playing a larger role than he's equipped to handle at this point in his career.
Staal is leading the Panthers in short-handed ice time per game and is currently slotted in on the team's top pairing as Aaron Ekblad's partner. In 2023, it's difficult to justify using Staal, 35, as a top-pairing defenseman.
He's an unquestionably accomplished player who has had a heck of an NHL career, but top-pairing deployment isn't putting Staal in a position to play at his best.
Calvin de Haan, Carolina Hurricanes
At just an $850k cap hit, de Haan has been a valuable addition to the Hurricanes' blueline. Since coach Rod Brind'Amour has such a deep and talented stable of blueliners, de Haan has been afforded the ability to play in a comfortable, relatively limited role in Carolina.
In those manageable minutes, de Haan has excelled, providing the team with safe, competent defensive play. He's not asked to play much on special teams, and averages just over 12 minutes per night, so on paper it's easy to see de Haan's performance as an indication of his declining NHL value.
But looking at his case more generously, one can look at the 12:30 per night de Haan provides as over 12 minutes Brind'Amour doesn't need to worry about each game. There's value in de Haan's ability to provide that, which puts him in a favorable position heading into the expiration of his one-year contract.
Photos courtesy of USA Today Sports Images